Are you ready for the April showers in your neck of the woods to bring cheery May flowers? What better time to introduce your kids to the world of gardening than the spring!
Aside from enjoying the actual fruits of gardening labor, spending time in this activity provides your children with a long list of benefits that you might not think about – there will be more growing around your house than just the plants!
Gardening offers multiple benefits for children.
A few of the benefits of gardening for children include:
A chance to experience a rich, sensual activity – think of all the sights, smells, sounds and textures they will experience while doing it, not to mention the potential tasting opportunities that result from a veggie garden!
Plenty of fun
A greater willingness to sample new foods that they grow (which then provides extra brain-building vitamins and nutrients!)
Enhanced fine motor skill development, muscle growth and coordination
Plenty of opportunities for hands-on science learning (gardening is even shown to produce higher science achievement scores!)
The prospect of learning many life lessons – if you don't take care of a plant and give it what it needs, it can die
Greater responsibility
Respect and care for the environment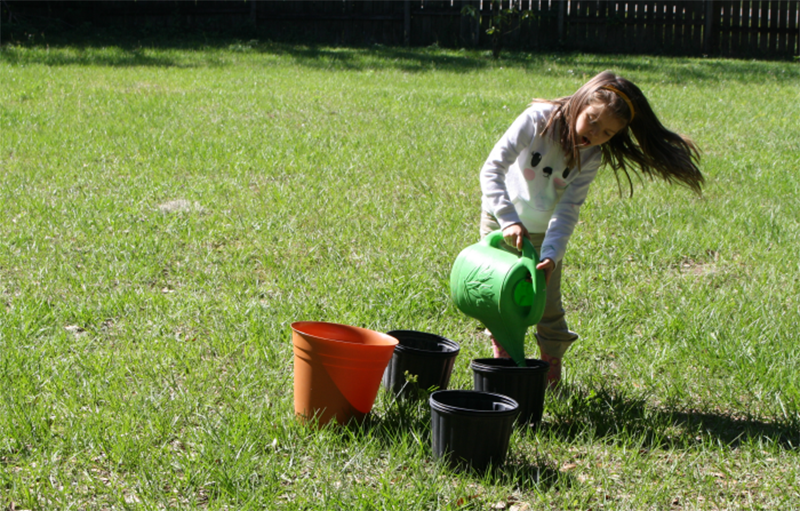 Many occasions to practice math skills in a practical way
An excellence way to develop patience
Building Executive Function Skills (planning & organizing), which is especially helpful for anyone with learning differences
Time spent in nature
Improved focus and memory
Unleashed creativity
Strengthened immunity from encounters with soil
Enhanced physical activity
Extra doses of sunshine and Vitamin D
Time spent outdoors and away from screens
Special family connections, full of team-building and communication opportunities
Enhanced psychological well-being – gardening has been show to improve moods and relieve stress
Higher self confidence from growing something themselves
Possible connection to cultural heritage, depending on what is grown
Gardening with children doesn't have to be difficult.
Did that list help convince you to get your kids out in the dirt? I bet you're thinking it all sounds great, but like so much work, right? Or maybe your thumb is as far from green as could be and that you can't imagine the endeavor being even remotely successful with your tiny tykes.
I've got you covered – just hop on over to my Greenhorn Gardeners post over at Syncopated Mama and find out some nearly foolproof ways to introduce your children to this activity and how to get started with your little landscapers!
Have your kids explored the arena of horticulture yet? I can't wait to hear! Leave a comment below or email me at lisahealy (at) outlook (dot) com.