"What is wrong with me?" I muttered as I sheepishly grabbed the underwear and closed the dresser drawer.
I wonder if I am the only one to do this? Earlier this summer, when I was traveling and speaking, there was a chance that my luggage was not going to make it to me before my first speaking event, so I had to go out and buy a few new clothes (and makeup — ouch). Everything worked out ok in the end, but now I have a single pair of underwear that is, shall we say, noticeably newer and nicer than my others. (Why do we wait so long to replace these things?)
So every day I open the drawer, look at my selection of undies, and never choose the nice, new pair.
I reason:
"My shorts are dark — just wear the pair with flowers."
"These old ones are just as good."
"Well I'm not really going any where nice." (Ah the absurdity…)
Yesterday, I decided I was just being a little silly and grabbed the new ones, but I wondered… In some ways it's almost like I am telling myself that I don't deserve something nice. When I totally do. I work hard homeschooling these kids.
I know you do too.
That's why I'm excited to tell you about our first ever We Gather Together Beach Retreat.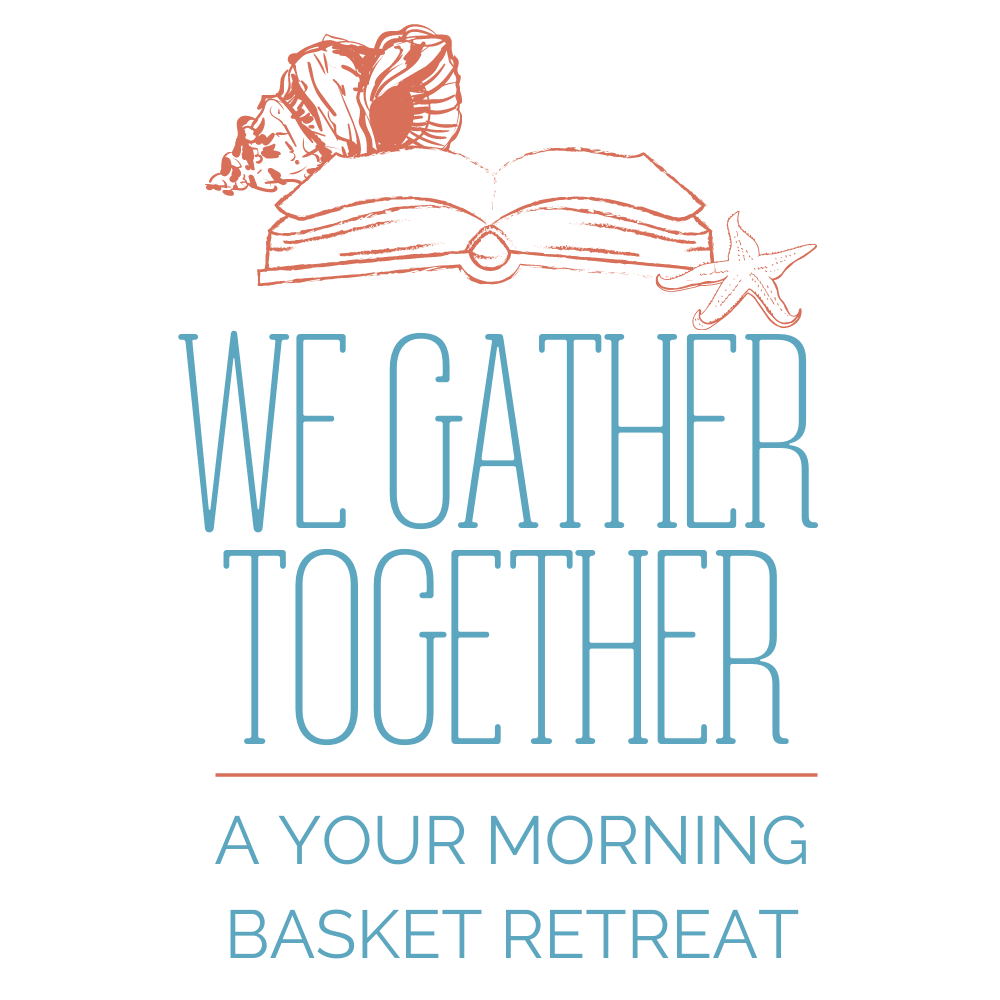 Pin
Listen to the details of our beach retreat episode here:
This is your chance to get away for an all-inclusive beach weekend with other homeschool moms who understand exactly what it is like to do what you do.
We Gather Together Retreat Details
There will be much relaxing, but we will also spend time diving into the details of doing a Morning Basket in your home. We are breaking the day into three different sections.
In the mornings we will be doing Morning Time Together. Right now the plan is for Heather, Dawn, and I to lead two different Morning Times — one for early risers and one for later risers. During that time we will be modeling Morning Time topics like scripture reading, hymn singing, picture study, geography and so much more! In fact, if you have a Morning Time subject you would like us to cover let us know. We are currently planning the event!
In the afternoons we are planning on optional Occupations. You can participate in these sessions if you are interested. If not, feel free to relax on the porch with a good book, take a walk on the beach, or chat with other moms. The idea is for you to get as much R & R from this trip as you do education and inspiration. If you do decide to participate in more formal occupations we will be strewing some handicrafts for you or you can sign up for a nature walk or photography class.
Finally after dinner in the evenings we will split the evenings between encouragement and practical help. We will be discussing a book chapter, doing a Psalms devotional, and diving into workshops designed to help you make Morning Time a success in your home with practical panels, crowdsourcing, and activities.
Pin
Now For the Relaxing Part
We are taking care of all the details. Sit back as our private chef prepares your meals and cleans the kitchen! We will have breakfasts, lunches, dinners, and delightful snacks. There will also be other goodies (and goodie baskets – hint, hint) along the way — we want you to feel pampered and relaxed for the entire weekend.
The beach house provides the perfect atmosphere for relaxation and gathering together with multiple balconies, couches, and tables for private chats. We are just steps away from the beach and the average temperature for this part of Florida in January is the mid-50s (though we really can't make guarantees about the weather). We are hopeful for beautiful sun for beach strolls and outdoor conversations.
The closest airport is Pensacola International. We will set up a private group in our community at the end of November so you can meet the other ladies who will be attending, plus coordinate flight arrivals and airport rides. Our hope is by the time you arrive no one will feel like a stranger.
We will also have a list of local churches of various denominations for Sunday morning as well as time in the agenda for a vigil Mass on Saturday evening for anyone who wishes to attend. Arrival time is anytime after noon on Thursday, January 19 (our first meal together will be dinner that evening) and departure is by 9:00 AM on Sunday, January 22.
Watch as Heather, Dawn, and I give you the low-down:
Because we are all staying together in the same (beautiful) beach house, we have an extremely limited number of spots available. Don't delay in saving your spot!
Check out the retreat page here and then click through to our partner-host Making Family Count for room selection, pricing, and more details.