There is little doubt that one of a homeschool mom's most valuable tools is her homeschool planner. Finding the right planner, though, can be a tricky thing.
How do you go about choosing the right one, figuring out what you need to put inside of it, and then translating that into a workable daily system that will make your life easier?
After all, that is what a good homeschool planner is all about — workable systems that make life better. Here are the steps you need to follow.
How To Decide On The Best Homeschool Planner For You
You need to take a number of things into account when trying to decide what kind of planner you want to use. The first thing to consider is finding one that works with your personality type. I have found that trying to use something that won't mesh with the way I operate just means that I spend money and time setting up a planner that isn't going to work.
Some people will go for a traditional planner (the one I am going to focus on most here), others will want to go with an online homeschool planner, a digital planner, or some may try a less-traditional set-up like a bullet journal homeschool planner.
Commercial planner options are also available and can even be adapted to fit your homeschool planner needs. One of the most popular of these is the Happy Planner homeschool planner.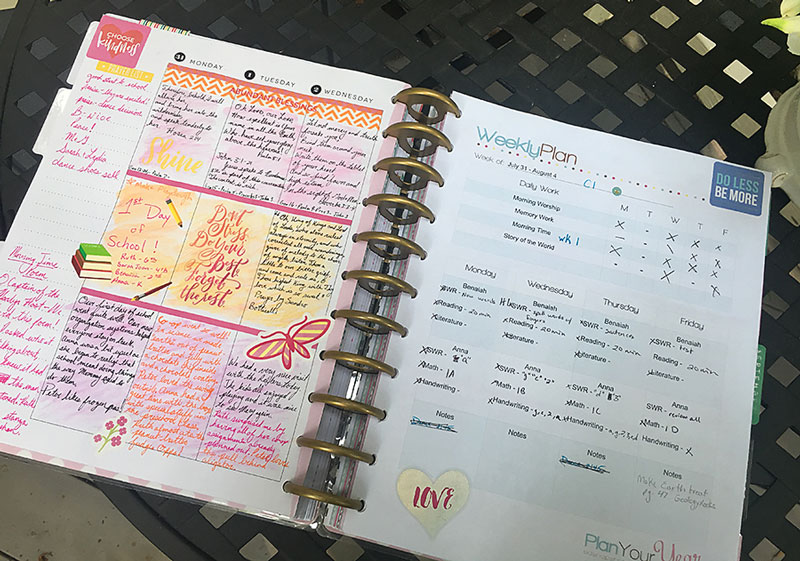 Pin
If you are unsure, try a few options on the cheap (print out our free planning pages and put them in a handy binder, save some files to Evernote, make a bullet journal in a spiral notebook you have lying around, try a trial period of an online planner) until you figure out which one is going to work with you.
Resources for choosing the best homeschool planner for moms:
The 20 Best Homeschool Planners For Every Member Of The Family
These are the top planners on the market specifically for homeschool planning. This list includes paper planners, digital options, and even student planners for your homeschooled child.
Paper Homeschool Planners
My absolute favorite paper homeschool planner is the one I created. Designed for real life and real planning, it has everything you need to make your plan easily and effectively.
Our homeschool planner includes:
Annual and long-range planning forms
Attendance tracking form
Homeschool vision form
Goals worksheets and final goal sheets for up to 10 kids (perfect for large families)
Course of study forms
Block (term) and loop scheduling forms
Weekly planning forms
Resource planning forms
Lesson Plan Lists (our unique way of planning your homeschool so you never feel behind)
Procedure List forms
Weekly spreads (36 in all ) to plan your homeschool and your life throughout the year
Blank grids to use as reading logs or whatever you'd like to jot down
Take a look at our planner in action in this video:
More Paper Planners To Consider:
The Happy Planner is one that is easily customizable for homeschool mom planning. Take a look at how one mom uses it as a homeschool planner:
Digital Homeschool Planners And Apps
These options are perfect for the tech-savvy, paper free homeschool family.
Homeschool Planners For Kids
Part of teaching our children is helping them learn how to organize themselves. These planners are specifically designed for kids.
The Independent Student Planner
The Independent Student Planner helps your kids become more independent and makes your life easier by simplifying the week.
Student planning pages include:
Current year-at-a-glance calendars
Dateless monthly calendars in horizontal and vertical formats
Three student weekly checklist variations
Student goals sheet
Project planner sheet
Weekly meeting sheet
and much more!
More Student Homeschool Planners To Consider
Choosing Homeschool Planner Supplies
For my money and use, nothing beats a traditional homeschool planner kept in a three-ring binder. I love the ease of use. I can print only the planning forms I want and include them, but then it also gives me a place to put other items I don't want to lose track of.
I also love the flexibility. I can add and delete sections, change out forms, add photocopies of supply lists or table of contents from curriculum publishers — anything!
Resources to make a traditional homeschool planner:
Sturdy binder – This is no place to save money. I go for a durable binder that is going to take the wear and tear of daily use. I also like one that is pretty in appearance, but you can go for a standard view-front binder and add a printed cover as well
Dividers – Once again, I try to go a step-up over paper dividers and office-style tabs. I like plastic dividers with pockets, but also love the look of making custom tabs with a label maker, tab punch, and pretty scrapbook paper. If you are going to use a ton of page protectors, you will want these wide dividers that stick out past the page protector.
Page protectors — I don't put all of my planning pages in protectors but do like a few in my book near the back. You might choose to put all of your pages in protectors for added durability. You can even get protectors that are hole-punched so the pages do not stick out past your standard divider.
Drilled paper – Yes, Virginia there is a Santa Claus and he makes paper that comes already three-hole punched and will run right through your printer. Cue angels singing now.
Pens – I love a variety of pens so I can color code.
Stickers and Washi – Don't forget the fun stuff. Just because it's a homeschool planner it doesn't mean that it can't be pretty if that's your thing.
 Wilson Jones Durable Hinge Poly Binder with Removable Ring, 1 Inch, Brown (W31922)
Pin HP Paper, Office Ultra White, 20lb, 8.5 x 11, 3 Hole Punch , 92 Bright, 500 Sheets / 1 Ream (113102R), Made In The USA
Pin Avery 74102 Top loading non-glare poly sheet protectors, heavy, 100 per box
Pin Avery Big Tab Insertable Extra Wide Dividers, 8 Clear Tabs, 1 Set (11223)
Pin Platinum Art Supplies Micro-Line Ultra-Fine Point Ink Pens (Set Of 16)
Pin We R Memory Keepers Tab Paper Punch, File
Pin Tab Stickers-File
Pin Washi Masking Tape Set of 24, Decorative Masking Tape Collection,Tape for DIY Crafts and Gift Wrapping Office Party Supplies
Pin Busy Mom Collection for Calendars, Planners.
Pin Doodlebug School Paper Pack, 12 by 12
Pin
Once I have all of my supplies, I print out just the pages I need to create my planner. One of the things I love about a printable planner is that I use only what I will use with no extra, strange pages that just don't seem to fit me.
I start by using every page in our free homeschool planner. Then I select a few others from the planning forms library to round out my homeschool planner.

Pin
How To Decide What Information To Keep In Your Homeschool Planner
The answer is anything you want to, but in case you are looking for a little more guidance, we have a few ideas. Essential items include a copy of any legal paperwork, a copy of your state requirements (if any), and attendance records. From there, you can include anything else that is helpful. For me, this includes a copy of my vision for our homeschool and goals for each child.
The ultimate homeschool planner is useful in that it includes everything you need, but also is streamlined enough that you can find things. Dividers and a table of contents page will help with that.
It doesn't matter how cute your printables are if they don't do the heavy-lifting of making your homeschool-life easier. A good homeschool planner starts with creating a unique plan – one that will work for your unique family. It needs to be relevant, flexible, and thorough.`
My goal is to spend a few hours planning in the summer in order to put my plan on auto-pilot. The less decision fatigue I have to deal with during the school year, the better.
Here are some of my best resources for planning:
Choose A Daily Lesson Planner for the win
Once you have created a plan for your year, then you still have to know what to do on Monday morning. The key to successful homeschooling is to try and eliminate decision fatigue and teach kids to work independently as they get older.
Reducing decision fatigue is exactly what creating homeschool procedures is about. I create these in the summer and store them in my binder for easy access.
Build independence by using a homeschool lesson planner in a spiral notebook for or a weekly planner checklist like the ones I use with my clipboard system.
Resources for making your homeschool mom life easier:
Those four simple steps will help you create a planner that will work to make your life easier during the school year.
Whichever kind appeals to you I urge you to choose one, make it your own, and above all make it useful. As homeschool moms, we need all the help we can get! 😉

Pin