Summer is almost here and you know what that means! Planning season is about to launch into full gear. Time to spread the table with those resources, books, catalogs, and, of course, your homeschool planner!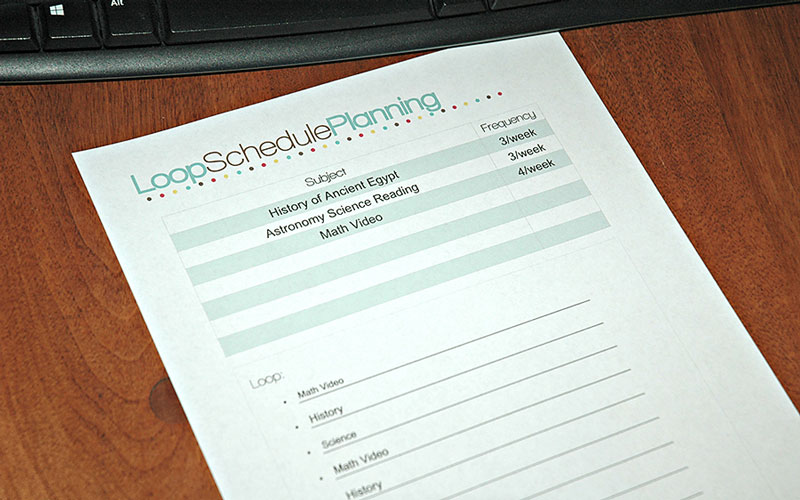 I wrote here about how I didn't use to be much of a planner girl because I'm just too picky about what I want to be included and how I want it organized. Buying a planner from the store wasn't workable. But I have discovered the world of build-your-own planners, like Pam's Plan Your Year, and I am in love.
Isn't Printing Expensive?
Maybe you've avoided the idea of a "print your own planner" because you were afraid that option might be too expensive. My first response would be that having what you really want instead of trying to deal with what you can find might just be worth any additional cost.
But my second response would be to say that it doesn't actually have to be that expensive to print your own planner! Here are some great strategies to save you some money.
Be Ink-Savvy
One of the best money-saving strategies I've found for my homeschool printing needs is to take advantage of the HP Instant Ink program. Now I can print anything I want (black and white or color) for just $0.05 per page.
I pay a flat monthly fee, ink is delivered to my door when (actually before) I need it. I no longer have to decide between black and white or color. And I'm actually paying less than purchasing ink by the cartridge or set!
If you own an eligible printer (or if you might be in the market for a new one for the upcoming school year) you can enroll in the HP Instant Ink program and even try out the first month for free. So you could get your planner printing finished for free! (Curious for more details? You can read a post about the HP Instant Ink program here.)
Print Only What You Need
You know that when you buy a pre-bound planner, you're paying for all of the pages. Even the ones you don't need. With a print-your-own planner, you only need to pay for the pages you want. And, you don't even have to know up-front what that will be!
[clickToTweet tweet="With a print-your-own planner, you only need to pay for the pages you want." quote="With a print-your-own planner, you only need to pay for the pages you want."]
Not sure if you're going to want to go with a loop schedule or a block schedule for a particular subject? No worries. You don't have to print 30-some copies of either one. Just print a few of one and give it a try. Then print more or switch to the other depending on the needs of your family!
Want all your month-at-a-glance calendars in one place? Or do you want them printed on the back of the previous section of daily schedules? Your choice! Print a year's worth now, or print them as you're getting ready to plan the next month!
Keep it Digital
Another fantastic advantage of this planning is system is that you can actually use it, customize it, and still store it digitally if you want! Some folks like to have a sheet in their planner to keep track of, say, oral presentations.
But if you don't need it in your binder or you only access it a few times a year for record-keeping, you can update records on a digital copy of the planning page and then save the file to your computer or cloud drive. It's there. It's recorded, but you don't have to have a paper copy of it.
Of course, if you change your mind later (or need it for end-of-year evaluations) it's no trouble to print what you've saved – including all the data you've stored!
Here's a quick tutorial from Pam on how to save information into your digital planning forms.

It's Not A Tough Choice
One thing I've found to be true over and over in homeschooling is this. You can often save money with a do-it-yourself approach. However, time and energy are valuable and limited resources, too.
The best-of-both-worlds, golden-mean, sweet-spot tools are a buffet of ready-to-use options to build your own custom-made resource. And now you've got a few tips for how to take advantage of that with even more savings!
Are you interested in more digital tools and homeschool resources? We will spend the entire month of June talking about online options and internet safety over at Homeschooling without Training Wheels. Come check out the line-up of topics and ideas!