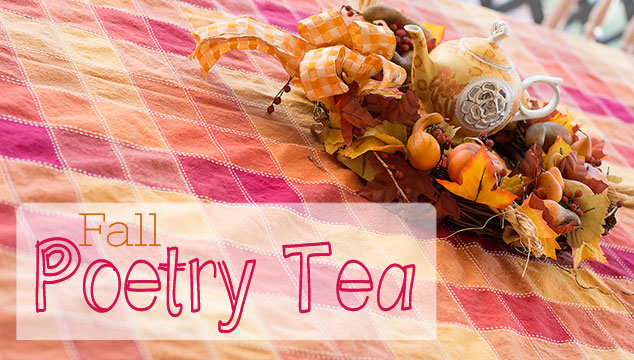 Our fabulous spring poetry tea had not even ended last May when I looked at the other moms and said, "We have got to do this again!"
Once again, we dressed up the back porch, cooked up some good food, found poems to read and recite, and had a wonderful time. The kids even worked on an impromptu performance of "A MidSummer Night's Dream" while we prepared the food.
Hosting a poetry tea is not difficult and should not be intimidating. If you are wanting to do your own, here are some ideas to get you started.
Pin
Fall Poetry Tea Menu
We decided to do a luncheon for our tea. Unlike the spring tea we did not work to match up our dishes with a poem theme.
We love this ritual and want it to be something we do often, so we decided to make it easier to increase the likelihood that it will get done. To that end we also stayed with paper serving products for the tea.
Pin
So for this tea the food was just good seasonal fare.
Cheese and Crackers
Carrots and Homemade Ranch Dip
Sliced Apples and Caramel Dipping Sauce
Molasses Cookies (See recipe below) and Lemon Cookies
Hot Spiced Apple Cider
The potato soup and molasses cookies were the biggest hits. The apple cider was loved by the adults and got about a 50% approval rating from the kids — some loved it, others asked for something else.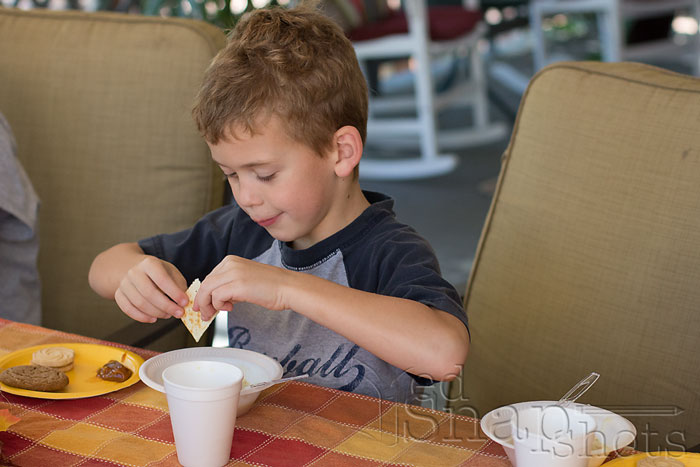 Pin
Fall Poetry Tea Decor
I forgot the fresh flowers! I was so disappointed in myself. To me they are an important part of the tea party set-up and add a special touch to the day. To compensate we collected fall decor items from around house to decorate our tables and party area.
Fall Poetry Ideas
We had a wide variety of poems presented at the tea from personal compositions to a Shakespeare recitation. Here are some of the resources we used.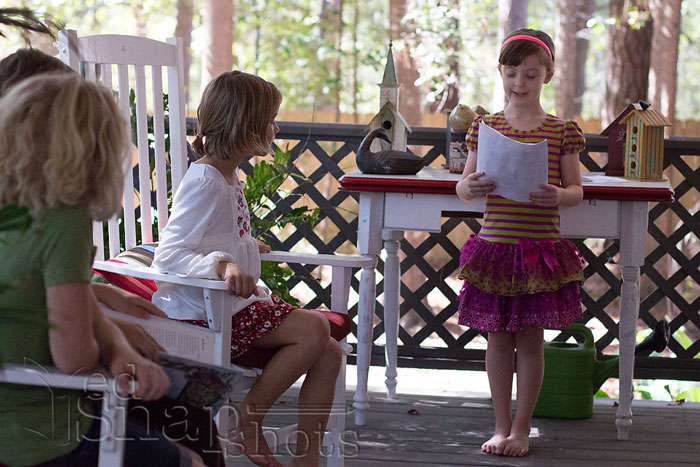 Pin
Pin Always a favorite, the 
The Random House Book of Poetry for Children
 has some fabulous fall selections along with all the other gems in this book. A number of poems were read from this book.
If you are looking for a pleasing pumpkin poem, Sarah has crafted the delightful "The Just Right Pumpkin." You can read the poem and get a printable version at Amongst Lovely Things.
"We Thank Thee" by Ralph Waldo Emerson
PinAnother favorite book pulled out at nearly every poetry event is Ogden Nash's Zoo
. A couple of selections came from this book.
Pin"The Moon" by Robert Lewis Stevenson
Oberon's Speech from "A Midsummer Night's Dream" memorized using the techniques from How to Teach Your Children Shakespeare
.
Pin

Molasses Cookie Recipe
Jessica has agreed to share her molasses cookie recipe with us. These were yum!
1 and 2/3 cup butter
1 Cup sugar
1 Cup Dark Brown sugar
1/2 Cup Molasses
2 eggs
4 and 1/2 cups flour
4 tsp baking soda
1 tsp ground cloves
1 tsp cinnamon
1 tsp ginger
1/2 tsp salt
coating: 1/2 cup granulated sugar
Cream butter and sugar, mix in eggs and molasses.
Mix all dry ingredients together and add in batches to the liquid ingredients.
Roll into balls the size of golf balls and roll in sugar.
Bake at 375 for 9-11 min.
Pin
Don't be intimidated by throwing these kinds of parties — your kids will love whatever you come up with! Be sure to follow us on Facebook and share any of your own poetry tea pictures right to our Facebook page. We would LOVE to see them.