This post is part of the Traveling Through the Pages Summer Reading Adventure. It is not too late to download your free printables and join in on the fun!
He who draws noble delights from sentiments of poetry is a true poet, though he has never written a line in all his life. George Sand, 1851
Kids love poetry. They love the rhyme and rhythm of the words. They love the surprising juxtaposition of images, the funny lines, and the beauty in the figures of speech. Kids love poetry until adults ruin it for them by making them pick it apart and label the pieces.
This is why we strive not to do that. We want our kids to continue that love for poetry well into their adulthood. There is time later in the school career — after the love of poetry is well-established — to begin talking about the parts and pieces. First, always first, start with the joy!
We do this by picking fun books of poetry kids will love. Another way we do this is with the poetry tea party. Poetry tea around our house is usually a simple affair with whatever we have on hand but some days we get a little fancier. That's the beauty of a poetry tea time. The only two elements you really need are poetry and some kind of snack (many days it's not even tea around these parts).
There are times, though, when you want to make a really big splash. Poetry is best shared with those you love, so every once and a while it is fun to have a bunch of friends over and throw a poetry tea party. This is a fabulous way to encourage kids to explore the genre of poetry. Even reluctant poetry readers are more willing to join in so they will be part of the fun.
Don't be intimidated by the process of hosting a tea party. It is really easy!
The first thing to do is to invite a group of friends. Go with what your space will allow; we had four families. Since you are going to encourage all the kids to recite or read a poem, you may want to limit your number to how ever many poems you think your audience's attention span will allow.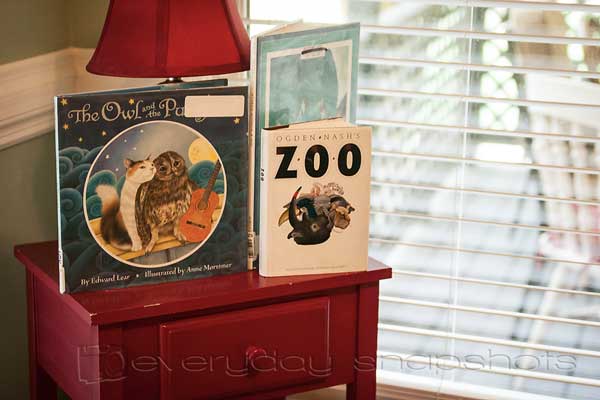 Pin
When you issue the invitation, ask your guests to prepare one poem — their favorite poem — to either read or recite to the group. If you don't have much experience with poetry, our list is a great place to start. We also pulled many of our poems from the poetry we memorize in Linguistic Development Through Poetry Memorization (long fancy name for a great little resource from IEW).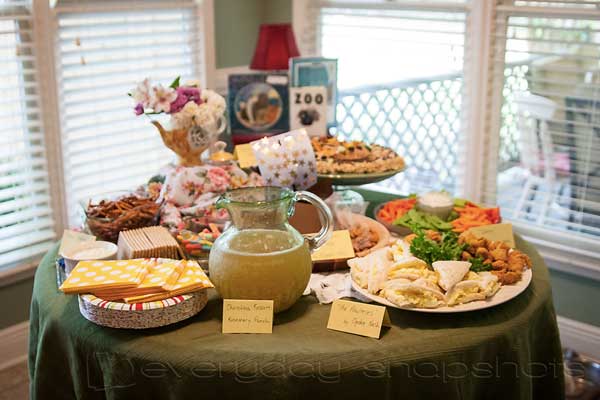 Pin
You can certainly do all the food yourself, but we also asked each of our guests to bring a poetry-themed food item to share with everyone. Our group of moms did a little brainstorming and coordinating together, deciding our food items beforehand.
Actually this was one of the most fun parts of the entire process. We were pretty loose with our interpretation, fitting the food items to the poems or poets. With a little help from your imagination and Pinterest, it is easy to come up with some ideas. The main thing is to have fun with it! To get you started here is our menu:
Kids' Poetry Tea Menu
"Ooey Gooey" by Anonymous Build a Scene
"Celery" by Ogden Nash Vegetable Tray
"The Poultries" by Ogden Nash Egg Salad and Popcorn Chicken Tray
"Wynken, Blynken, and Nod" by Eugene Field Goldfish Crackers and Hummus Tray
"The Owl and the Pussycat" by Edward Lear Tuna Sandwich and Owl Krispie Treats Tray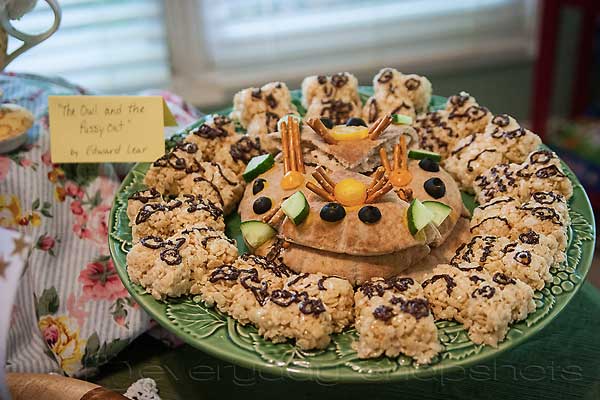 Pin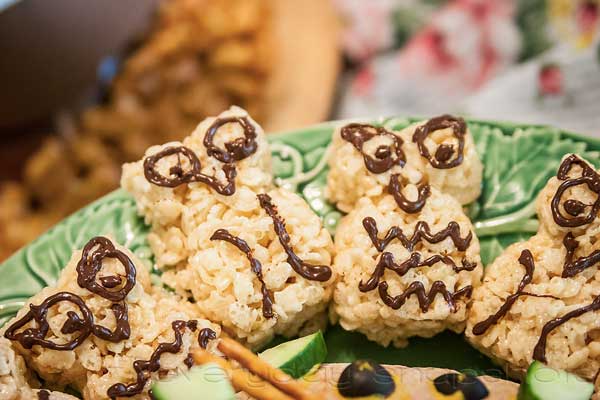 Pin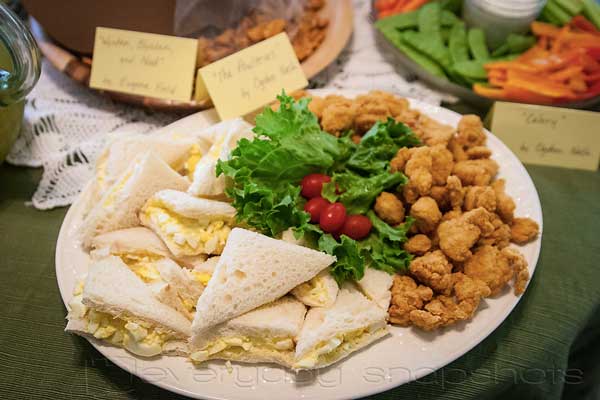 Pin
Pin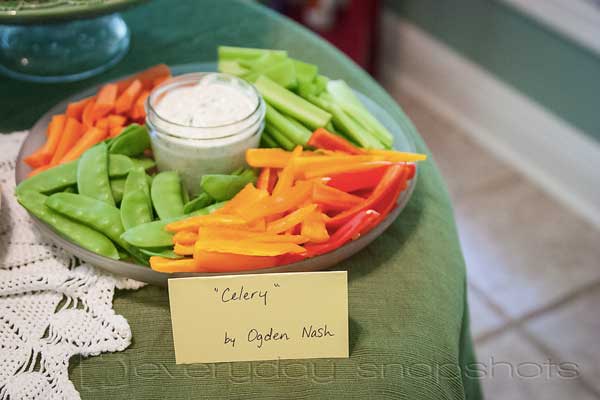 Pin
As you can see, most of our items were store-bought or easy to put together (except Jessica outdid herself on the "Owl and the Pussycat" tray!) The entire menu was also very kid-friendly. It was pretty adult friendly too. There wasn't much left when we were done.
We kept our decorations simple, using things we had around the house. While I normally use my tea set with the kids, we felt it would be safer (and easier) to go with paper products for the party. The teapots were drafted into use as vases for flowers. Table cloths, some crochet doilies from my aunt, and a few poetry books rounded out the party decor.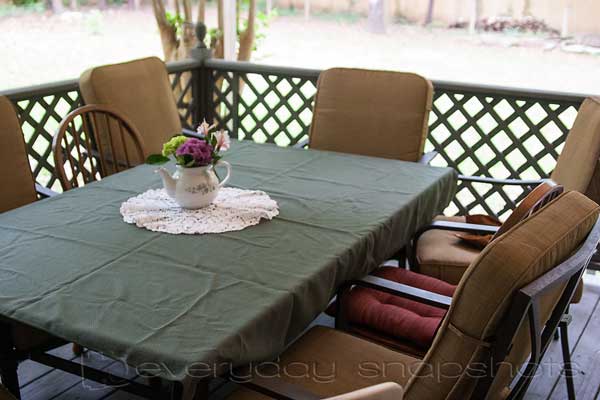 Pin
We turned one of our food items into an activity — the kids made their own "Ooey Gooey" scene using graham crackers, gummy worms, pretzels, and frosting. Since this is a favorite poem, the activity was a huge hit (ok, all the sugar helped too). The poem goes:
Ooey Gooey was a worm
A mighty worm was he
He stepped upon the railroad track
The train he did not see
Ooey Gooey!
You can see why that one is a favorite.
Pin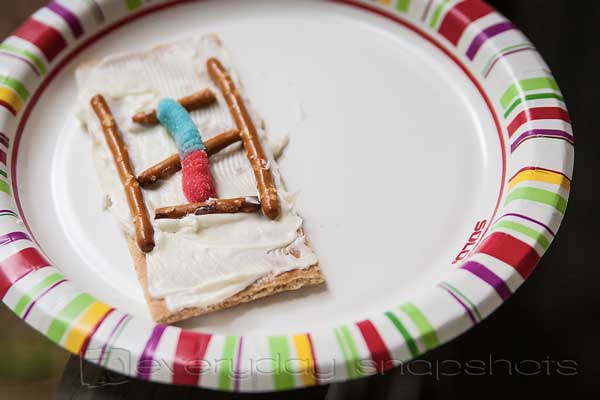 Pin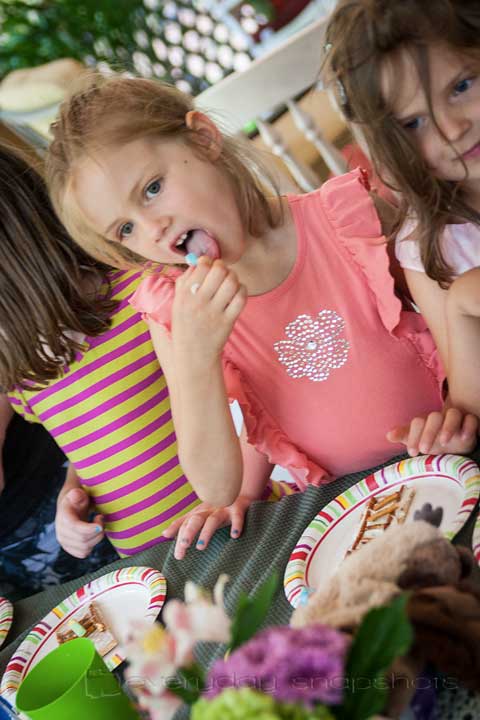 Pin
The highlight of the day, though, was the poetry reading. Some of the kids read while others recited. We heard old favorites and new selections. We had a sibling reenactment of "Jabberwocky," a few moms were even enticed to stand and share some of their favorite selections, and some kids shared impromptu original poetry. They had so much fun with this that they didn't want to stop.
Pin
Pin
Pin
Give it a try! Remember, it doesn't have to be fancy and is supposed to be fun. We talked about ours for days after the party. In fact it was such a success, we plan to do it again in the fall when the weather cools. The main thing to remember is to have fun and to enjoy.
Enjoy the day, enjoy your friends, and most of all enjoy the poetry.