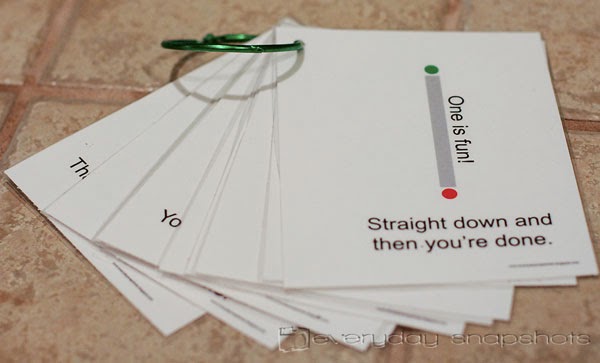 This activity is part of my Learn to Write Numbers printable packs. Be sure to click over to get all the fun printables and ideas.
I've got two early learners here. One is great, albeit somewhat shaky-handed, with writing numbers — just seemed to learn to write them naturally.
The other has struggled with them for a while. Even after a couple of years of math, there are still reversals in many of the numbers.
Since this learner is pretty auditory, I went looking for a way to help with the problem.
Enter my friend Donna, who always has a few tricks up her sleeve. She loaned me some number tracers with poems she used in her classroom years ago — back before she left teaching other kids to teach her own.
I loved the little poems and the green and red dots to help a student know where to begin and end the stroke of the number.
Learn to write numbers printables
I made two sizes of the printables — one a full page size and then a second set small enough for little hands.
I printed the second set, cut them apart, and laminated them. Then I put them on a binder ring, and we use a marker to practice the tracing. You could also slip the full-sized numbers into page protectors and keep them in a binder.
Preschool numbers picture books
To accompany these we have a few favorite counting books that we love that we find perfect for the preschool years.
A Frog in the Bog– This one is my favorite hands down and the kids like it pretty well too. It counts to five and then back again in Karma Wilson's rollicking rhyme. Lots of opportunities for reader exaggeration and FUN.
Every Buddy Counts: Counting– My kids love the MathStart books and this one is no exception. A sweet book about counting friends important to little kids.
The Water Hole– This book is a beauty with stunning artwork showcasing animals from around the world as well as a bit of humor. I find this one tucked away in Olivia's room often.
Click, Clack, Splish, Splash– The cows from Click, Clack, Moo are back along with an entire farmyard of mischievous animals on a mission of mercy. Good fun.
Supplies for writing numbers
In the photo above, John is working with a dry erase marker. We quickly determined that it smeared too easily on the lamination — especially for a lefty. Wet-erase markers to the rescue!

Pin
Also check out our preschool lesson plans here.
You can use the ones for overhead projectors (brings back memories of high school math) or you can choose something chunkier for little hands like these Wet-Erase Fluorescent Markers. Crayola also makes a larger size dry erase crayon.
 A Frog in the Bog
Pin Every Buddy Counts (MathStart 1)
Pin The Water Hole
Pin Click, Clack, Splish, Splash (A Click, Clack Book)
Pin EXPO Vis-A-Vis Wet-Erase Overhead Transparency Markers, Fine Point, Assorted Colors, 8-Count
Pin Sanford Wet Bright Sticks Wet-Erase Fluorescent Markers, Assorted Fluorescent Colors, 5-Pack (14075)
Pin Crayola; Dry-Erase Crayons; Art Tools; 8 Count; Washable; Perfect for Classroom Art Activities; Includes Sharpener and Erase Cloth
Pin BAZIC Metal Book Rings, 1 Inch, Silver, 12 Per Pack
Pin Scotch 2 Roller System, Fast Warm-up, Quick Laminating Thermal Laminator (TL901C-T )
Pin Scotch Thermal Laminating Pouches, 8.9 x 11.4-Inches, 3 mil thick, 100-Pack (TP3854-100)
Pin
I hope you enjoy!