There are many ways to add some enchantment to your homeschool day. And there are many ways to introduce your kiddos to the art and beauty of poetry. But one of our favorite family traditions has been to combine poetry and enchantment in the practice of Poetry Teatime.
This might sound like a concept that would work best with a collection of six-year-old girls with teddy bears and baby dolls in tow. But we've enjoyed Poetry Teatime as a family of folks from middle schoolers down to ninja toddlers!
Pin
Keep it Simple
Seriously, this is basically my motto for anything in the homeschool. But it especially applies to things that we might automatically tend to hide from because they sound complicated. And messy.
When you envision a family teatime, do you think of a long, tiring afternoon, beginning with a hands-on "fraction lesson" with all the kids squabbling over measuring cups and who scoops the flour while you prepare some wholesome baked goodies? And tea that nobody drinks unless it is at least equal parts liquid and sugar? It really doesn't have to be that way.
I'll tell you what our poetry teatime looks like, and then you can feel better about keeping yours simple, or feel like a champ if yours is a notch up! I buy two packages of generic brand cookies at the grocery store. I make hot chocolate from a mix with hot tap water. (This counts. My five-year-old calls it "chocolate chip tea".) I light the two jar candles in the middle of the table. Period. That's it.
I'll tell you in a minute how the kids sometimes add upgrades, but as far as my baseline commitment, that's it! Mostly, our time is special because it's a little different from the regular routine. Sure, they look forward to the cookies. But they don't care that the cookies came out of a plastic package!
Choose a Host or Hostess
Some families might have trouble getting kids to engage with the poetry. That wasn't our struggle. Our biggest struggle at poetry teatime was: who gets to blow out the candles at the end. Sometimes the whole event was fraught with anxiety or nasty looks because there was an underlying tension of competition for huffing-and-puffing those candles out. I'm not even kidding.
My brilliant idea was to let the kids take turns as Poetry Teatime Host or Hostess. The host of the week sets the table, reads the first poem and – you guessed it – blows out the candles at the end! When some of my kids host, we have plates and mugs and that's about it. When others host, we have placemats, folded napkins, and specially arranged treats.
On a few occasions, we've even had a theme to poetry teatime. I won't mention which gender of children tends to host in which fashion.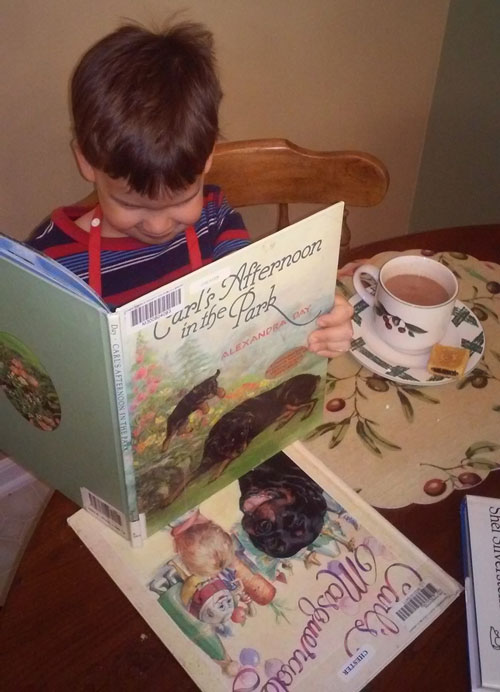 Pin
But the bottom line is that each child has a chance to host in his or her own way. My job stays baseline simple, and they can express themselves and their own creativity!
If you or your kids want some ideas to spice things up, I have a group board on Pinterest called Simple Poetry Teatime where lots of homeschool mamas have shared their ideas for treats, themes, and poetry books for kids!
[link url="https://pambarnhill.com/how-to-do-poetry-tea-party/"]Read: More Easy Tips for Poetry Tea Parties[/link]
Poetry Resources
When we began Poetry Teatime, I figured we'd have to buy a lot of poetry books. I didn't think I had any poetry on hand. But it doesn't have to be complicated! I bet you've already got a lot of poetry in your home. Here's where you can find it, and a few more suggestions for other resources to include.
Don't forget that songs are poetry! Pull the lyric sheet out of your favorite kids' music CD. Or read aloud a familiar, favorite hymn.
Many picture books are poetry. I bet you have a ton of children's books in your home that are written in a lyrical style. Think "Cat in the Hat" or "We're Going on a Bear Hunt". Remember, it doesn't have to rhyme to be poetry!
Read poetry by local authors. And by "local" I mean the ones who live under your roof! You may find that a few sessions of poetry teatime inspire some budding poets in your midst! Poets can read their own work or ask someone else (like mama) to read for them.
There is plenty of free poetry available online. Of course, you can always Google search for poetry that is in the public domain. But you can also use sites like Overdrive to borrow digital copies of poetry books to read on your eReader, tablet or computer. Check your library website to see what resources are available for digital reading.
Speaking of your library, you'd be surprised how many wonderful kids' poetry books you can find! For a while, I was organized enough to request books each week to match the theme of whatever we were learning. Check out the list I compiled of over 100 kids' poetry books organized by topic.
Pin
Poetry for Pre-Readers
I can promise you that if you have hosts and hostesses, the pre-readers (or struggling readers) will be just as eager to host as the fluent readers. (Who doesn't love to blow out candles!) But what about that honor of reading the first poem? Here are some suggestions that have worked in our homeschool:
The host or hostess can choose the first poem, and then choose who will read it.
Let the host or hostess sing a song or say a nursery rhyme they know. These are poems, too! In our homeschool, the chorus of the hymn we are currently learning is usually easily remembered by even our three- and five-year-olds.
Use wordless books. My five year old fell in love with the Carl books by Alexandra Day. Because there are (almost) no words, he doesn't feel that he's missing something the older kids would have during Poetry Teatime, he "reads" from his Carl books in a sing-song-y rhythm, mimicking the cadence of poetry he hears from the older children. Check here for a great list of wordless picture books for both younger and older children!
Use pictures from poetry books. We actually got the idea for using the wordless books one day when my five-year-old started reciting his own "poetry" while looking at the funny and story-inspiring pictures in a Shel Silverstein poetry book. (You can see a little video of it here!)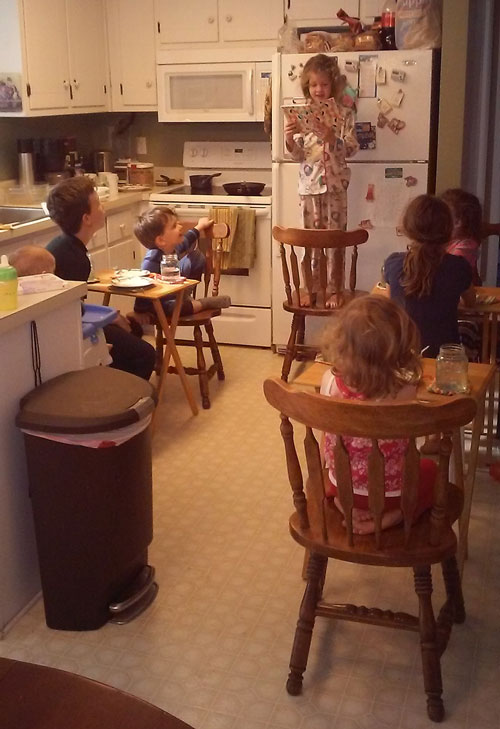 Pin
It's All About the Together Time
Poetry teatime doesn't have to look the same in your family as it does in ours. Isn't that one of the blessings of homeschooling? We each have the freedom and flexibility to craft a system that works for us. Eat some treats. Read something beautiful or funny. Enjoy your time together!