Downton Abbey starts this Sunday night and I am so excited! Yep, you read that right. I am not delusional or using the wrong calendar. Yes, I know it is only in the UK, but I also know ways — legal ways — to watch it. And I thought some of you might want to know too, so here is my quick and dirty tutorial for getting hooked up.
In order to make this work, you will need to head on over to TunnelBear.com to download the TunnelBear software. TunnelBear is a VPN. You can read all about how it works and the legalities (perfectly legal) at this article from PC World. For the short version, though, TunnelBear basically routes your internet through a server in the UK, so that the ITV website thinks you are a UK internet user and will let you watch the show.
Here's how to do it:
Once on the TunnelBear site, click on DOWNLOAD in the upper right hand corner.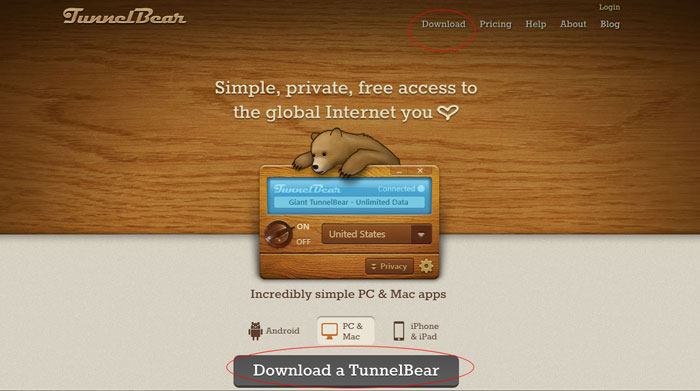 This will take you to a page of download options. Choose the option that is right for your machine and operating system.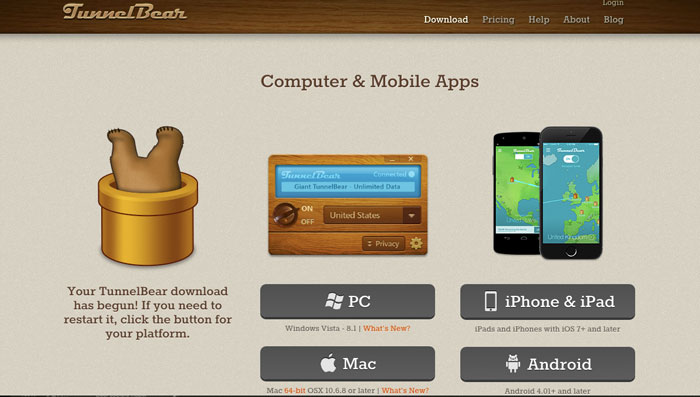 This process will look different depending on your system, but it is just like downloading and running any application from the Internet. TunnelBear is legit, so there should be no virus worries, simply follow the steps you usually follow on screen to install a new program on your system.
Note: Yes, this will work on your iPad or iPhone, but that is more difficult because you need the ITV Player App to actually watch the show. Just like most American TV sites, the ITV player runs on flash and will not display in your iOS browser.
It is a pain to download the ITV app from the UK iTunes store, because you have to have an Apple ID that is authorized to make purchases in the UK. All this is doable with work arounds, but beyond the scope of this tutorial, because it has been too much trouble for me to figure it all out. I would rather just watch on my MacBook. So this will work for the PC and MAC computer versions only.
Most systems will launch the application for you after install. If not, simply go to your applications or programs menu to launch TunnelBear. You will need to do this each week when you are ready to watch.
After launch the little TunnelBear vintage TV dial controls will pop up on your screen. At this point you need to choose UK and switch the dial to ON.
After a few bleeps and blips you will see the blue screen above which tells you that you are connected and shows your remaining data. At this point you are ready to go, but first a few notes.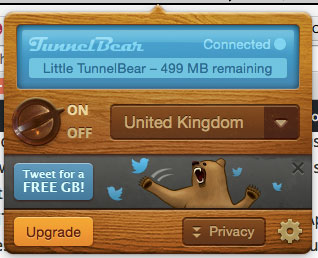 TunnelBear gives you something akin to 500MB of free data each month. If you tweet about how great TunnelBear is, they will give you 1GB more. That is enough to watch maybe 1.5 shows. So, in order to watch each week, you will need to upgrade to a paid account.
That will give you unlimited access to TunnelBear data. It is super easy to do and to turn on and off. Once Downton was over last year I turned it off with one click. You can pay via credit card or Paypal.
To upgrade to a paid account, simply click the upgrade button at the bottom of the box and enter your account information. A Giant TunnelBear subscription for $4.99 a month for four months will see you through the Downton season.
If you are more on top of it than I am, then you could turn it off and back on between the end of the regular season and the Christmas special and save yourself a fiver, but I forgot last year. It is that easy to turn on and off — no calls to make, no "are you sure." TB really is a low-stress subscription.
Next you are ready to launch your favorite internet browser and point it to the ITV website.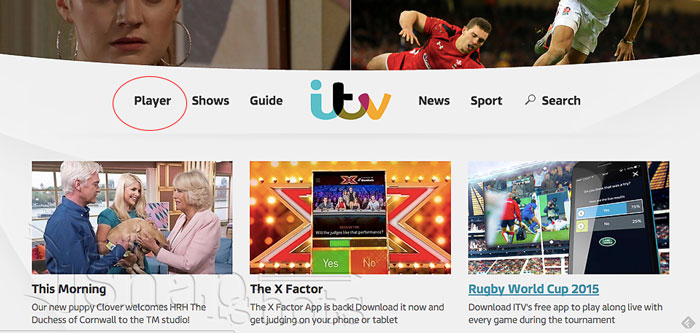 The look of the ITV homepage changes from day to day, but what you are looking for is the PLAYER in the far left middle of the screen. Once you click on that you should be able to navigate to Downton and start the video. It will ask you to enter a British postal code the first time you log-in. Google turns up one of those pretty quickly.
They show Downton in the evening in the UK. Last year they posted it about six or seven hours later — that was perfect timing for the East Coast of the US to watch it in prime time. Usually by the time I got the kids to bed and got settled in on Sunday evening, it was waiting for me.
A couple of TunnelBear notes. If you use any kind of Google service and are signed in while using TunnelBear, you might get a message that someone from the UK or outside the US is trying to access your account.
Don't fret, because it's really YOU. If you try to blog or check email while connected to TunnelBear, your service will think you are not yourself because you don't seem to be coming from where you usually are. (Clear as mud, right?)
Also while connected to TunnelBear is not a good time to check your bank balance or try to move money. It will probably set off security measures at your bank website as well. (Ask how I know these things.) Be sure to turn TunnelBear back off after watching the show so that you are not plagued by any of these gremlins.
Also another great use for TunnelBear is keeping your private data safe while using the Internet in public places. So if you are surfing at Starbucks or anywhere else, use your TunnelBear while you do to keep people from snooping about on your machine.
On the plus side (as if you needed another plus other than watching Downton), if you are interested in any other ITV or BBC programming this is the perfect time to check it out. And if you have a husband who enjoys European motorcycle or auto racing, he can also benefit from your monthly subscription (selling point).
Final note, remember not to be a party pooper and spout out spoilers left and right on Facebook or in person. There were times last year that it was hard to hold my tongue, and I seriously had to think and make the effort — especially as I watched again in January (yep, I watched twice) and read all of the blog comments.
I highly recommend finding a friend or two to watch ahead with you so you have someone to chat with about it all. And if all else fails, you can always email me at pkbarnhill at gmail dot com or message me (privately!!) through the Everyday Snapshots Facebook page. I'll be happy to chat it up with you!
Let me know if you have questions. I am not an expert, but I'll try my best to help you figure it out. Happy watching!