YMB #54 Natural Foreign Language Learning: A Conversation with Adelaide Olguin
Mom's are natural teachers for a language — after all moms teach their kids language all the time.
Foreign language can work the same way as a first language — simply start with words and phrases you use everyday and build on one or two at a time. Soon you will know more words in a new language than you ever imagined.
Adelaide Olguin is on the show today to tell us about how this natural language learning works and how you can begin to implement this in your home to learn new languages with your kids. It's a fun and encouraging episode, so don't miss it!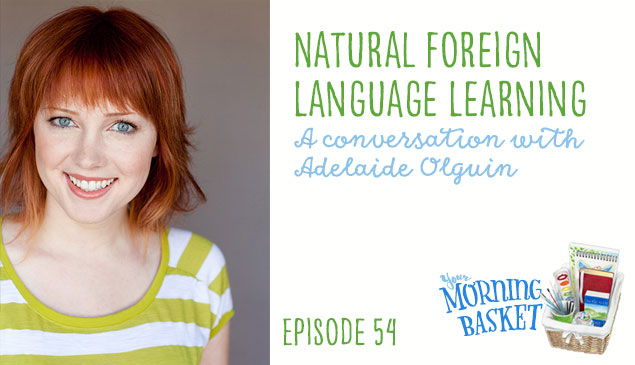 Leave a Rating or Review
Thank you for your interest in leaving a rating or review for Your Morning Basket on iTunes. Here's how you do it:
Click on this link to go to the podcast main page.
Click on View in iTunes under the podcast cover artwork.
Once your iTunes has launched and you are on the podcast page, click on Ratings and Review under the podcast name. There you can leave either or both! Thanks so much.