I am going to start this post by saying that there was nothing wrong with All About Reading to begin with. It has been our favorite reading program for years with all three of my children having worked in various levels of the program.
The black and white materials have always worked well for us and there was a certain charm to the readers with their scrapbook-style decorations and appealing line drawings.
So when I saw the color versions of the program, my initial thought was, "Well that's cool" but little more.
My kids on the other hand took a different view.
"Mom! Look at how cool this is in COLOR!"
"Oh! I love this!"
"Wow!"
Well then.
In fact, there have been a number of times we have had to pull out both the black and while and the color editions of the book just to see how different our favorite stories look now that they are in color. What are the activities like in color? What about our sticker chart? Is that in color too? (It is, in case you were wondering.)
So the color editions of All About Reading have been a ton of fun. It doesn't stop there.
What we love about All About Reading — now even better
The color editions of All About Reading have also been super-helpful. I didn't realize that there were times in my haste that I had been using the wrong color tiles. There aren't many situations where there are multiple copies of a phonogram, but in the few cases that there are, it is so helpful see quickly in the color teacher's manual exactly which tile we need to use.
It also makes it more likely that I point out both tiles and talk about the differences in them. It's a small thing, but an important one and it just makes my life as a teacher that much easier.
As with all of the All About Reading products, the new materials are made with care. One of the first things I noticed about the new books was the feel of the paper. The color in the readers has been added using colored pencils in a soft-style that complements the favorite artwork that we have come to know and love.
One of my favorite things about the readers is the appeal that the stories have to a wide range of ages. Since I have a struggling reader, he is reading some of these tales at older than many other kids. They are not babyish and they still capture his attention. He laughs often. I am happy that the addition of color was done in such a way that it doesn't detract from the stories' appeal.
So much of All About Reading has not changed. You can see why it is my favorite reading program here:
The details of the color version of All About Reading
Got questions? Here are some things you might be wondering with answers from All About Reading.
Q: Will my current editions work with the new color edition?
A: YES! If you already own a current version of All About Reading, there is no need to upgrade. The new Color Edition materials can be correlated seamlessly with the current black-and-white editions. Easy-to-use Correlation Guides for all levels will be available on our website after the new edition is released. The only exception to this is Level 1/1st edition which does not correlate with either the 2nd edition or the color edition.
Q: How much will the new edition cost?
A: The cost for all complete sets of All About Reading will go up $15. Prices for individual components will also increase.
Q: When can I order the All About Reading Color Edition?
A: Now! The new color versions are ready to ship.
Q: Can I still get the black-and-white versions at existing prices?
A: Maybe. All About Reading can give you the name of a retailer who still has black and white editions in stock.
Q: Will you continue to carry black-and-white versions after the color edition is released?
A: No. Black-and-white editions of Levels 1-4 will only be available until January 9, 2019. After that date, we will give you the name of a retailer who still has black and white editions in stock.
Q: I just bought a level of the black and white version. Can I get the color edition instead?
A: Yes! Because of our 1-year money back guarantee, you can return your black and white version for a full refund (even if it's partially used!) and order the color edition at the new price.
How cool is that! That fabulous return policy has always made AAR one of my favorites.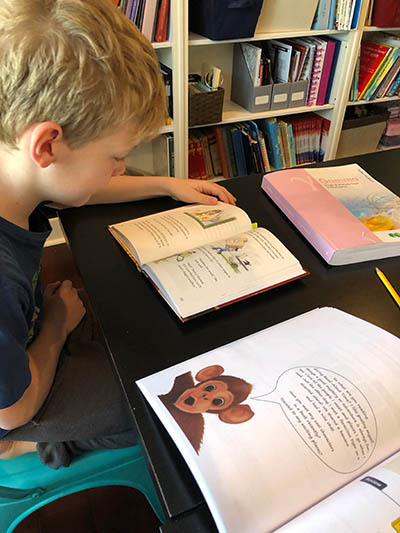 The All About Reading Color Edition Giveaway
Now for the fun part. All About Reading is letting me give away a level of the new color All About Reading! The winner will get to choose which level and you can enter below to win.