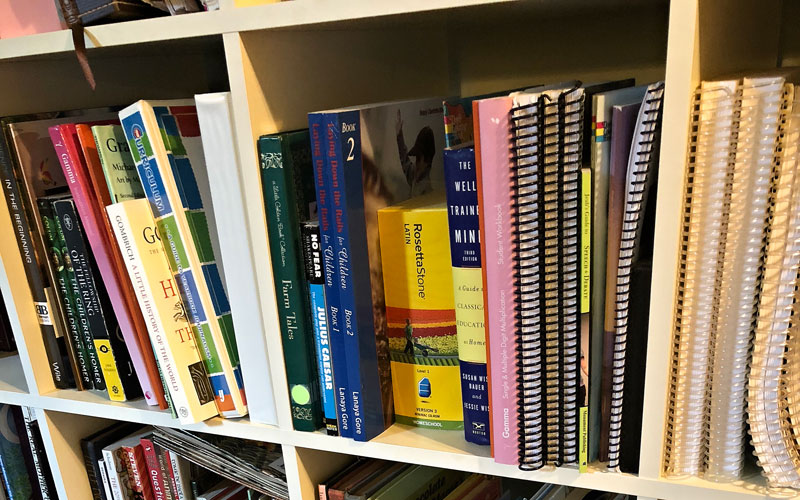 The end is near. Can I buy new curriculum yet?
There are just over 40 pages left in my son's math book. That's 15 lessons and 2 tests. He and I both counted on separate occasions of desperation.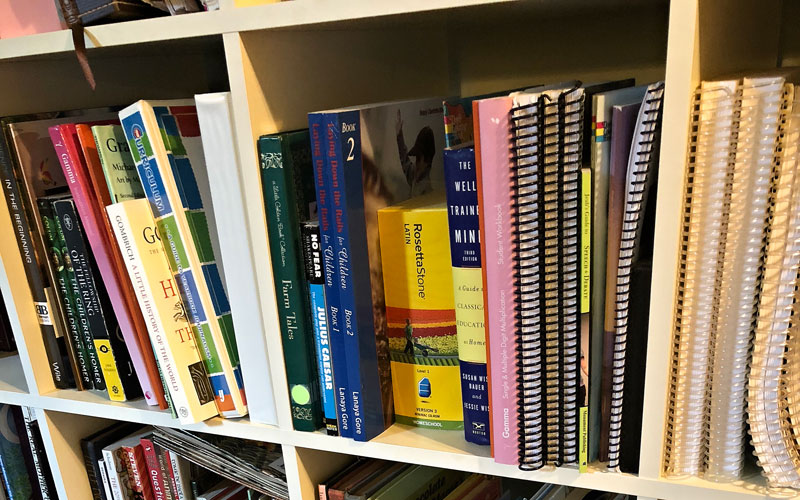 Pin
We have reached that magic moment where planning for the next homeschool year is loads more fun than finishing the current one. Maybe it's my imagination, but as the weather improves outside, the lessons seem to be getting longer.
The natives are restless.
And I never had much patience to begin with despite the common malpractice of "patient" and "homeschool mom" in the same sentence [read more ridiculous reasons NOT to homeschool here].
The worn-out notebooks and texts we drag out every day are less than inspiring as we crawl to our finish line. They're the same teaching tools that grabbed and held their attention at the beginning of the homeschool year.
Now before I can clear the oatmeal drippings from the table and trudge upstairs clutching my coffee to oversee their lessons already in session, they are up and wandering the house deciding what to have for second breakfast.
Oh, we definitely need a break before jumping into new grade levels.
Like my grammar grading book, this homeschool mom is getting frayed around the edges. Seriously, some days I lose sight of my own argument when the boys ask, "Why do we need to learn all this stuff? H-E-L-L-O! We have Google."   
So basically, we're learning world geography in case of a nuclear fallout that brings about the loss of google maps. This was the best on-the-spot reasoning I could come up with, y'all. Don't judge me.
While we trudge along and get things done, what better way to escape the current year than planning for the next?
Can I pretty please start shopping for new curriculum? 
Curriculum shopping is bliss
Confession… I love looking at homeschool curriculum way too much. It's euphoric.
Dads, if you want to romance your divine headmistress, might I suggest an online canoodling stroll through the many options for teaching world history to multiple grades?
Pin
Shopping for new curriculum is my favorite homeschool hobby. Not to be confused with my all-around favorite hobby, which is eating cookie dough and reading until I fall asleep and ultimately cold-cock myself in the face with a 400-page hardcover book.
After we take that much-needed break between grade levels, we must be prepared to start again with renewed excitement, right? So I must not delay the glorious difficult task of choosing new curriculum for the upcoming year.
In the 42 days and pounds of coffee beans, I'll spend perusing curriculum online, I will:
Read all the reviews and descriptions for the pieces of curriculum we have continued using for the last 5 years. Just to be sure I'm sure.
Re-read everything about what I decided not to use but still think maybe we should.
Go completely nuts looking for the language arts curriculum I love that doesn't exist. Then give up and try something completely new, like I have every year.
Read all the reviews on the stuff I'd never ever use but need to be reminded of why I won't in order to fortify my decision

and obviously superior choices.
Be very very quiet … I'm hunting curriculum
"Hush, child! Mom is busy. Go ask your brother to help you with that math problem. Can't you see I'm planning your education here?"
Ah, the irony.
There should be a placard you can hang on your laptop when hunting for the perfect curriculum (and unicorns). Like a "do not disturb" sign at a hotel, only mine would read: I'm not really here. Teach thyself.
My kids would totally ignore it, of course. Like they do the bathroom door separating them from me whilst sitting on the toilet. But the hope would be that they use these last days of our year to work on being self-reliant and at least pretend to figure out the last few lessons in this year's math text.
We all know the very same lessons will be the basis of the first 10 chapters in whatever I purchase for next year. They should totally offer an edition without those ten lessons at a discount for those of us whose children really finished the 4th grade.
The dilemma of unfinished curriculum
Truth is, we could cry "uncle" on this academic year already, host a marshmallow roast over a bonfire of mostly completed work, and hunker down for another "homeschool winter" (i.e., public-school summer break).
But we're not finished just yet. Because I suffer from Homeschool OCCD (Obligatory Curriculum Completion Disorder) and therefore desperately try to get to the end of all our curriculum. I mean, we paid for every lesson. Am I right?
Pin
I just know whatever lessons we skip will be the questions they miss on the SAT and will thus lose scholarship money. Besides, if we walk away now, can I look people in the eyes and honestly state that my child completed the 4th grade?
Well, yes.
But I just know my husband's child will sing like a canary to all who are skeptical of us homeschooling telling them he didn't really do "all" the things. Mom said he could quit and watch SpongeBob until August.
So we press onward.

Pin
The best curriculum is fake news
Everyone has their own idea of the "best" curriculum when it comes to homeschooling. You would sooner be able to nail jello to the wall than pinpoint the perfect curriculum for all children. If something claims to be the "best curriculum," it's fake news. (See common core standards belly-up down the river.) Whatever works best for your kids is the best.
And, of course, our best is never all in one package. Especially if our kids are in several grades at once depending on the subject.
By the way, just pick a grade level and go with it when out and about. It's just good homeschool manners and can save you lots of time, hostile glares and ridiculous questions from strangers. In fact, grab a copy of my book, "Socialize Like a Homeschooler, A Humorous Homeschool Handbook." You'll laugh your pajamas off.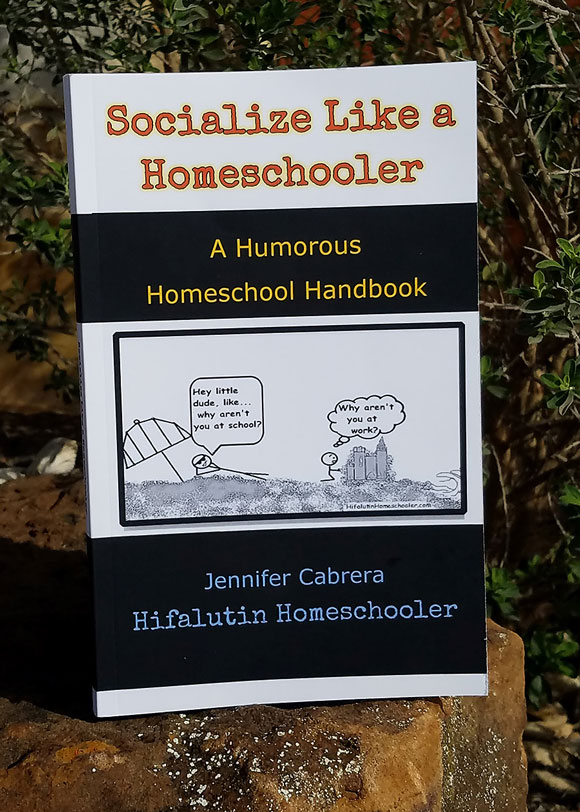 Pin
We homeschool eclectically, which is just code for the fact that I'm a control freak and can't find my favorite teaching tools all in one boxed set.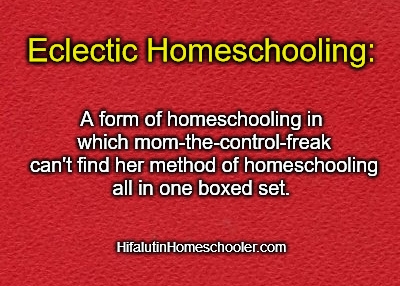 Pin
Right now, I have five different middle school science programs saved in a cart. A cart that has emailed me every other day for two weeks to remind me I need to complete my purchase, or perhaps seek a mental health intervention.
Any of them will probably work well for us. Because, like any lessons we teach, what our kids get out of it mostly depends on what amount of time we are willing to put into it.
Unless it involves crafting with glitter and then that kind of curriculum is just a test of our Christian composure.
Curriculum shopping for imaginary kids
Sometimes I screw up and forget to keep my real children in mind when I am perusing the e-aisles of homeschool curriculum. It's more like I'm Christmas shopping for Stepford children.
In a bid to find a multipurpose program I read things like …
Learn to speak Spanish fluently in ten weeks of audio lessons while simultaneously practicing fractions and learning to knit for the homeless.
And then I lose all touch with reality and tell myself, This will be great! We can do this in the car every day while out socializing!
For this reason, it is best to let things ferment in my cart for a week or four, giving me time to come to my senses and remember my real children with selective hearing deficiencies. Either way, I will finally select the group of courses I hope will bring about college scholarships only to then be bombarded with ads for award-winning curriculum I never knew existed. This little irony is one of the 10 Things I Hate About Homeschooling.
Curriculum season
It's the most wonderful time of the year. Curriculum season is open.
Whether you finish every second-breakfast-smudged page in your current curriculum choices or throw in the towel at exactly 241400SMAY18 military time and light a bonfire with the remnants, remember what you loved, liked, tolerated and hated about the things you have been using this year and apply those wisdoms and emotional triggers to your new search.
Never stop learning to learn.
Happy hunting, y'all.

Pin