A couple of weeks ago I mentioned our use of washi tape in my five homeschool room hacks post. We are loving our washi tape here. The kids love the fun designs, and I love how easy it is to grab things for the right person when they are labeled with a bit of tape.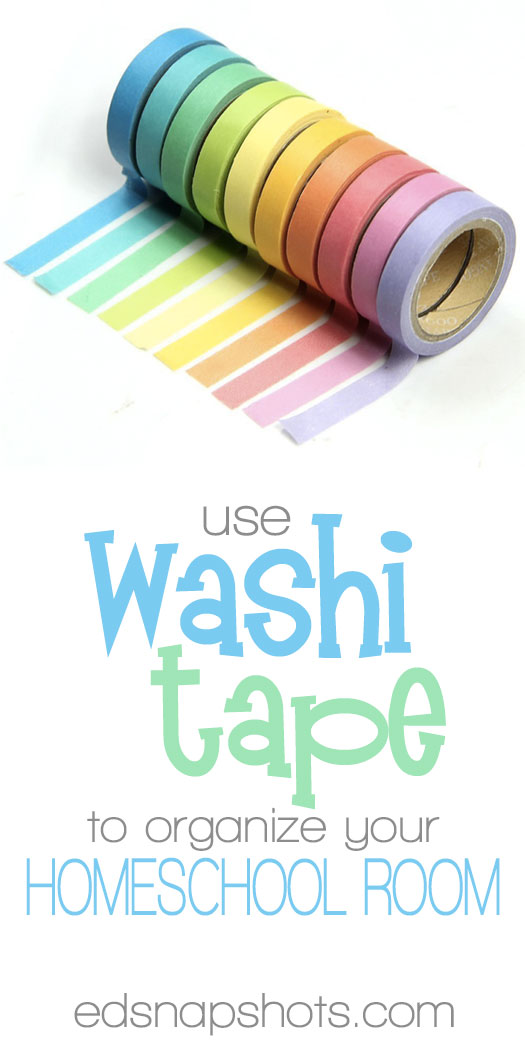 The kids and I decided to make you a little video showing some of the ways we have been using it in our homeschool room. It's short — only two minutes — and fun.
Disclaimer: No children were harmed in the making of that video! In fact they were rather disappointed that washi tape doesn't stick to skin very well. I do have to keep the rolls put up, because I am sure I would find it all over the house if I did not.
Washi tape is pretty easy to find. Office supply stores, scrapbooking stores, and discount stores carry it. My favorite place to find fun new designs is Amazon, because I don't have to leave the house and with Prime I can have it in two days. (Amazon Prime, oh how I love thee!)
Here are a few fun designs I found:
Martha Stewart Crafts
LOVE these designs by Martha Stewart! This is just my style and fun for a school room. The price on these is great. You get the entire pack for about the price I paid for two rolls at my local store.
If you click over you can see there there are nine different styles available in this line. I think my favorite is Vintage Girl, but Wonderland might be the most versatile for a family with boys.
Haunted is cute too with Halloween coming up! I love the black and white designs without even a hint of orange.
Ally Drew
If geometric is more your thing then this "Tire Tracks" set by Ally Drew is perfect. There are eight different designs and colorways by Ally Drew, most of them geometric including these stipes and others with dots. Some of the designs are even metallic!
The boys have already given a big thumbs up to the red, black, and gray Tire Tracks set and asked me to order it.
Estone
Finally this line by Estone includes a number of different rainbow colored sets (not just these pretty pastels) plus some other more decorative sets like lace and the kid-friendly cartoon set!
With so many different options it would be easy to washi tape the entire house. Which is exactly what the kids would do if I let them. Fortunately washi tape is low-tack. It sticks where you want it to, but is easy to take off if it ends up where you don't want it too.
Three More Homeschool Room Washi Tape Ideas
These ideas were not originally created for the homeschool room, but they would be helpful and creative.
Washi Taped Basket
Love, love love this washi taped basket idea from Jeanie at Create and Babble.
I don't have a basket with flat sides like that one, but one may be in my future really soon, because that is just too cute.
Jeanie used a Longaberger basket, but I have seen similar flat-sided baskets at Michaels and Hobby Lobby. The project looks easy enough that even I could do it.
Washi Cord Organization
This practical, but still pretty, washi tape cord organizing idea from Creative Savings is going on my to-do list as soon as I get more washi tape. Between home and work devices we have an abundance of these chargers and cords.
Not only is it very practical, but prettier as well. (Don't tell Matt that I am going to make his charging cords pretty.)
Washi Chalkboard Calendar
This one is a much bigger project from Second Chance to Dream, but look at how great this DIY Chalkboard Command Center turned out.
If you didn't want to do such a large project, you could paint a smaller area of the wall just for the calendar portion.
I love how the entire wall turned out. Frames could be used to showcase student art or school work while lower spaces could be left blank and used as a place for kids to have fun practicing writing or doing math.
Aren't these ideas great? I share fun homeschool and homeschool room tips like these everyday on the Everyday Snapshots Facebook page. Come like the page so you don't miss a tip!