As part of our 31 Picture Books For Homeschooling All Ages series, we have chosen kids' books with vivid language, interesting stories and striking artwork to appeal to every person in your family. A Frog In The Bog is one of our favorites!
Our book posts include a few activities — some simple, some more involved — for your entire family to enjoy together. Or not! Reading the book is enough in itself if that is all you want to do.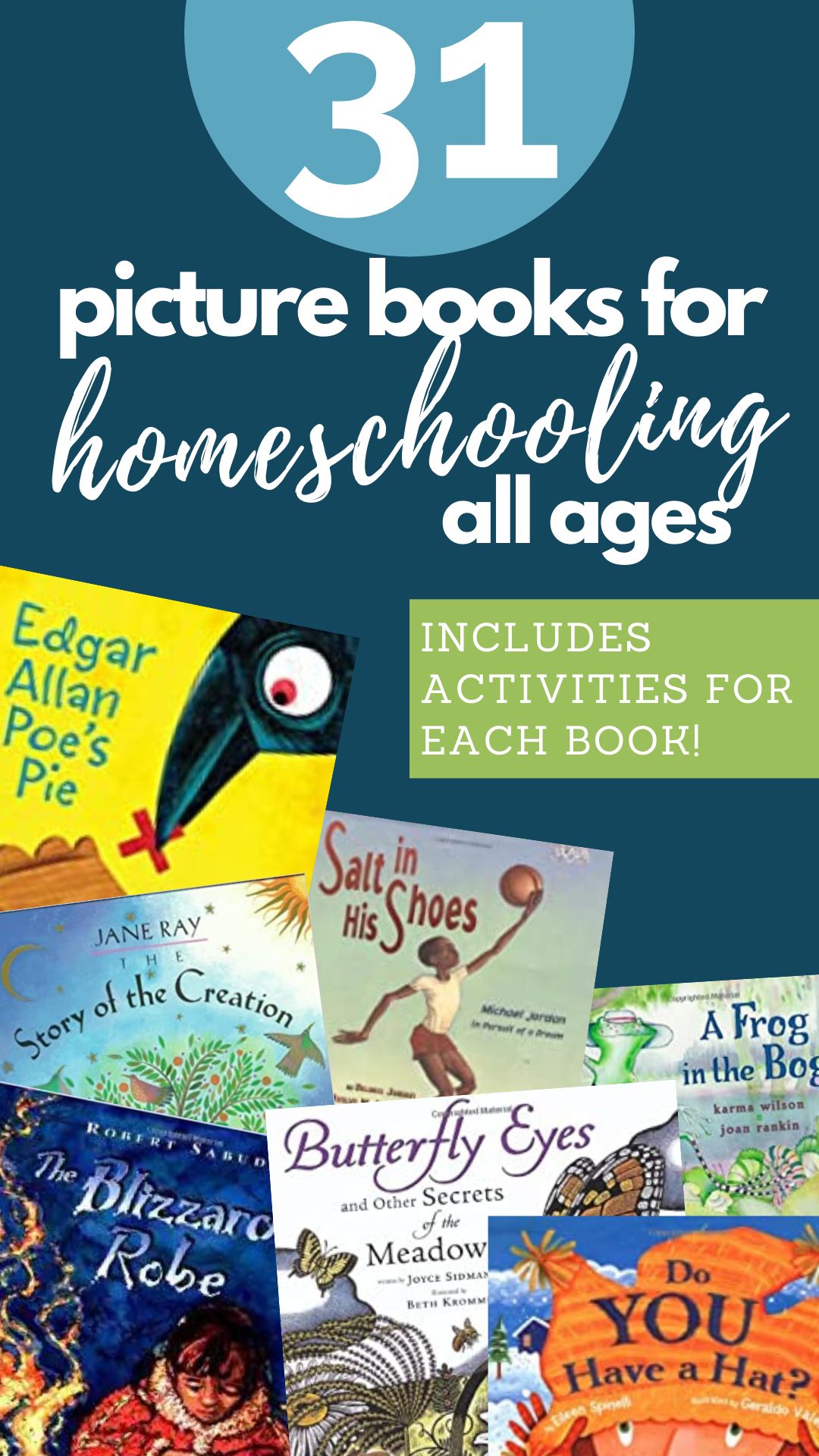 Snuggle up and enjoy a picture book or two together as a family. It may be the highlight of your day.
A Frog In The Bog Picture Book Details
Book: A Frog in the Bog
Author: Karma Wilson
Illustrator: Joan Rankin
This rollicking romp through the swamp has been a family favorite of ours for years now. Essentially a counting book, the entire family enjoys Karma Wilson's story of a hungry frog, his unfortunate food, and the big surprise in the middle.
The illustrations of the book are done with comical details making it visually interesting to study the weird shapes of the bugs, while at the same time the watercolor aspects lends an appropriately "swampy" feel to the drawings.
Frog is a book meant to be read with gusto! My husband and I each read it differently, but the rhythm of the text, the added interjections ("Ew! Ugh!), and the building suspense call for it to be read with dramatic flair. After a reading or two you will know just the right places to pause for dramatic effect, speed up, and even add a funny face or two. The kids love it and beg for more. And it's just plain fun.
A Frog in the Bog Homeschool Activities
#1 – Download the FREE frog life-cycle art from Kari Bold at Teachers Pay Teachers. Art is in color or black and white for you to color. Discuss the life-cycle of a frog and order the pieces. For a more true-to-life version, this Frog Cycle model from Insect Lore is great.
#2 – From Tadpole to Frog is a Read and Find Out Level 1 Science Book. Perfect for even the youngest learners to find out more about the life-cycle of a frog.
Gail Gibbons' detailed illustrations and informative text are always a crowd-pleaser and Frogs is no exception. Usually even mom and dad come away with new knowledge from Ms. Gibbons' books.
#3 – Use the grown frog clip art from the set above to make a craft stick puppet and act out the story. We have some fun plastic bugs we use. They aren't exactly the ones mentioned in the book, but they are still great for counting practice.
# 4 – Watch a video on YouTube about what frogs eat.
Picture Book Lists For Homeschooling All Ages
Looking for more picture book resources for your homeschool? Download our printable library and book list below!