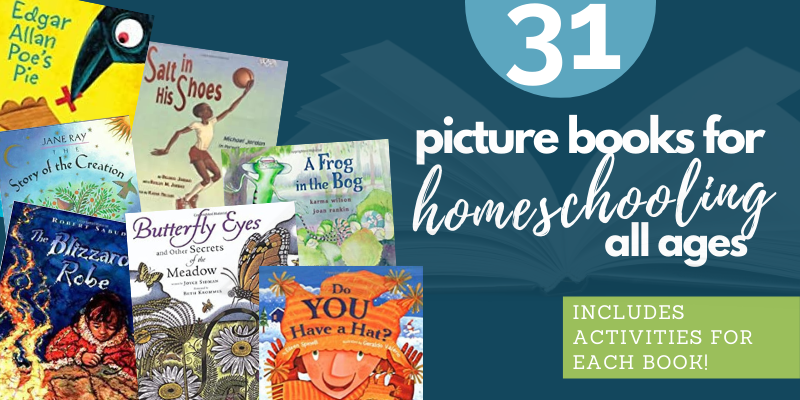 What quality makes a picture book memorable? What causes adults to pause and become lost in memory at a display in a bookstore window?
What makes a three-year-old return again and again with the same book clutched tightly for bedtime reading? What quality makes the grown-up eager to comply?
It's an elusive thing, really, the qualities that bring a kids' book to touch us, teach us, make us laugh. It's something we explore in this series – 31 Picture Books For Homeschooling All Ages.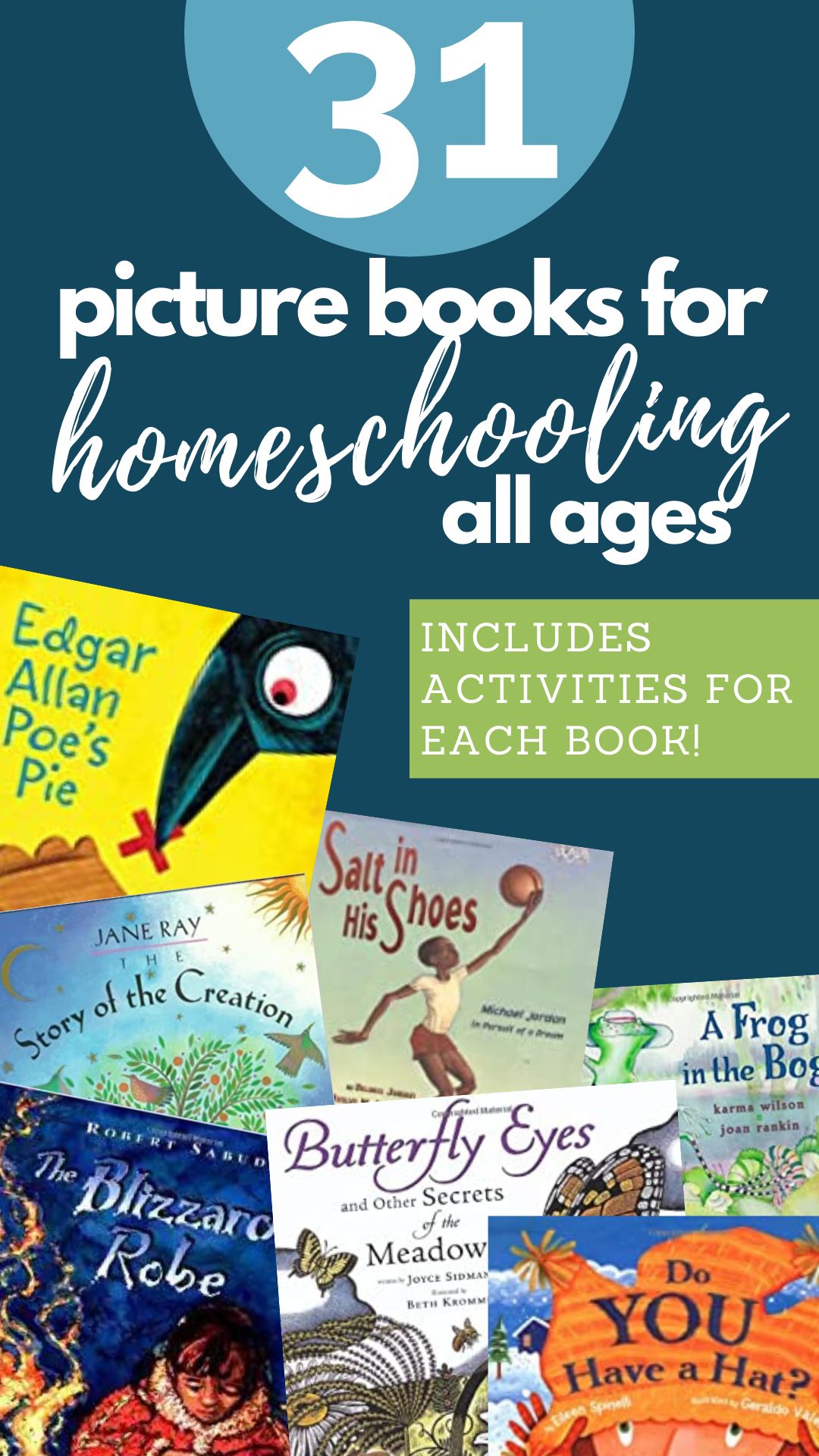 Pin
31 Picture Books Suitable For All Ages
We have chosen for you 31 picture books — books we felt were worthy to include and worthy to be read again and again. In no particular order, here are some of the criteria we used in our selection process.
An enjoyable story. It might be funny, informative, or moving, but we looked for stories that offered enjoyment to readers of all ages.
Compelling artwork. From interesting artistic techniques to bright and zany cartoons, we tried to find books where the artwork was just a little more than average.
Read-aloud-ability. (Oh yes, I made that up.) Our goal was to find books easy and fun to read out loud and share as a family. Captivating rhythm and rhyme, alliteration, metaphor, word play — the best children's books are as carefully crafted as the great literature.
Appeal to a wide range of ages. We wanted kids' books that adults wouldn't mind reading again and stories that even the littlest ones will be interested in.
Something new. While a few may be sprinkled in, you will find many wonderful classic picture books not on this list. We wanted to find some fresh choices and new ideas for you to enjoy.
Kids' Book Activities For Your Homeschool
In each post below, we introduce you to a new book with all the important info and a brief summary. In addition to telling you how the book charmed us, we will also provide three to five activities that might be fun to do after reading the book.
While there will be a sprinkling of crafts, we tried to focus our choices on a variety of options like videos, companion book selections, and the occasional learning activity. Just click on the picture of each book to get them all!
Book: A Frog in the Bog
Author: Karma Wilson
Illustrator: Joan Rankin
This rollicking romp through the swamp has been a family favorite of ours for years now. Essentially a counting book, the entire family enjoys Karma Wilson's story of a hungry frog, his unfortunate food, and the big surprise in the middle.
Author: Robert Sabuda
Illustrator: Robert Sabuda
The Blizzard's Robe is by far the most beautiful picture book I have read as an adult. I could say that it are the illustrations that make this book, but I would be telling only half the truth. Both the story and artwork are timeless.
Author: Eileen Spinelli
Illustrator: Geraldo Valério
A delightful trip through history, Do YOU Have a Hat? introduces us to important and colorful characters from our past by exploring the hat he or she wore. From Carmen Miranda to Abraham Lincoln the book introduces us to thirteen historical figures and their headgear.
Book: Butterfly Eyes and Other Secrets of the Meadow
Author: Joyce Sidman
Illustrator: Beth Krommes
Stunning. Just stunning. The words, the pictures, everything. Joyce Sidman and Beth Krommes are wonderful artists.
Joyce Sidman has a special way of creating cadence and rhyme in non traditional patterns to create beauty with words. Words I can read aloud with ease. In Butterfly Eyes, the riddles are combined with short snippets of non-fiction to create the perfect companion to a nature study of meadows and fields.
Author: Lisa Tawn Bergren
Illustrator: Laura J. Bryant
A little polar bear has a simple conversation with his dad throughout the day. All the good questions are asked. What will we do there? Will I be old when I get there? And the most important, How do I get there? That is why I love God Gave Us Heaven. It seemed to answer so many questions in such a simple way. Because, although my children ask complex questions, they are often not ready to understand complex answers.
Author: Claire Freedman
Illustrator: Ben Cort
This book is incredibly fun and will be loved by little boys (and girls) everywhere. We smiled, we snickered, we guffawed as we read this one.
Told in rhyming verse (yes, be sure to pronounce bloomers so it rhymes with pumas) the book reveals that aliens are visiting earth for the sole purpose of playing with underpants on the clothesline.
Author: Robyn Harbert Eversole
Illustrator: Tim Coffey
Red Berry Wool is a book about Lalo, a lamb who wants have a sweater like the boy, his boy, the shepherd boy wears. The one made from their wool. He asks his mom what needs to happen to wool for it to be a sweater.
Before we got our own copy of this book, we brought it home from the library nearly every other time we went. It wasn't just me picking it up either. My children took turns rediscovering it each time. It is always a hoot to watch them take a loved book off of the shelf, run move quickly towards me, and exclaim something to the effect of "Mom! We've read this book before! Can we buy it again?"
Author:  Roald Dahl
Illustrator: Patrick Benson
Beware! Beware! The Forest of Sin!  None come out, but many go in!
So Little Billy is told. So Little Billy has heard. Even with the warning that terrible things lurked in The Forest of Sin, such as Hornswogglers, Snozzwanglers, and worst of all, the Terrible Bloodsuckling Toothpluckling Stonechuckling Spittler, Little Billy goes exploring. 
Book: East Dragon, West Dragon

Author: Robyn Eversole

Illustrator: Scott Campbell
Funny with utterly charming illustrations, East Dragon, West Dragon is a book everyone in the family will adore. In the book East Dragon and West Dragon learn that even though they have very different lives and seem fierce to the other, they are not so different in the end once they get to know each other.
Author: Amanda Graham
Illustrator: Donna Gynell
"Arthur was a very ordinary dog."
Who Wants Arthur however, is not just an ordinary picture book. This is one of my childhood favorites that I love sharing with my children. Poor Arthur watches each day as the featured pets all find homes. At night, he he practices being the pet that he thinks people will like the best. First a rabbit, then a snake and even a fish!
Author: Steven Schnur

Illustrator: Stacey Schuett
This book tells the story of Fannie Farmer from The Fannie Farmer Cookbook
fame. In the story, Fannie becomes cook for the Shaw family and eventually wins over even the toughest critic — Marcia Shaw with her excellent cooking and friendly ways. Marcia becomes a good helper in the kitchen, which is handy as Fanny moves on to bigger things at the Boston Cooking School and eventually writes her well-known cookbook.
Author: Jerry Pinkney
Illustrator: Jerry Pinkney
Noah's Ark is a book we have enjoyed over and over. I like that they story is true to the Biblical account and adds details that help my kids picture the story in their minds. The pictures in this book are fantastic! They are not overly colorful, but enough to keep small children interested. They are very detailed and interesting, keeping older listeners glued to the page. My favorite is an underwater scene showing a city with large sea creatures swimming through it.
Author: Maureen Wright
Illustrator: Will Hillenbrand
My kids love this fun romping story of a bear who has a hard time hearing Old Man Winter's call to sleep. Old Man Winter tries to tell his friend it is time to go to sleep, but Big Bear keeps hearing him wrong! I like to read the Old Man Winter's voice in a deep thundering hollow sort of way.
Author: Steven Schnur

Illustrator: Stacey Schuett
This gentle book with beautiful pictures captures a world on the cusp of spring. The color tones in the illustrations start with winter's blue and gradually warm as you move to the end of the book.
Author: Robert Burleigh
Illustrator: Mike Wimmer
I love it when a kids book spans the ages and leaves everyone with amazement and wonder. One Giant Leap, the story of the first moon landing, does just that. For those of us, and our children who were born after this great American event, most of the suspense, wonder and amazement is lost. Not anymore! I loved how I could feel my heart speed up as I read to my children of these amazing men doing unheard of things.
Author: Rachel Isadora
Illustrator: Rachel Isadora
Ben is moved by the music he hears at the door of the Zig Zag Jazz Club. He watches and plays his trumpet all day, most likely hoping one day to play like the trumpeter he watches. But when a crowd of boys laughs at his make believe trumpet, reality hits, and Ben heads home, quiet. I love the simplicity of this story. I love that kindness wins out in the end. I love the tenderness between a mentor and a new student.
Book: Contest Between the Sun and the Wind 
Author: Heather Forest
Illustrator: Susan Gaber
I love, love, love the illustrations in this book. There is just something about the characterization of the sun and the wind and the movement created by the drawings that is just wonderful and so appealing. The story isn't too shabby either. Based on an Aesop's fable, the sun and the wind are locked in a contest to see who can get a man to take off his coat.
Author: Deloris Jordan with Roslyn Jordan
Illustrator: Kadir Nelson
Michael's mother Deloris shares what could be any family's story. It is hard to believe that Michael once thought he was too short to ever be a good basketball player. But with the encouragement and support of his family, he not only grew to be tall, but an amazing basketball player as well! I loved the way the family is portrayed in this book.  The brothers are loving and encouraging. Mom and Dad pray for and help their son see the value of practice, patience, and hard work, not just height in being a good player.
Author: Jane Ray
Illustrator: Jane Ray
Using the words from Genesis 1 and fabulous illustrations this book delightfully recounts the story of the earth's creation. The poetic language of the King James version of the Bible are complemented wonderfully by the beautiful drawings. Almost a seek and find book there are tons of things to look for and look at on each.
Author: Shirley Hughes
Illustrator: Shirley Hughes
It is very easy for most children to identify with Dave and his lost toy in this touching story, but you may be surprised at how it captures your heart as well. Dave and Dogger have been together for a long time. Dave plays with and cares for Dogger almost as if he were real. But one day Dogger is lost! Mom and big sister Bella go looking high and low with Dave. Even Dad searches outside with a flashlight. No Dogger. Finally Dogger is found at the school fair the next day! But getting Dogger back is not as easy as you might think.
Author: Lisa Westberg Peters
Illustrator: Steve Jenkins
This is perhaps the best kids' book that not only talks about a volcanic eruption, but about the ecosystem around it! A round of poems follow a day in the life of a small Hawaiian volcano, ferns, lava flow crickets, the small roads on the volcano, and the sun and moon.
Author: Allan Ahlberg
Illustrator: Bruce Ingman
A completely fun book about a pencil and the world he creates. He draws a boy, a dog, a cat, some snacks (but not a mouse), then a paintbrush and entire happy scene. Until everyone starts to complain and to solve the problems he draws — an eraser.
Author: Mary Logue
Illustrator: Pamela Zagarenski
A little girl isn't sleepy. Her wise parents are understanding. Sleeping is not required, but getting ready for bed is. The conversation that follows is both believable and beautiful. "Does everything in the world go to sleep?" The question is answered with vivid language and whimsical illustrations.
Book: Edgar Allan Poe's Pie: Math Puzzlers in Classic Poems
Author: J. Patrick Lewis
Illustrator: Michael Slack
Math + Poetry = Fun for everyone!
If you are memorizing or even just enjoying poetry with your kids, chances are you have heard of a few of the poems used as inspiration in this delightfully fun kids book!
Book: How to Dig a Hole to the Other Side of the World
Author: Faith McNulty
Illustrator: Marc Simont
What kid has never wondered about digging a hole to China? It is a bit like believing in Santa; at a certain age you simply just want it to be true.
This exciting kids book takes you on that journey. Only, you do not end up in China, but in the Indian Ocean somewhere.
Author: Tomie dePaola
Illustrator: Tomie dePaola
Inspired by Romanesque art, this book is still undeniably Tomie dePaola. Twelve of Jesus' miracles are retold and illustrated. The retellings stay true to Biblical accounts and are accompanied by dePaola's eye-catching, signature artwork.
Author: Will Hubbell
Illustrator: Will Hubbell
This book is a perennial fall favorite in our home. With wonderful drawings and interesting, vivid figurative language this story of the life-cycle of the pumpkin is the perfect jumping off point for tons of pumpkin activities — of the science and simply fun variety.
Author: Jonathan Emmett
Illustrator: Caroline Jayne Church
Full of unique perspectives and stunning technique, the illustrations are my absolute favorite part of Leaf Trouble. Illustrator Caroline Jayne Church cut out her drawings and then layered the paper cut-outs and photographed them. The results are interesting to explore visually.
Author:  Barbara McClintock
Illustrator:  Barbara McClintock
Charlotte, a girl who loves playing outside, making mud pies, collecting treasures and climbing trees is sent a sweet little doll from her Aunt. Not entirely sure what she is going to do with such a thing, Charlotte continues her play and brings the doll, whom she names Dahlia, along.
By the end of the day, Dahlia is worn and torn, but now a treasured possession of Charlotte's.
Author: Barney Saltzberg
Illustrator: Barney Saltzberg
Resembling an art journal, Beautiful Oops is part pop-up book, part lift-the-flap and a total tactile delight for kids. The book shows how mistakes like spills, drips, tears, and stains can be opportunities for great creations. A spill becomes an elephant, a smudge a fish, and a torn piece of paper the mouth of an alligator.
Author: April Pulley Sayre
Illustrator: Steve Jenkins
A kids book about Vultures? Really? I hear you. Prepare to be surprised!
This rhyming day in the life book takes you with the Vultures as they hunt for food. But what kind of food? Giggles and laughs will follow as you read this book to your kids. Most certainly a rambunctious read aloud for any member of the family!
Here they are! All 31 picture books — chosen for you because we felt they were worthy to be read again and again. These picture books are our homeschool favorites and suitable for all ages.
PinA Frog in the Bog
PinThe Blizzard's Robe
PinDo You Have a Hat?
PinButterfly Eyes and Other Secrets of the Meadow
PinGod Gave Us Heaven
PinAliens Love Underpants
PinRed Berry Wool
PinThe Minpins
PinEast Dragon, West Dragon
PinWho Wants Arthur? (A Quality Time)
PinFannie in the Kitchen: The Whole Story from Soup to Nuts of How Fannie Farmer Invented Recipes with Precise Measurements
PinNoah's Ark (Caldecott Honor Book)
PinSleep, Big Bear, Sleep!
PinSpring Thaw
PinOne Giant Leap: The Story of Neil Armstrong
PinBen's Trumpet
PinThe Contest Between the Sun and the Wind: An Aesop's Fable
PinSalt in His Shoes
PinThe Story of the Creation
PinDogger
PinVolcano Wakes Up!
PinThe Pencil
PinSleep Like a Tiger (Caldecott Medal – Honors Winning Title(s))
PinEdgar Allan Poe's Pie: Math Puzzlers in Classic Poems
PinHow to Dig a Hole to the Other Side of the World
PinThe Miracles of Jesus
PinPumpkin Jack
PinLeaf Trouble
PinDahlia (BOSTON GLOBEHORN BOOK HONORS (AWARDS))
PinBeautiful Oops!
PinVulture View