As part of our 31 Picture Books For Homeschooling All Ages series, we have chosen kids' books with vivid language, interesting stories and striking artwork to appeal to every person in your family. Sleep, Big Bear, Sleep! is one of our favorites!
Our book posts also include a few activities — some simple, some more involved — for your entire family to enjoy together. Or not! Reading the book is enough in itself if that is all you want to do.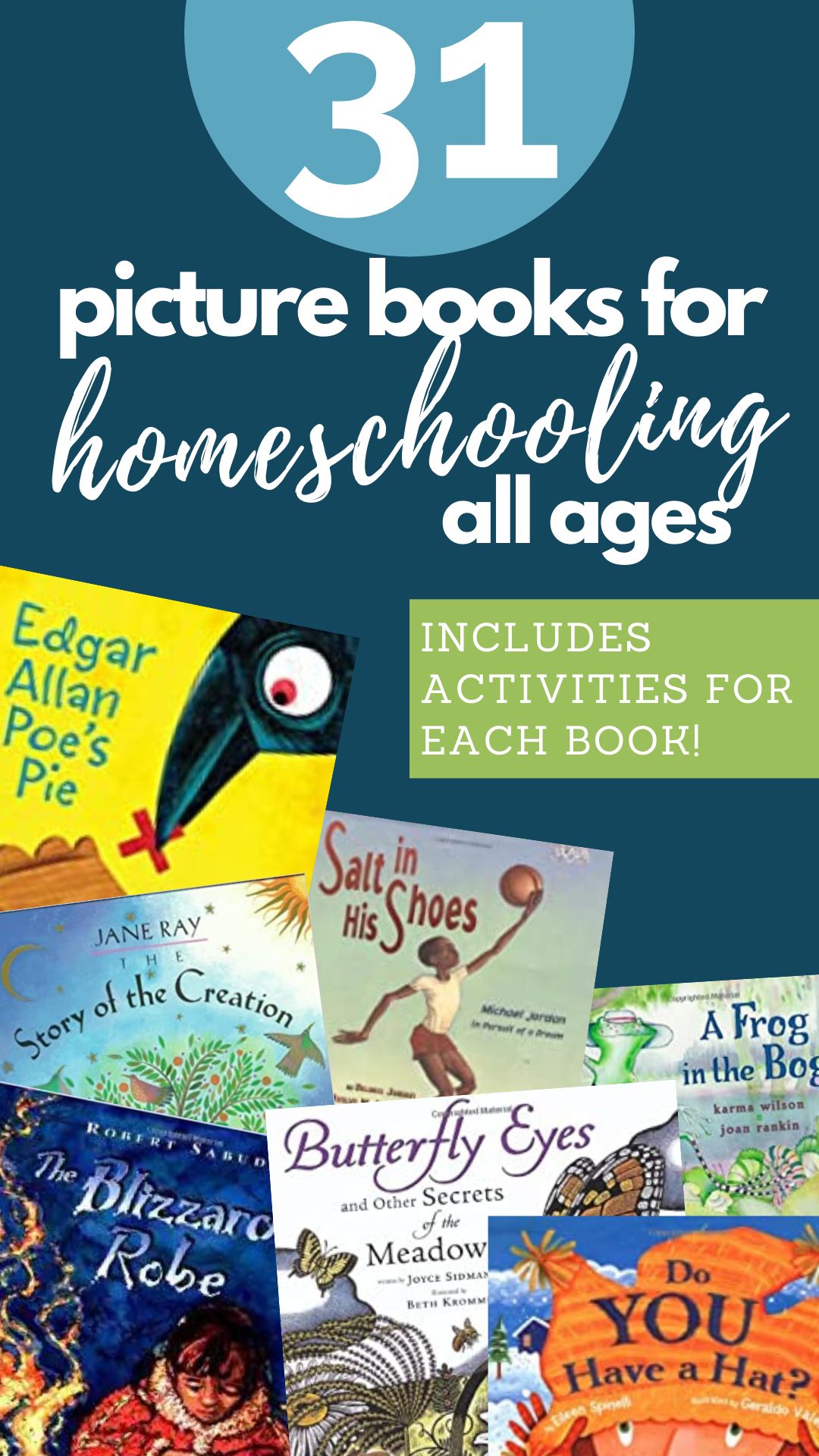 Pin
Snuggle up and enjoy a picture book or two together as a family. It may be the highlight of your day.
Sleep, Big Bear, Sleep! Picture Book Details
PinBook: Sleep, Big Bear, Sleep!
Author: Maureen Wright
Illustrator: Will Hillenbrand
My kids love this fun romping story of a bear who has a hard time hearing Old Man Winter's call to sleep.
Old Man Winter tries to tell his friend it is time to go to sleep, but Big Bear keeps hearing him wrong! I like to read the Old Man Winter's voice in a deep thundering hollow sort of way.
Each page shows Big Bear doing some crazy task he thinks he hears Old Man Winter telling him to do. The comical pictures remind me of Yogi Bear. They are sure to get everyone smiling! Be sure to take note of the reactions of all the other animals as well as Big Bear's constant companion, a hare.
Old Man Winter, yelling, finally gets his message across and Big Bear heads to bed for the winter.
Sleep, Big Bear, Sleep! Homeschool Activities
#1 – This Cozy Life has a whole post on animals in winter with tons of fun links and projects! I enjoyed listening to this free song about hibernating animals as well.
#2 – For a fun hands on project, cover one of your child's fingers with lard, shortening or coconut oil. Place the covered finger and a non covered finger in ice water to show how extra fat keeps bears warm through the winter.
Pin
#3 – But what about the rest of the family? Seasonal animal changes can be exciting for you too! We recently viewed Yellowstone as a family over several nights. It was AMAZING! The footage and the explanation of how each animal species navigates the seasons was incredibly interesting.
Picture Book Lists For Homeschooling All Ages
 Looking for more picture book resources for your homeschool? Download our printable library and book list below!