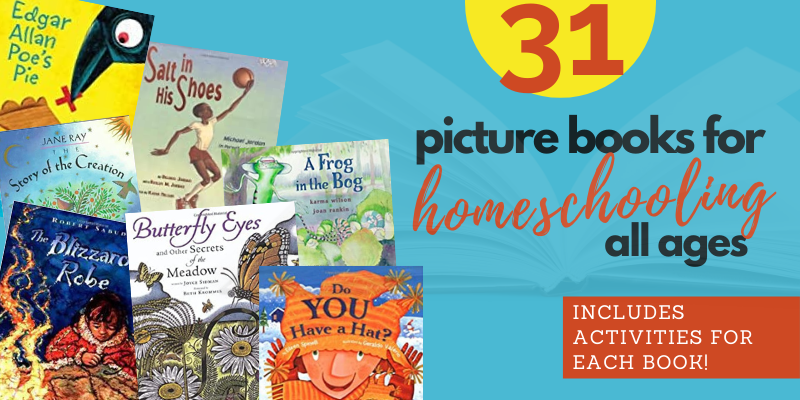 As part of our 31 Picture Books For Homeschooling All Ages series, we have chosen kids' books with vivid language, interesting stories and striking artwork to appeal to every person in your family. Pumpkin Jack is one of our favorites!
Our book posts also include a few activities — some simple, some more involved — for your entire family to enjoy together. Or not! Reading the book is enough in itself if that is all you want to do.
Pin
Snuggle up and enjoy a picture book or two together as a family. It may be the highlight of your day.
Pumpkin Jack Picture Book Details
Pin
Book: Pumpkin Jack
Author: Will Hubbell
Illustrator: Will Hubbell
This book is a perennial fall favorite in our home. With wonderful drawings and interesting, vivid figurative language this story of the life-cycle of the pumpkin is the perfect jumping off point for tons of pumpkin activities — of the science and simply fun variety.
Who can resist last summer's plants being compared with ghosts or pumpkin vines bring a web to mind. Lovely and fun.
Pumpkin Jack Homeschool Activities
#1 – This book begs to be read while enjoying a pumpkin flavored treat. The possibilities for something yummy are positively endless. Be sure to add some yummy hot chocolate to the mix.
Pin#2 –
The Pumpkin Book –  This non-fiction title by Gail Gibbons is the perfect complement to Pumpkin Jack.
#3 – Plant pumpkin seeds! You will need to do this about July in order to have October pumpkins.
#4 – Color and sequence the pumpkin life cycle with this free printable.
#5 – Sink or float? Which do pumpkins do? Have kids make a prediction and then test it in the bathtub. The answer may surprise them. Then figure out why.
Picture Book Lists For Homeschooling All Ages
 Looking for more picture book resources for your homeschool? Download our printable library and book list below!