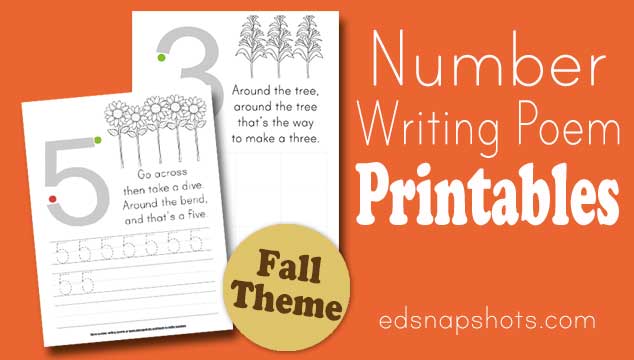 This activity is part of my Learn to Write Numbers resources. Be sure to click over to get all the fun printables and ideas.
I love Fall. It is such a wonderful time of year with the weather cooling off a bit, the colors of the leaves changing, the harvest of good foods like apple and pumpkins. What is not to love?
Pin
It's not a good time of year, though, for your number printables to be sporting an ocean theme. So to help as we change out the seasons, there is a brand new set of learn to write numbers printables just for Fall.
All this fabulous Fall line art perfect for coloring is designed by Scrappin' Doodles.
Don't forget that the printables come in two different types. First is the preschool version that has large boxes for younger kids who are first learning to form the numbers, but don't have the fine motor control needed to make the numbers on a line.
The other version of the printable has a few numbers to trace on the lines and then space for your young writer to practice a few numbers on his own.
Learn to Write Numbers Fall Theme
Choose the version of the printable that suits your purposes the best or feel free to download both versions. This time each version comes in its own PDF file — numbers one to ten in the preschool version with the boxes and then numbers one to ten in the tracer version with the lines.
Pin
Pin

How We Use Our Learn to Write Numbers Printables
Much sturdier and more attractive than a plain page protector, these Learning Resources Write And Wipe Pockets
 are perfect for practicing number writing. We save paper and can practice again and again.
Sign up below to get our original set of preschool number printables in two sizes delivered straight to your email inbox. We laminate these and use them for practice again and again. For more number printables you can also visit our learn to write numbers landing page.