The words that are music to my ears, more than anything else are "I never thought I could homeschool before COVID and the school shut down. I never had the confidence that I could do it, and what having my kids home did for me was show me that I absolutely could.
I absolutely could be a homeschooler and I really like it. And I'm going to keep on homeschooling.
Today we're talking about homeschoolers who have decided to homeschool permanently after COVID.
Making The Decision To Permanently Switch To Homeschooling Post COVID
For some, school is what their family's always done. Their family has always gone to public school.
But then they got those kids home this past year and found out that their kids were happier and their families were happier. So now they've decided we're just going to keep on doing this homeschool thing.
They are making this a permanent change to their lives.
I'm using the word permanent to mean long-term. But as all homeschoolers know, permanent is a really weird word. None of us ever know for sure if our homeschooling is going to be permanent or not, we all look at what's best for each child year after year and ask those questions.
So permanent homeschooling for you could mean for the next five or six years, and then maybe a kid does go to high school, but when I'm using the word permanent here, what I really mean is long-term homeschooling. Like this is going to be the de facto lifestyle for our family.
Our kids are going to stay home and homeschool instead of sending them back to school, even when the world opens up — if it does or does not ever go back to what we considered "normal."
So that's what I want to talk about. So how do you make this decision to do this?
It's really a simple decision to make. If you're enjoying homeschooling, if you're enjoying being with your kids, if you see differences in them that you would like to keep, then I think it's an easy decision to permanently decide to make that switch.
The first question you have to ask yourself is what is the difference between homeschooling and remote learning? And I can't stress how huge this question is.
Listen to the Podcast:
Homeschooling vs. Remote Learning
Remote learning is all about doing the curriculum and the lessons that someone else is providing for you. Rumors that I heard was it was putting kids in front of a computer, even very little kids, for hours and hours at a time because they had to mark time. They had to put in so many hours and it was excruciating.
The wonderful thing about homeschooling is you choose your own curriculum. I know that can be a little scary, but you get to decide what subjects you're going to learn, and you get to decide how many hours you're going to spend doing it.
Because even in states that require you to track a certain number of hours, everything your child is doing, especially when they're kindergarten and first grade, is part of learning. So you can count that as part of their learning hours. So all of the personal hygiene that they do, all of the hours spent playing outdoors, the hours that you read to them, the hours they spend listening to audiobooks — any time that they spend watching educational programming and cleaning up their room — all of these things count towards the hours.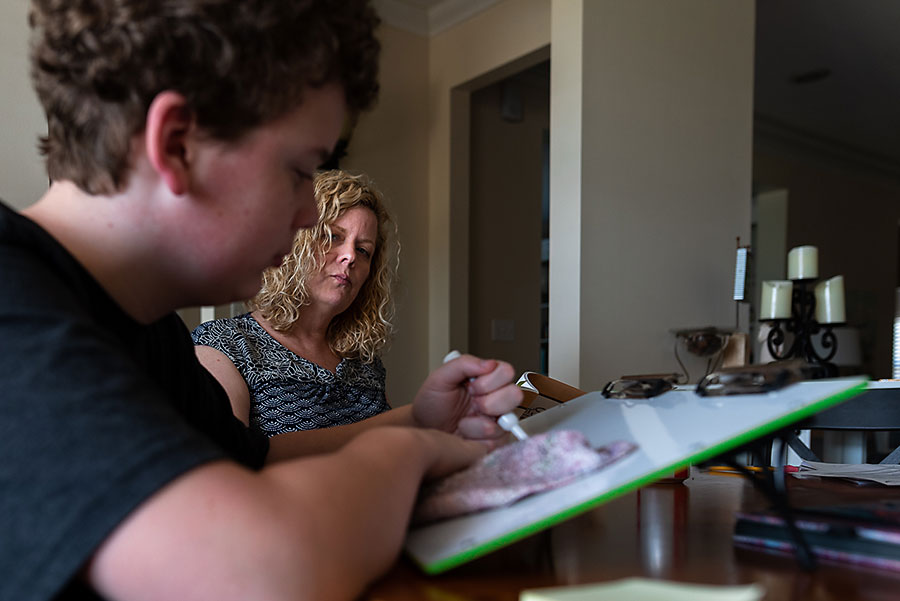 It's so much easier than what you might think to get in the hours that you need. Direct instruction time for homeschooling is way less than it ever was in the public school system.
I used to teach seven and a half hours a day. I have never done a seven and a half hour school day before in my homeschool. Even with high schoolers, we're usually done within five hours. And when my kids were really little, we spent an hour and a half at the most, because homeschooling is such an efficient use of time.
You also have that wonderful teacher student ratio in your lessons. You're working one-on-one most of the time.
It's so much easier to do so homeschooling versus remote learning in my book — homeschooling wins hands down every single time. Not that it was a contest, but it's just so much easier to homeschool.
Watch on YouTube:
The Best Advice For Making The Switch To Homeschooling
The first thing I want to stress is to keep doing what's working. So if there is something that you've been doing it in your home, some schedule you've been following, the number of breaks that you've been giving, books that you've been reading, if you have been using some kind of curriculum that you really enjoy and your kids really enjoy, don't change things.
You don't have to change as much as you think you might.
Even if remote learning has been working for you, there are K-12 public school programs that you can do at home. And you know what? There's no shame in that. If that works for your family, keep doing what's been working.
Then the second thing I'm going to suggest you do is start embracing your freedoms. Start branching out and think differently about education. Start thinking about other ways to do things rather than this traditional model of education that you grew up with.
Yes, there is one single model of education that is used in United States schools and that is taught in United States public schools. You get into private schools and you start finding a few other models of education. But when you look at history, when you look at the way people have learned, when you look at all of the options that are out there, there are numerous other models of education. Start investigating those.
I have a great series of blog posts, where we highlight basically four additional models besides the traditional model. Find out more about homeschool methods here.
So you can actually start looking at what those other models are and diving into them and seeing what homeschooling is like for families who have chosen a different path.
5 Resources To Help You Continue To Homeschool Successfully
I have a few resources to help you continue your homeschool journey and begin to make those important mindset shifts so you can be successful.
Your Morning Basket Free Community
Here at Your Morning Basket, we have a free and drama-free community off of Facebook. It does have an app or you can access it on your computer.
It is just a fabulous, wonderful place to connect with other people who are homeschooling, who love homeschooling, and who want to be the best homeschool teachers that they can be.
Click here for your invitation to join.
The Read-Aloud Revival Podcast
The next resource I have is the Read-Aloud Revival podcast. This is a fabulous resource because any parent can read aloud. It is a wonderful way to build your child's language skills and also make connections with your kids.
This is not just for little kids. We're talking about reading aloud all the way up until the time that your kids are teens, and there are definite research-based reasons to do that.
So do go check out the Read-Aloud Revival Podcast.
Homeschooling With Purpose Course
The next thing I have for you is a paid resource, but it is a really good one. It's called Homeschooling With Purpose and it is a 14 module video course that walks you through the basics of getting started with homeschooling.
The course takes you from making your homeschool vision all the way through how to to get meals on the table and get the laundry done when so much of your day is taken up with homeschooling.
I created that course along with Colleen Kessler, from Raising Lifelong Learners and Jamie Martin from Simple Homeschool.
Institute for Excellence in Writing
My next resource for you is actually a language arts curriculum. What they do at IEW is empower moms to teach their kids writing in a fun and systematic way that makes proficient writers out of kids.
They also have grammar programs, poetry programs, and essay programs, but they really run the gamut from your youngest writers to your oldest writers — all the way up through kids who are learning to write for college and everything in between.
One of the things I love is all of the resources that they provide to help the parent feel confident in teaching writing. Their founder Andrew Pudewa has homeschooled his kids along with his wife for years. All of their children are adults now, and they're starting on the second generation with the grandchildren. There is such a wealth of knowledge there, and they understand homeschoolers really, really well.
Your Morning Basket
And then the final thing that I have for you to consider is my flagship podcast, the Your Morning Basket podcast. I would encourage you to check that out because that is going to do a few things for you.
It is going to help you learn to combine your kids so that it can be a more efficient use of your homeschooling time. It's going to help you learn to focus on more than just the reading, writing, and arithmetic and really start to focus on other beautiful, wonderful subjects that have been sucked out of the public school system, but that we as homeschoolers get to add back in for our kids.
And it's going to help you build those relationships and create a family culture that is going to grow your family closer together, which is one of the things that you want to do when you are homeschooling.
Find that other podcast in your favorite podcast app or by clicking right here.
Welcome to the wonderful world of homeschooling. We are so happy that you are joining us here on this homeschooling journey. We would love to connect with you and help you to be successful.