My sweet puppy Bishnu died just after G and I returned from our honeymoon. He was the best dog ever (seriously!) and so easy to take care of, but caring for a dog in his last days can be incredibly difficult and I didn't think I'd ever want to go through that process again…
Fast-forward a few years to when our little Gv was toddling around the house and we were finally at that point where we could just start to breath a little and feel like our heads were bobbing above water a bit more than being submerged under it…
A dog would be good for her, we said, and started searching for another Bishnu, or at least a close replica…
Choosing a pet for your family may include some trial and error.
After months of research, interviews and home visits, we adopted Italian Greyhound rescue dog Linus, who seemed to be a great fit (see these fun photos and posts here and here) until less than a month in, when he bit Gv not once, but twice, completely unprovoked.
Needless to say, we were all pretty dog-shy after that — and feeling like maybe a pet just wasn't worth it, after all.
But then Gv – who wasn't the least bit phased from her Linus-biting experience – started asking if we could try again, so we ended up rescuing this behemoth: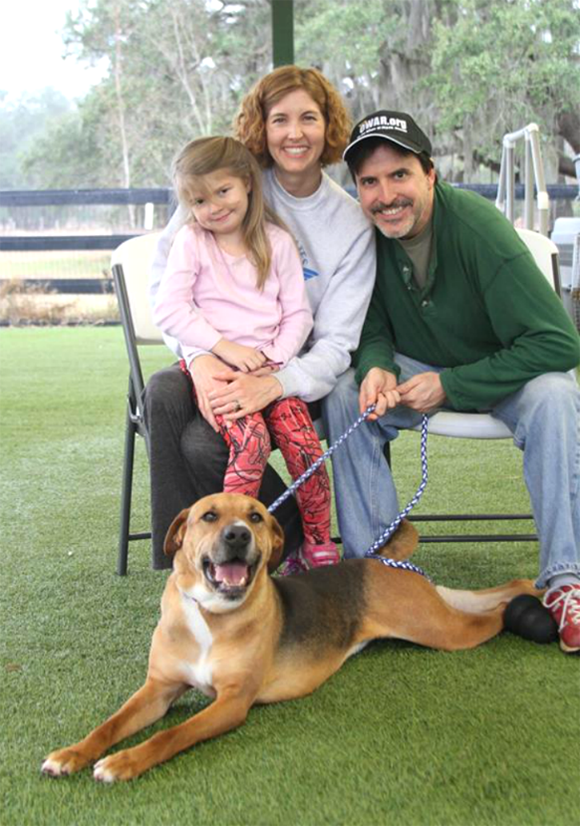 Meet April, who weighs twice as much as Gv and only 30 pounds less than me. What were we getting ourselves into?
While rescuing a special-needs dog (she was born into and had lived all 7 of her years in a kennel until being saved from extermination by the rescue association) was full of plenty of challenges, adding her to our family has still been full of more positives than negatives, mainly due to how wonderful she's been for Gv.
Pet responsibility can develop character and skills in children.
But you don't have to go rescue some giant dog with a laundry-list of issues to experience the pay-offs for your preschoolers. Pets provide young children with myriad opportunities to develop and grow in unique ways.
Caring for a pet can help your kids:
Further develop their motor skills
Be more active (exercising pets also exercises owners!)
Encounter lower incidents of respiratory problems and sickness (obviously some allergies can be quite serious, but research has shown that homes with cats and dogs have lower respiratory issues in them)
Enjoy loads of social support (Bobby can tell Rover anything and he'll always understand!)
Be more confident and have higher self-esteem
Empathize better and understand the perspective of others (kids who can care for a pet are often able to transfer that same compassion to others)
Develop their reading skills (kids often feel more comfortable reading to a pet than a person, since Fido will never judge Susie's sounding-out of words!)
Cultivate an interest in science
Better understand biological issues and the circle of life (it can be easier to learn about the birds and the bees or find out how to deal with loss through living with a pet)
Experience better mental health
Be more connected to nature
Cultivate a respect for living things
Avoid loneliness (Fluffy can often be more of a comfort than mom or dad)
Receive a secure attachment
Encounter more social play
Undergo greater releases of oxytocin, resulting in less stressed kids
Create a healthy model of love, loyalty and affection
Be more disciplined and responsible (remember my chores post a while back? Taking care of a pet is a perfect task for young children!)
While many of these benefits seem to apply mostly to homes with dogs or cats, they can still be seen in homes with other pets as well. Obviously caring for Nemo and Dory swimming around in a bowl won't provide the same amount of exercise that a run around the block with Lassie will, but it's still easy to see how several of the other items on this list continue to hold true.
So, if you already have a house bursting with critters, then hopefully this list will help you feel like all the craziness added to your life is worth it. And if you're currently enjoying the solitude of a pet-free lifestyle right now, then perhaps you'll reconsider, given how many great qualities having a pet can impart to your kids.
And if you need ideas for some common – or even not-so-common – pets to consider getting, pop on over to my Dog Days of Summer post here for ideas!
What do you think? Are pets worth all the work? I can't wait to hear! Leave a comment below or email me at lisahealy (at) outlook (dot) com.