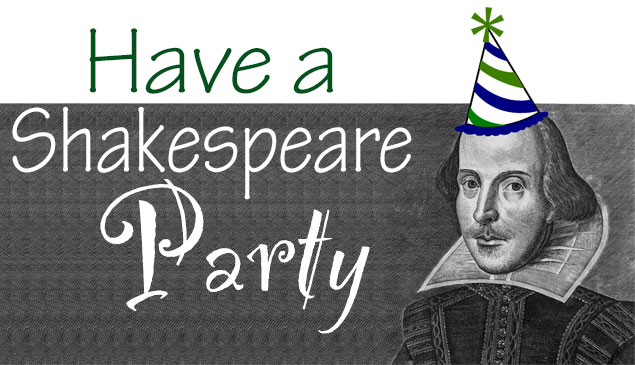 That Shakespeare was one party guy. How else could he have written all those fabulous plays and poems without a ton of life experience. He is also a fun guy to celebrate. When Shakespeare lets you blow out the candles on his birthday cake and play games in his honor then you know he has to be one cool guy. That's what my kids think, anyway.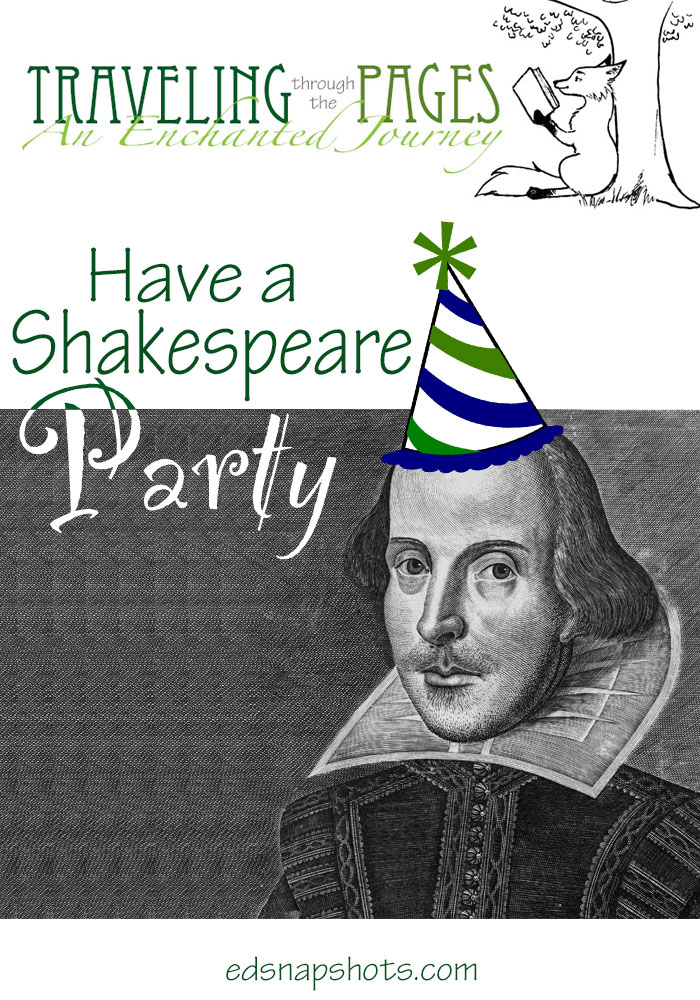 Pin
Having a Shakespeare party is lots of fun and not really all that difficult to do.
We had our party on Shakespeare's birthday April 23, but you can also do a Midsummer Night's Dream Party using these ideas for summer fun as well.
Menu
We kept the food simple with each family volunteering to bring a dish. We had chicken drumsticks, fruit, fairy vegetables, and lemonade.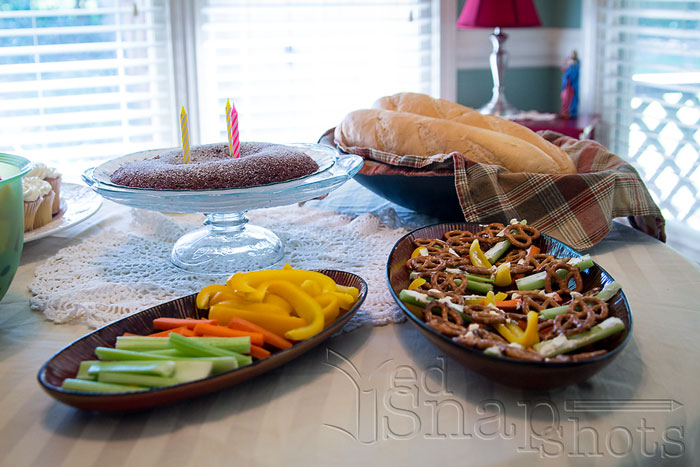 Pin
Jessica made a brave attempt at Elizabethan Honey Cake, but when it didn't rise to full height the morning of the party she supplemented with store-bought cupcakes. The kids were thrilled. We still used the honey cake for candles and singing happy birthday, and it wasn't half-bad even in its small state.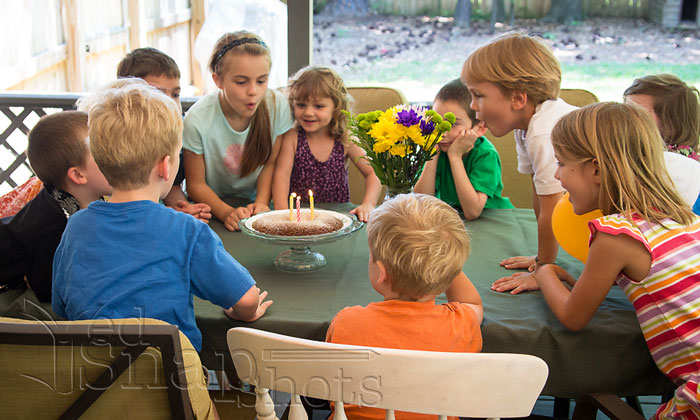 Pin
Activities
No party is complete without a few party games. The kids spent the majority of the time playing, but we did have a few activities. Our kids are pretty familiar with Shakespeare stories, so we didn't actually take the time to read any Shakespeare, but if yours are not you could read an adaptation for them. See the bottom of the post for some of our favorites.
Pin the Head on Bottom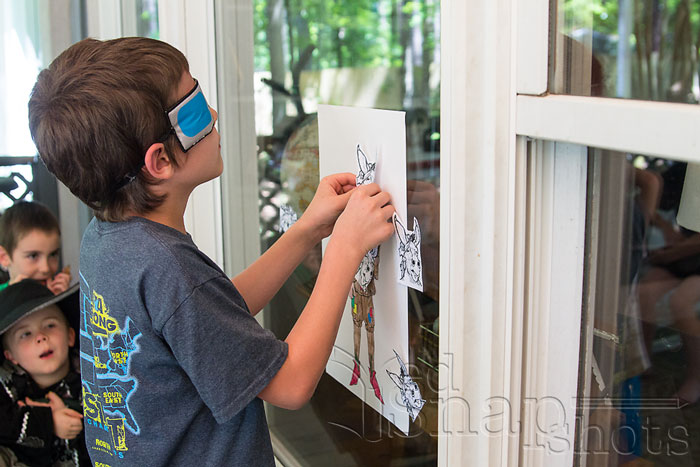 Pin
The kids LOVED this one. We used an old sleep mask and a printout of a Bottom coloring page. I separated the head from the body using my image software and printed multiple copies of the head on one page to cut out. We used double sided tape for the game. Easy-peasy.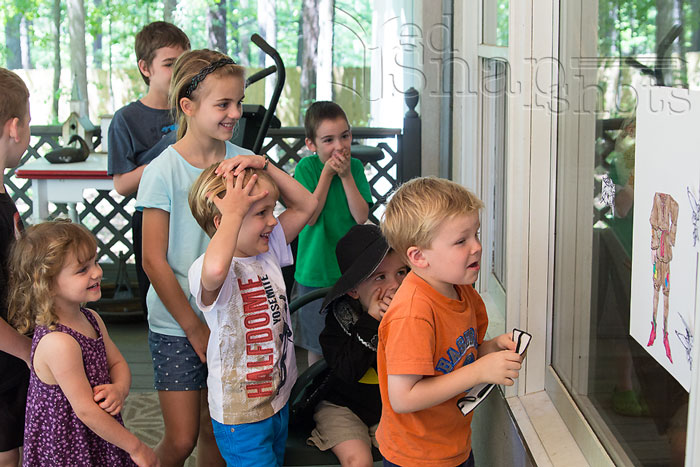 Pin
Shakespeare Word Games
Mary made these fun mad lib-style word games for us and said we could share with you. She used passages that our kids were pretty familiar with, so the giggles were plenty when the mash up was read. You can download your own copy here and do them with your kids. We would fill in the blanks, read the original version, and then read the kid version. Hilarious.
Download your Shakespeare Word Game Printables Here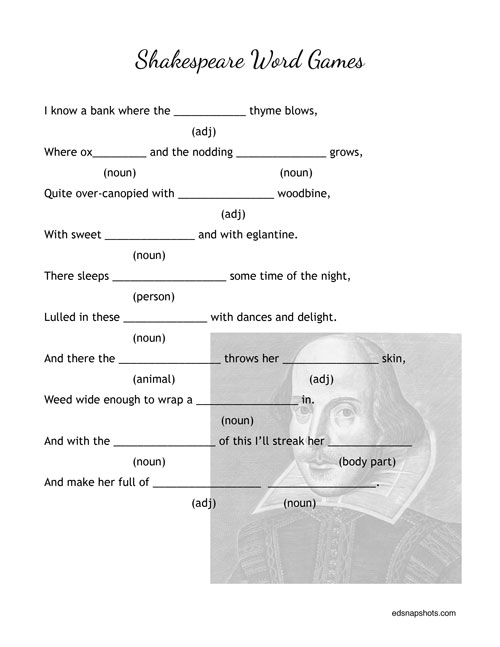 Pin
Dress-Up
What Shakespeare party is complete without a little dressing up? The kids will typically stage their own impromptu production, but that day had trouble getting started. I think we had a case of too many directors and not enough actors. We resisted the urge to jump in and direct and just let them play dress-up instead.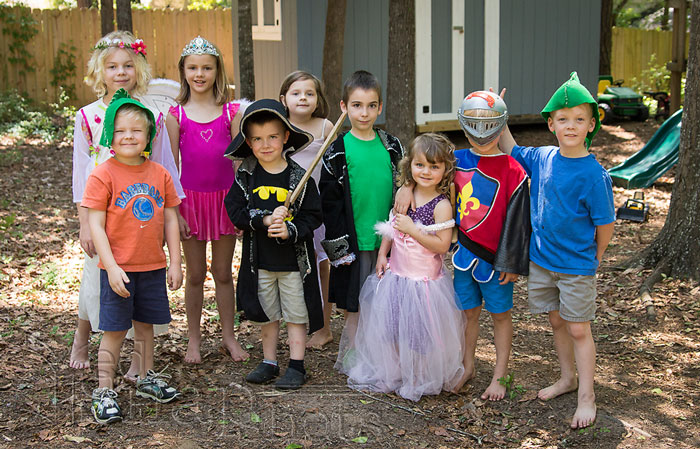 Pin
The key to these "parties" is just to have fun and not go too overboard with them. We all got up that morning and did a little prep — the biggest thing was the cake-making — and called it good. At party time we pulled out our requisite table cloths and flower vases, added a few blooms from the grocery store and some balloons for decoration. It really is all very low-key and just plain fun.
Favorite Shakespeare Resources
Here are a few of our very favorite resources to use to introduce the Bard to kids.

Pin
Pin
Master Puppet Theater – This fun little theater comes with dozens of card character puppets from your favorite plays. The kids love it.
Usborne Illustrated Stories from Shakespeare – These Shakespeare adaptations for the elementary grades are beautifully done. A kid-favorite here.
Sticker Dressing Shakespeare – We love all of the Usborne Sticker Dressing and Sticker Dolly Dressing books and this Shakespeare one is no exception. Various scenes from the Bard's play for kids to build with stickers.
How to Teach Your Children Shakespeare – This guide by Ken Ludwig helps give parents confidence to make Shakespeare approachable for their kids.
Great Scenes from Shakespeare's Plays Coloring Books – This coloring book from Dover has fabulous details and the scene that inspired the coloring page. Color one side and read the other reader's theater style.
Shakespeare Can Be Fun Series by Lois Burdette – Love these kid-illustrated versions of Shakespeare's plays retold in rhyming couplets.
Pin
More Literary Party Ideas