What strikes you first about Red Sings from Treetops i
s the artwork. A whimsical blend of mixed media with playful bits of text integrated into the design, the artwork is a delight. And it subtly points to the other star of this charming children's book — the words.
Ah, the glorious words!
"Purple pours into summer evenings one shadow at a time…"
"Yellow slips goldfinches their spring jackets. Yellow shouts with light!"
"Green waits in the hearts of trees, feeling the earth turn."
Every line in this book is truly a treat for the ears. A feast of figurative language, the book uses personification, metaphor, simile and even onomatopoeia in its colorful journey through the year.
Personification
For our big idea we decided to focus on the personification. Personification is the giving of human qualities to non-human things. In the case of Red Sings from Treetops
, colors are personified, but any inanimate object will do, Another illustration is in the Langston Hughes poem, "April Rain Song."
I made a handy printable to walk you through our project. After reading the book, we talked a bit about personification and what things we see in spring. Then we chose a color. We quickly moved on to forming our sentences, but the verb list is available for selection as well.
Olivia could not stop at just one. Occasionally I made a suggestion or two, but by the end she was joyfully coming up with new lines very quickly. Here are some of hers:
Orange and black dances from flower to flower.
Brown hoots in the night sky trees.
Red hides under leaves ripe and juicy.
And mine:  Pink dressed in petals and adorned the arm of her leafy suitor.
Spring Pastels
Next, inspired by the Southern Hodgepodge Spring Art Tutorials, we decided to do our drawings in chalk pastels. Tricia has been encouraging me to try chalk pastels with the kids — she promised the mess wouldn't be too much, and she was right. It was totally doable with a pack of baby wipes nearby.
Though the things we wanted to draw were not in the book, we took the plunge and tried some of the blending techniques we saw on our own drawings.
Then, in a small mixed media attempt, we printed our lines and pasted them on the pictures. Wa-la! We were both pretty pleased with how these turned out, despite our artistic limitations. It was good fun anyway.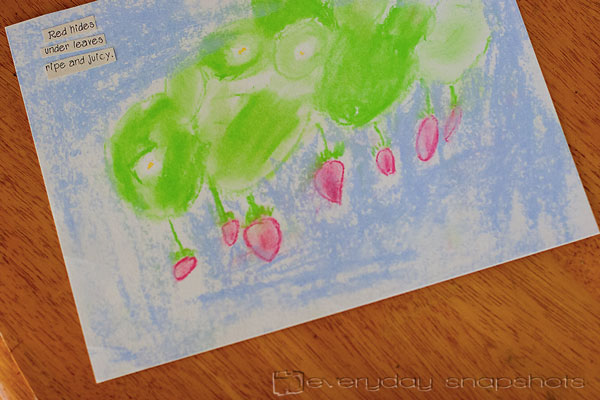 Supplies for Spring Pastels and Personification
Red Sings from Treetops: A Year in Colors
Spring Art Tutorials — if you were stuck for a topic to write about, it would be ok to start with one of these tutorials and then work your way back to the figure of speech based on your picture.
48 Soft Drawing Chalk Pastels in Brilliant Assorted Colors
Strathmore 400 Series Drawing Paper Pad – 8 x 10 Inches
Part of the Book and a Big Idea series for Spring sponsored by iHomeschool Network. Check out all the other great ideas.