Welcome to the Eight For Each State US Geography tour. I am so glad you are joining us.
Welcome to Pennsylvania! I just love the diversity that can be found in this state. There was so much to choose from. Pennsylvania has always held a special place in my heart as I grew up not more than 30 miles from its far northwest boarder on Lake Erie.
It is the land of Independence, Amish buggies and chocolate. Chocolate? Ok, now that I have your attention, let's go!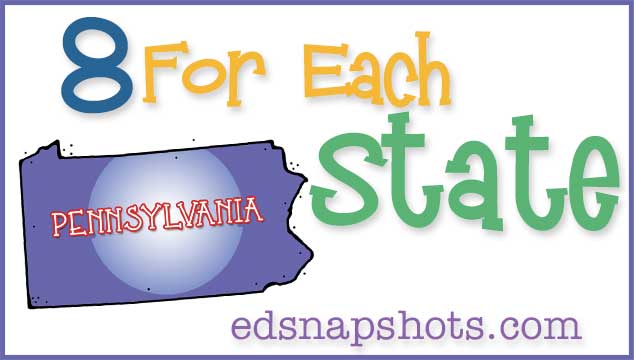 All of the US Geography books in this series are stunning. The illustrations, text, and information are top notch. If you are planning to continue through all 50 states, go ahead and start collecting this series. My children love these books and visit them often outside of our US Geography study.
We also enjoy these non-fiction U.S. geography books for the young elementary age group. These books provide just enough information for Ruth to add to her notebook page without overwhelming her. It introduces topics we will have more fun with later in our study. There is also a section in the back that has state statistics, the state song, a recipe and interesting places to visit. A nice quick look at the state.
I was surprised to find such a wonderful video series to accompany our US Geography tour. They do not have all of the states just yet, but the ones they do have are fantastic!
Ann Hamilton went "west" from Gettysburg, P.A. into the unsettled territory of Pennsylvania after the Revolutionary war. It was interesting to think that this part of the country was once considered to be "the west" but it was! To be 150 miles away from where you started was quite significant.
This is a quick eight-chapter book that my daughters loved to hear me read aloud. The best part was I remembered parts of the book; I must have read it as a kid. It was like finding an old friend!

Ruth read this one on her own. This short telling of the removal of the Liberty Bell from Philadelphia during the American Revolution was a perfect way to reinforce our U.S. geography tour as well as squeeze in a bit of the history we are covering in co-op this year.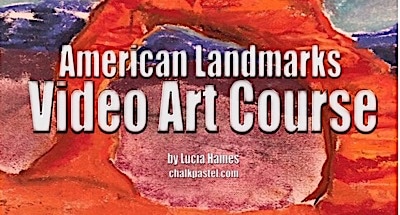 Pennsylvania is the home of Milton Hershey's chocolate factory. The whole town is dedicated to chocolate! There are Hershey kisses lamp posts, a museum, an amusement park and plenty of other sights to make this a two day trip if you every find yourself near there. Here are a few Youtube videos we watched about Hershey and the process of making chocolate.
Chocolate Tour Ride at the Hershey's Chocolate World
K Is for Keystone: A Pennsylvania Alphabet (Discover America State by State)
Pennsylvania (Hello U.S.A.)
The Cabin Faced West
Saving the Liberty Bell (On My Own History (Paperback))
The Hershey's Milk Chocolate Multiplication Book
Amish Quilt Patterns: 32 Pieced Patterns
Swingline Paper Trimmer / Cutter, Rotary, 12
An overview of Hershey P.A.'s establishment by Milton Hershey – bonus idea: Have older children research advertising methods used by MiltonHershey. What was different about them? Why did they work? Do you think they would work today?
A longer overview of Hershey P.A. – A video you might see if you visited on the history of Hershey P.A.
Bill Cosby was one of our famous people from Pennsylvania. Catholic Missionary Family gave me the idea of showing the chocolate cake skit and then making a chocolate cake for our special Pennsylvania food. It was a huge hit!
Can I just say that it was really hard to let this theme go? Ruth is learning multiplication, and she was overjoyed that I picked this up at the library for her!
For our craft project we made paper quilt squares — also an idea I got from Catholic Missionary Family. I introduced the girls to the Amish with a Youtube video, but I have also looked at this book and have liked it as well.
Just Plain Fancy by Patricia Polacco is also a fun introduction to the Amish we have read before.
Then we looked at this Amish Quilt book to pick out a pattern for our squares. I did have to direct them to something simple. The Amish make absolutely beautiful quilts!
We chose a simple traditional pattern. Then I used my paper cutter to cut squares, triangles and rectangles out of colored card stock for them to glue to another piece of white card stock. They had a great time and while ours didn't turn out exactly like the book, we laminated them and the girls use them for rugs for their dolls or placemats for tea parties!