I received a Desk Atlas of the United States  from Geography Matters along with financial compensation for this review. My opinions are my own and I was not required to give a positive review.
I have enjoyed editing Jessica's US Geography posts this year — living vicariously through her fun unit studies. I've had to since I have yet to be invited to eat some of those yummy snacks. Ahem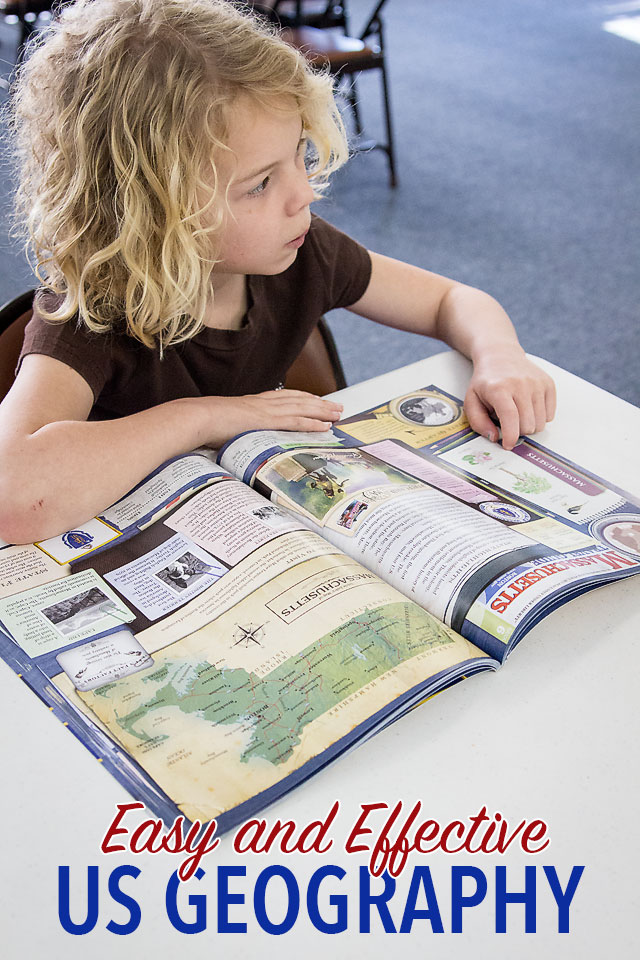 I, on the other hand, do not have Jessica's boundless energy. I still want my kids to learn geography — I just want it to be simple and effective. The good news is, it can be done.
Easy US Geography Study
Here are a few simple ways to make geography learning effective in your homeschool.
1. Do an easy map drill.
One of the ways we learn geography is by doing a simple map drill. Every few days I give my kids a blank map of a US region like New England, Mid-Atlantic States, or Southern States. The kids fill in the name of the states and capitals on that sheet.
At first I have to help them a great deal with the maps, but after repeating it a few times they are able to complete the entire region on their own. Olivia writes out each name to label it. John only writes the first letter of the place name and then tells me what each letter stands for orally.
2. Use memory work.
States, capitals, and geographic features make fun fodder for memory work. Each year we memorize a number of geographical terms and their locations on the map. These are some of the kids' favorite parts of memory work.
This year it is the states, capitals, Canadian provinces, countries of Central America and major North American rivers, lakes, and mountain ranges. We break the features down into manageable lists to memorize and then set each list to a catchy tune.
Each week we listen to the list, label the map, and repeat for practice.

3. Use an interesting atlas.
The Desk Atlas of the United States by Geography Matters (2-12th grade) is a beautiful and interesting atlas — perfect to round out a simple study of US geography. Each two-page spread covers one state and includes not only a relief map labeling all of the state's important cities and geographical features, but also a myriad of other information about the state.
The beautiful, four-color layouts include the state flag, seal, bird, tree, and flower as well as a photo of the state quarter (perfect for those of us still missing a few from our collection) and a timeline of notable events, and state highlights.
We love to sit down and pour over the spread for each state — one a week — talking about all of the tidbits on the page.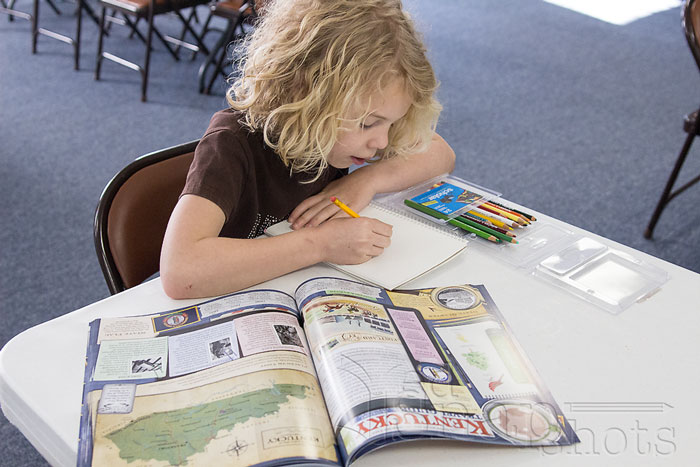 The atlas is keyed to work with Geography Matter's full curriculum, Trail Guide to U.S. Geography & the Student Pages. We are not using either of this in our simple study, but we do use the Geography Trails portion of the student pages to enhance our use of the atlas.
The Geography Trails are divided by region. There is one question per day for each of three age groups — elementary, middle, and high school. We pull these out once a week and do four or five days of the elementary level at one time.
These questions make us more aware of the map and allow the kids practice in using the atlas as a reference to look up important information.
Get Great US Geography Resources
Geography Matters is giving away a free copy of the Desk Atlas of the United States Bundle to one lucky reader.
You can also get 25% off the Desk Atlas of the United States by using the coupon code 25OFF. 
For a great deal, the Desk Atlas Bundle which includes a digital download of the Trail Guide To US Geography full curriculum plus a download of the student pages, is 50% off the retail price. This deal includes free shipping.
Be sure to connect with Geography Matters for more great geography tips and products.
What is your favorite way to study US geography?