This is the time of year that homeschooling moms begin to gather ideas, inspiration, and resources for the next school year. One of the best ways to discover ideas that truly work is to talk to other homeschooling moms.
We've gathered some of those great ideas from several homeschooling moms and shared them below. You'll find planning ideas, some inspiration for your morning basket, and important questions to ask before you begin the planning process.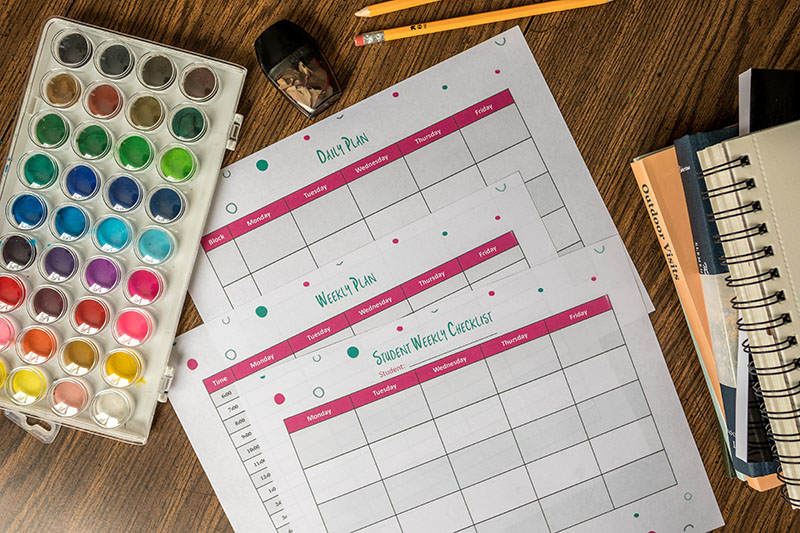 Planning Your Morning Basket
How to Use a Morning Basket to Simplify Your Homeschool by Sara at Heart and Soul Homeschooling
"I know the last thing you want to hear is that you should add one more thing into your homeschool routine. However, I promise you that this addition will not be that of time or stress. In fact, adding a morning basket will make your mornings something to look forward to every day. It is especially helpful for moms teaching multiple ages and levels. A morning basket helps combine subjects for all ages so you can use your time more efficiently."
100 Inspiring Things to Put In Your Morning Basket by Sara at Heart and Soul Homeschooling
"Over 100 ideas are included in this list including ideas to incorporation art, music, Bible, geography, history, read-aloud, educational games, journaling, nature study, copywork, memory work, poetry, notebooking, and critical thinking skills."
Planning Made Easy
Top 5 Large Family Homeschool Hacks by Lynna at Homeschooling Without Training Wheels
"Homeschooling is not a job for wimps. It requires a certain willingness to think outside the box and adapt to new circumstances. Homeschooling a large family just ups the ante.
Are you looking for some tricks and strategies to help you homeschool your large family? Or are you hoping to learn from a large-family approach and maximize your family's homeschool?"
Four Questions to Ask Before You Start Planning or Shopping for Curriculum by Amy at Humility and Doxology
"But with so many good options out there, how do we know what is best for our family?  Do you ever get stymied by indecision? Do you come in like Franck in Father of the Bride and say let's "change everything"? Do you blow your budget buying All The Things that sit collecting dust on your shelf the following year?"
Planning with Plan Your Year
Homeschool Planning Tips for Busy Moms by Sara at Happy Brown House
"Over the years I've developed a system of how I plan for our homeschool year to help me be a successful homeschool mom. I've had to be really honest with myself about my strengths and weaknesses when it comes to preparing for the school year and our daily homeschool routines. I've come to realize that if I skimp on the planning there are certain things that won't get done."
The Easy Homeschool Lesson Planner You Need by Sara at Classically Homeschooling
"As a long-term homeschool mom, I've homeschooled over 17 years. And one of the survival tricks I learned is to plan as much as possible for the upcoming year.  I filed my papers for the week, picked out curricula, and prepared as much as possible. And I knew that I needed a homeschool lesson planner."
A Homeschool Planning Guide to Help Simplify Your Life by Christine at This Bit of Life
"Homeschool planning. Some of us love it, some of us hate it. Either way, it can be overwhelming to sit down and plan for your homeschool! What if I told you that you can get a homeschool planning guide to help walk you through it? Take away the overwhelm, the "what am I doing?!" feeling you may be feeling inside? You can create a homeschool plan for purpose and for peace in your homeschool!"
Homeschool Planning that Works by Mary at Not Before 7
"Over a decade of homeschooling has taught me that I am a pretty relaxed homeschooler.
I don't get too hung up on the daily checklist.
I have no problem tossing everything to chase inspiration.
I love to find events outside of the house even if it means we skip math lessons.
And I have no problem completely altering a curriculum or adapting it to my needs.
But I have to admit, that I can only make these relaxed choices when we have established goals, a regular routine and a weekly plan of attack."
How to Make Your Homeschool Planner Work for You by Amy at Rock Your Homeschool
"Your homeschool planner can help you get it together and maintain focus. With the right approach and system, this tool empowers you to kick overwhelm to the curb. The key is learning how to make your planner work for you so that you're actually following through with those plans and know you're doing enough."
Homeschool Planning for a Large Family by Felicia at The Zoo I Call Home
"Spring not only brings the end of year programs and subject completions but the excitement of what next year brings! I get so pumped as I browse homeschool catalogs, thumb through new curriculum, and see the possibilities ahead. Homeschool planning is something I look forward to every year, but having a larger than usual family provides its own challenges."
Homeschool Planning with Plan Your Year by Heidi at The Curriculum Choice
"Do you make plans for each school year? Have you found something that works for you? Maybe you are a planner like me but find you could use a little more flexibility in the plans you make. Any way you slice it, if you are a homeschooler and a planner then you will want to consider doing your homeschool planning with Plan Your Year from Pam Barnhill."
Low-Stress Long Range Homeschool Planning and Scheduling with Plan Your Year by Dachelle at Hide the Chocolate
"Sometimes I feel like I'm an anomaly. I love planning our homeschool year in detail, but I don't want to be held back by the details. I want to leave room for flexibility. I need the ability to do long-range homeschool planning that fits OUR homeschool.
The first year of homeschooling, I struggled…going back and forth and never committing to any real plan. At one point I threw the whole plan in the garbage, because it was, for lack of a better word, insane! I needed a homeschool planner that would fit my need to type things into a yearly form AND give me the flexibility to make changes without redoing the entire plan."
Does Your Homeschool Plan Work by Erika at Pray Species
"At a recent homeschool co-op meeting, I asked a fellow mom if she was almost done for the year? 
I was met with tears!
Folks, this wasn't a woman prone to hysterics.
This was a strong woman who was raising four amazing children!
Yet, her stress and overwhelm were palpable.
Her tears were out of frustration. She and her kids had worked hard for months and she had no idea if they had done enough. She had no idea how to determine if they were done."
Plan Your Year by Pam Barnhill helps homeschool moms to start the year off right, maintain consistency, and finish strong. Grab your copy today and begin to build a vision and plan for the coming school year that suits your unique family.