Morning Time is an effective way for your family to accomplish curriculum goals while learning together. It's easy to incorporate a variety of books, subjects, and other fun activities to start your day off on the right foot. This month, several moms share how they are making Morning Time work for their family.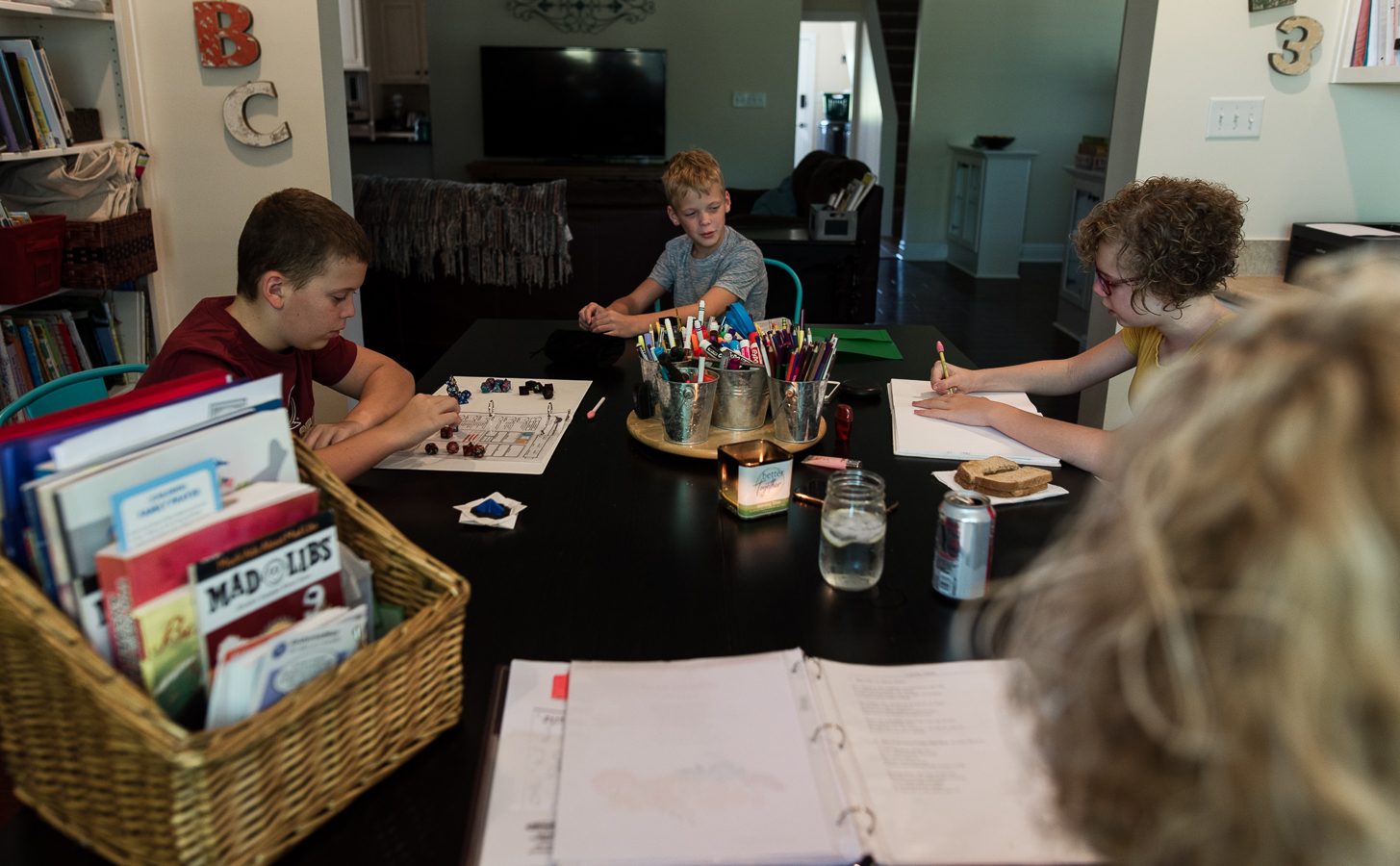 Make Morning Time Work for Your Family
Morning Time Plans (Fall 2019): adjusting expectations to meet the needs of a wide age range by Amy at Humility and Doxology
"It gets trickier to plan for morning time when you have a wide range of ages. Wake-up times vary from the pre-dawn energy of the 4-year-old to the sluggish morning brain of the teen. And that doesn't even consider the differing needs and interests that span the grades.
Yet having time for shared memories and family culture is still important to me. While the logistics of our morning time may look different this year, its central values remain intact.
Would you like to peek into my morning time plans for this fall?"
September Morning Basket by Jessica at The Waldock Way
"I don't know about you mamas but sometimes I just need things to be easy and this month was one of those times. I love morning basket and was not willing to give it up or miss out. But college started back for my husband and I and we had birthdays all weekend and I just need things to be done for me."
How to Start Your Homeschool Morning Beautifully by Cindy at Our Journey Westward
"For years, our homeschool mornings have begun on a note of family time. Those mornings gathered around the table at the start of each day have been such a blessing. And…as some of my children are moving out of our homeschool as of late, the memories I have of all of us gathered joyfully together at the start of our day are precious."
Family Morning Time Basics
Homeschool Morning Basket by Joanie at Simple Living Mama
"Even if you've been homeschooling for years, you can begin utilizing a morning basket now. It will transform your homeschool, I can almost guarantee it! When my kids are telling me that morning time is their favorite part of our homeschool day, I know we are doing something right!"
How to Use a Morning Basket to Simplify Your Homeschool by Sara at Heart and Soul Homeschooling
"I know the last thing you want to hear is that you should add one more thing into your homeschool routine. However, I promise you that this addition will not be that of time or stress. In fact, adding a morning basket will make your mornings something to look forward to every day. It is especially helpful for moms teaching multiple ages and levels. A morning basket helps combine subjects for all ages so you can use your time more efficiently."
Morning Time FAQ by Jessica at The Waldock Way
"Simply put a morning basket is a collection of things that allows you to begin your day with beauty, goodness, and truth as a family and is normally placed in a basket. It is a time to bring everyone together to connect before transitioning to the more individualized subjects. Most people fill their basket with books, quiet activities for their kids to do while reading and maybe a quick game. Morning basket can look different for each family, no two are the same."
Homeschool Planning and Organization
Homeschool Planning by Jenn from @allsaintshomeschool.mama
"How many of you are in the middle of homeschool planning? Maybe some of you don't know where to even begin. I'm a planner! I love a good plan and all the organization that comes with it! I've been asked several times to show how I schedule our homeschool."
Favorite Online Homeschool Resources by Mary at Homegrown Learners
"Because we are in the season of choosing and purchasing curriculum, I want to share a few of our best picks with you. Some are current. Some are past. Some are for multiple ages. Some are for youngers. Some are for olders. Some are live online courses; others are recorded. Some contain resources we access with frequency online."
How to Simplify Your Homeschooling Space by Sara at Heart and Soul Homeschooling
"A cluttered homeschooling space can affect your attitude in a negative way. Here are some ideas for ways to simplify your homeschooling space that aren't too difficult or expensive."
My Favorite Must-Have, Outside-the-Box, Homeschool Supplies by Amy at Humility and Doxology
 "Homeschooling can be hard. The education thing? Sure. We've got that (Kinda. Sorta. Ahem). But people still need to eat. And those practical day-to-day realities? They can drive us bananas! Don't worry: these outside-the-box (and outside-the-books) homeschool supplies can help."
Find practical ideas and support for Morning Time in Pam's book, Better Together, and get started learning as a family right away.