Are you hesitant to include Shakespeare in your Morning Basket?
Maybe you don't feel equipped with the necessary educational background. 
Perhaps your own memories of Shakespeare in high school English class are boring enough to send you running for the hills.
Or maybe you just have no idea where to begin.
Let me put your fears to rest and assure you that you are capable of enjoying and exploring Shakespeare with your children.
Include Shakespeare in Your Homeschool Morning Basket
You can confidently include Shakespeare in your Morning Basket with this round up of resources and ideas from homeschooling moms.
"The words and the language of Shakespeare's plays can be intimidating for kids, and let's face it, most adults as well.
Do not let that stop you from tackling this subject with your younger students. They can learn to appreciate, enjoy, and perhaps even fall in love with the world of Shakespeare.

And you can right along with them!"

2. Enjoying Shakespeare Together:A Conversation with Mystie Winckler and Pam on the Your Morning Basket Podcast
You don't have to study Shakespeare…you can simply experience, alongside your kids, Shakespeare for what he is: a master storyteller.
Join Pam and Mystie Winckler for a podcast about a practical, non-intimidating approach to the Bard for your Morning Time.
"Experiencing the wit and beauty of Shakespeare (whether in reading, reciting, or memorizing) is one of my favorite things to do with my children.  I hope this post encourages you to incorporate some Shakespearean delight in your own home!"





"I believe that Shakespeare, the greatest artist whose medium was the English language, can and should be introduced to children. The deep discussions about betrayal, cowardice, truth, love, and piety can wait for high school, but the enjoyment of the plots, the characters, and the language doesn't have to wait. Introducing children to the world of the plays will help them feel more at home and navigate those deeper waters later in a more knowledgeable and understanding way, because they'll already know the lay of the land."
You can access

Mystie's library of Shakespeare printables
too!

Pin
"Are you a Fen-sucked Dull-Eyed Canker-blossom? Do you know how many sonnets the Bard wrote, or which phrases we use that he coined? Have you any idea what an oxlip looks like? If you're curious about answering any of these questions, then this Ultimate Guide to Teaching Shakespeare might be for you!"
"There is no reason to dumb down our children's education. Just because the words may be difficult, doesn't mean to omit them. Homeschooling is an opportunity to challenge our kids to stretch their minds and see beyond themselves. Plus, if they can grasp Shakespeare, anything else should come easily."
"I typically end our school year by spending time with William Shakespeare. Not literally. Obviously. Because he died in 1616. But I introduce my kids to his life, his plays, and his words using picture books and easy chapter books.
We also read one of his plays. We keep our time with Shakespeare very light-hearted and fun, but I know they are establishing a great foundation in Shakespeare that will serve them well in high school and beyond."

"What do you think of when you hear about Shakespeare? Though many of us are familiar with his plays, my guess is we might find the language intimidating and consider it pretty sophisticated. Certainly, it would be tough to teach to children. In high school, I took a whole semester my senior year on Shakespeare. It was a great time! But, it took time to understand. We teach Shakespeare in high school literature in our homeschool as well, but teaching it to all of our kids was a new concept for us. It's been lovely!"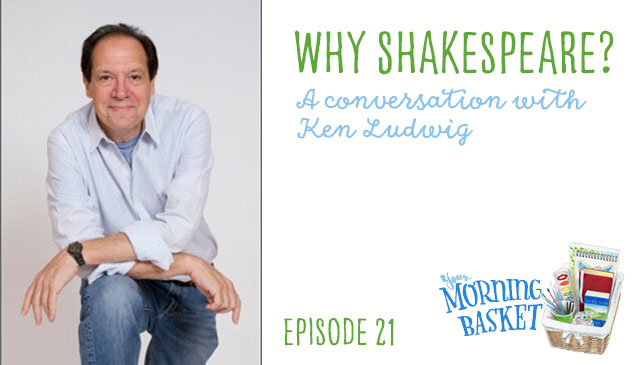 Pin
Ken Ludwig is a playwright and father who has an infectious love of Shakespeare. He began sharing his love with his children at a very young age. Recently he published How to Teach Your Children Shakespeare, a book detailing this surprisingly simple way to teach the Bard's great works to our children.
Come and enjoy as Ken tells us why and how we should teach Shakespeare, as well as how we can handle the harder concepts. Most importantly, Ken encourages us to push past our fear and enjoy Shakespeare in our Morning Times.
If your education was anything like mine, hearing the word "Shakespeare" can make your heart race as you imagine yourself in front of your English class trying to recite scenes from Macbeth with everyone staring at you.
But you're the teacher now. That means that you get to introduce Shakespeare to your children when and how you want! They can learn to love his works, instead of stressing out when hearing his name.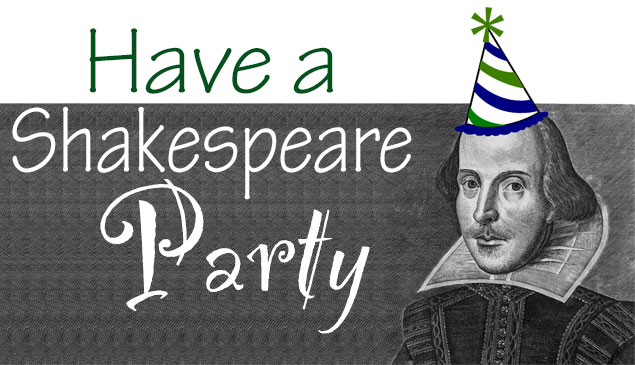 Pin
When Shakespeare lets you blow out the candles on his birthday cake and play games in his honor then you know he has to be one cool guy. That's what my kids think, anyway. Having a Shakespeare party is lots of fun and not really all that difficult to do. Includes printable Shakespeare Mad Libs.
No Ultimate Guide to Shakspeare would be complete without this fun kit from Renee. The Shakespeare teaching advice in this collection is spot on and the Pick A Play diagram takes the guesswork out of finding the perfect play for your family. (Email required for download.)
Other Fabulous Shakespeare Online Resources for Your Homeschool
Shakespeare Resources for Homeschool Moms
Podcasts about the Bard and His Work
Shakespeare Fun for Homeschool Kids
Favorite Shakespeare Resources for Your Homeschool
 Will's Quill: or, How a Goose Saved Shakespeare Bard of Avon: The Story of William Shakespeare William Shakespeare & the Globe (Trophy Picture Books (Paperback)) Will's Words: How William Shakespeare Changed the Way You Talk The Complete Arkangel Shakespeare: 38 Fully-Dramatized Plays Leon Garfield's Shakespeare Stories (New York Review Books Children's Collection) Shakespeare Stories II A Midsummer Night's Dream for Kids (Shakespeare Can Be Fun!) A Stage Full of Shakespeare Stories Illustrated Stories from Shakespeare Mr William Shakespeare's Plays Bravo, Mr. William Shakespeare! Tales from Shakespeare Shakepeare's Storybook: Folk Tales that Inspired the Bard (Book & CD) How to Teach Your Children Shakespeare ShakesFear and How to Cure It: The Complete Handbook for Teaching Shakespeare (The Arden Shakespeare) Much Ado About Mad Libs Great Scenes from Shakespeare's Plays (Dover Classic Stories Coloring Book) Masterpuppet Theater: The World of Shakespeare–at your Fingertips! Magnetic Poetry – Shakespeare Kit – Words for Refrigerator – Write Poems and Letters on The Fridge – Made in The USA Encore, Mr William Shakespeare!: A Sticker Activity Book Hooray for Mr William Shakespeare!: A Sticker Activity Book Shakespearean Insults Coffee Mug – Shakespeare's Wittiest and Meanest Insults – Comes in a Fun Gift Box Accoutrements Shakespearean Insult Bandages

Pin