I had this great idea to get some fun preschool Thanksgiving unit study things ready for the kids and me to do at the end of the month – you know when Thomas was home and they were no longer going to school. Except I didn't really do the math well.
I realized after cutting everything out that even if Thomas came home this week, we wouldn't have much time left to work on these things. (We have to give the school two weeks notice. The kids will continue to go a bit after he comes home, so T and I can have some time together.)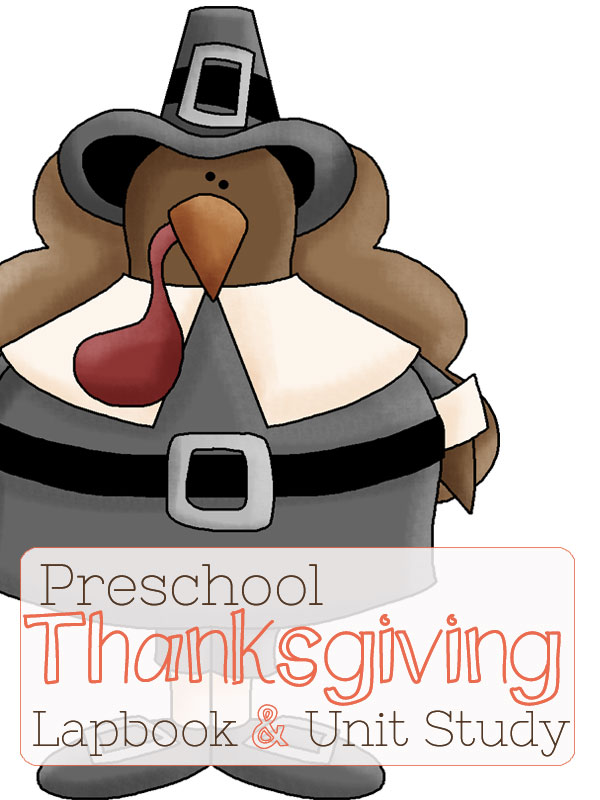 PinSince everything was already cut out, we have been working on things on the weekend and in the evenings some. They have really been enjoying it.
These items are geared towards Olivia's age (4), but I knew John (2.5) would want to do some too. Since he likes to tag along, he has been doing really well with it. He even cut a couple of his own things – first time with scissor practice. I couldn't find a pre-made lapbook that I completely liked, so pulled pieces from various ones.
Also, I am putting the links up before we finish, so anyone who would like to do this can go ahead and get started. That means you won't have a photo of a completed lapbook. The things are simple and easy to arrange on the inside of the folder, and I have provided some links for folding lapbooks in case you are not familiar.
Also, I pre-cut everything for this lapbook except for the How Pumpkins Grow cards and the items to illustrate the Count Your Blessings Cards. Those items alone will be enough scissor practice for my guys.
General Lapbooking Information
Lapbook Lens by Jimmie – Fantastic info for those who are new to  lapbooking.
Thanksgiving Lapbook Lens by Jimmie – This (and a Google search for Thanksgiving lapbooks) was my jumping off point for finding my resources for our lapbook. If you have older kids or want different activities than what I have planned, this is a great place to start.
Our Preschool Thanksgiving Unit Study and Lapbook
Lapbook Cover – I used this cornucopia coloring page and added the words "My Thanksgiving Lapbook" beneath.
How a Pumpkin Grows Shape Book – Use this series of cards for the book content and then the free pumpkin pattern from Teachers pay Teachers for the pages of the book. We colored the pictures and then pasted them into the pumpkin book in the correct order.
Pilgrim, Pilgrim Book – They are going to color this little book to include. Nice, simple retelling of the Thanksgiving story.
Thanksgiving Memory Game – Picture cards for a memory game. John will use this for matching and Olivia will pester me often to play memory. I think I am going to laminate them as well. Cut an envelope in half and glue that into your lapbook to store the pieces in. This is from abcteach.com. There are tons of other great Thanksgiving resources from this site here if you need to adapt this lapbook to a different age group.
Manners – The resource I used is no longer available but this post and printable mini-book look like a fantastic substitute.
Paper Dolls – These are really cute paper dolls. I used the color versions of the Pilgrims and Indians. John is putting the boys in his book, and Olivia is doing the girls. These were a pain to cut out, but totally worth it. They LOVED them. We glued the clothes on and attached them into the lapbook with velcro so they can remove them for playing.
Back Cover – We will use a handprint turkey (because you can't have Thanksgiving without a handprint turkey!).
Thanksgiving Songs
Turkey Trot (Tune:  Hokey Pokey)
You put your right wing in.
You put your right wing out.
You put your right wing in,
and you shake it all about.
You do the turkey trot
and you turn yourself around.
That's what it's all about!
Additional verses:
Left wing,
Drumsticks,
Stuffing (Stomach)
Wattle (Head)
Tail Feathers (Bottom)
Turkey Body
This is from the Hubbard's Cupboard Thanksgiving page. There are TONS of great activities here. Just don't over plan!
The Turkey Dance (sung to Turkey in the Straw)
Oh, you turkey to the left (two steps to the left)
And you turkey to the right (two steps to the right)
Then you heel and toe (do motion with foot)
And you scratch with all your might. (scratch with foot)
Now you flap your turkey wings (put thumbs in armpits and flap)
While your head goes bobble,bobble. (wobble head)
Turn around and then you say, (turn around)
"Gobble, gobble, gobble!"
I Eat Turkey (Frere Jacques)
I eat turkey, Point to self)
I eat turkey. (Point to self again)
Yes, I do, (Nod head)
Yes, I do. (Nod head)
Turkey in my tummy, Rub tummy)
Yummy, yummy, yummy. (Rub tummy)
Good for me, (Point to self)
Good for you. (Point to others)
These last two are from Little Giraffe's Teach Ideas page.
Thanksgiving Books
Pin

This First Thanksgiving Day is a counting book about the Native American and Pilgrim children. Illustrations and rhyming words combine to tell of life in the times of the first Thanksgiving. A fun introduction of the time period for little ones who are too wiggly for longer retellings.

Pin

Goody O'Grumpity is baking a cake and all of the children of the village are coming to lick the bowl. This story gives a glimpse of early American life and weaves in wonderful images to tell the story.

Pin

The Pilgrim's First Thanksgiving is a good retelling of the first Thanksgiving story for the 4-7-year-old crowd. Solid and interesting.
Thanksgiving Craft
Coffee Filter Turkeys from Hubbard's Cupboard Thanksgiving page (scroll down).
Enjoy!
For more great Thanksgiving unit and book ideas check out:

Pin