I think the placement of Christmas at the beginning of the long winter is a bit serendipitous. Right about the time it is getting really cold and yucky out, parents have a perfect gift-giving opportunity.
While a book or a movie are a wonderful way to spend a winter afternoon, sometimes kids just need an opportunity to stretch their creative muscles. You know we love to help kids be creative with projects like making their own gifts and it's a great way to keep boredom away.
I have found to answer to combating cabin fever and providing a little creative exercise is to offer many, many, many different options for creative play — things kids can do for themselves and by themselves without needing adult guidance or entertainment.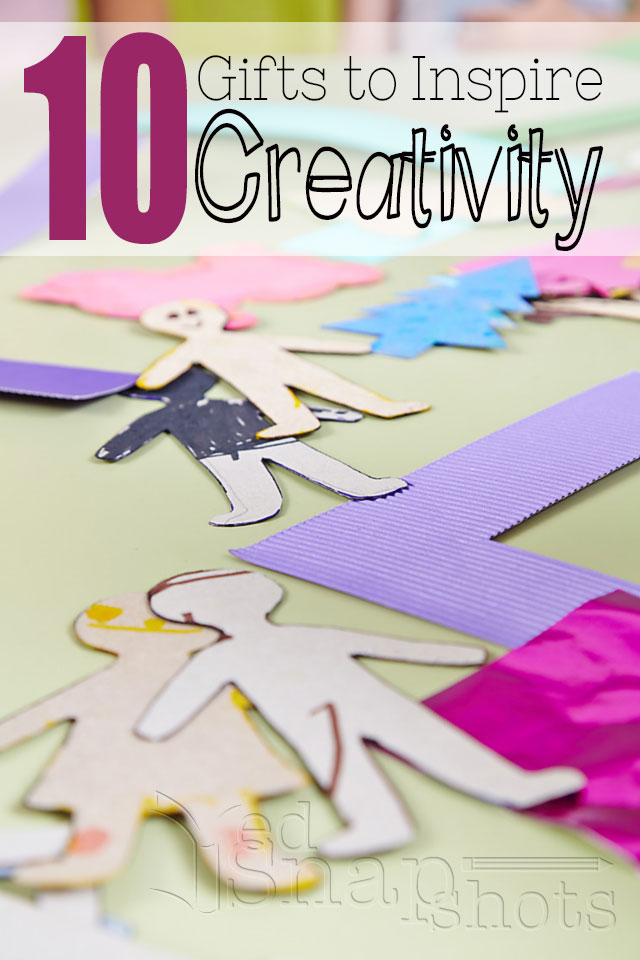 Here are a few ideas to help you inspire creativity for everyone on your list.
This book is fabulous for the girl (or boy) looking to pick up some sewing, knitting, and embroidery skills. It includes clear photos and instructions with projects for ages seven and up.
Projects include knitting hats, embellishing a t-shirt, and felt dolls, which are perfect for beginners.
It's also a DK book, so you know the photos are going to be stunning. Pair with with a sewing kit for the essentials your little designer needs to get started.
Do you have a budding builder in your home? This woodworking kit is the perfect fit. The recommended ages is 4-11, but I recommend ages 7 and up to keep this from being more of a parent project.
The kit includes the materials to make three projects — a bird house, toolbox, and corner shelf — though you could easily make other things instead.
Add a little paint and it adds another layer of creativity to the projects.
Unless you have been in a cave, or your kids were too young, or you had babies in the house (in which case I do NOT recommend this toy) then you have heard about Rainbow Loom. But just in case you haven't, this is a wonderful way to inspire your kids to craft and be creative.
Our loom-obsessed child is actually John, age 7, so the loom is an equal opportunity craft object with projects for girls and boys.
I highly recommend you get the Original Rainbow Loom instead of a cheaper knock-off. The loom is fully adjustable for different projects and made of a higher quality material that won't break as easily under the pressure of the bands. You will also want to stock up on higher-quality bands for the same reason. We have found that the cheaper bands break much easier.
Finally, I also recommend a storage system for loom and bands. We have so far only had one for the bands, but will be getting this one for Christmas this year. An all-in-one-storage system will fit our needs perfectly. There are some books with loom tutorials, but John's favorite way to learn to make new things is by watching YouTube. Some of his favorite tutorials are by Made by Mommy and Feelin' Spiffy.
A book-making kit is perfect for the budding author in your life. The kit comes with two hard-cover books, markers, and stickers to spark ideas.
Your author could use photos of their adventures and daily life or draw their own illustrations for these books.
Once they have made the two books in the kit, keep them supplied with more book blanks and encourage them to create ABC books and non-fiction titles about topics that interest them (in our house that would be dogs or fashion).
This one is so easy and makes a great stocking stuffer. Purchase an inexpensive set of chalk pastels, a pack of baby wipes, and some general drawing paper. Then hook your kids up to the Hodge Podge Chalk Pastel Tutorial page.
You can also download the free ebook Getting Started with Chalk Pastels.
We love the tutorials from Hodge Podge. Following Nana step-by-step makes it easy for everyone to be successful with pastels — we are always happy with how our projects turn out.
As someone who has been learning to knit, I love the look of the big, chunky needles in this kit for kids. The yarn is colorful and fun and the projects look easy enough for a beginning knitter.
If you get an older and more serious knitter, I can't recommend the classes at Craftsy enough. I am loving the one I am taking — hours of professional video instruction is invaluable when you are learning a new skill.
Knit Lab, which teaches the basics of knitting, is perfect for the beginning knitter.
Puppets!
For your budding actor or actress, pair up some puppets with an easy DIY puppet theater. Melissa and Doug, which always makes quality toys has wonderful palace set.
Melissa & Doug Palace Pals Hand Puppets would be fun your brave knight or beautiful princess.
You can make the theater from canvas and paint on the castle as shown. I would use hot glue to make the rod pockets myself and then tension rods for the top bottom. Or grab a big box, cut a large hole and let the kids help paint the castle scene on the front.
I am afraid even as I type this, but the Singing Machine is on our Christmas list for this year. We have a budding diva who really wants to do karaoke.
Since I can remember hours spent singing into the mic that hooked up to my old turntable in elementary school, I guess this is payback for what my own poor mother endured.
Note that the reviews on this one say you can use an auxiliary cable to attach an iPod or iPad and use MP3 tunes or even free karaoke songs on YouTube. This will save on buying (and the clutter) CDs.
Got an engineer in the family? Let them put together K'nex. This basic kit has tons of pieces needed for building along with directions for how to build a number of creations.
Once your little builder has mastered those (I say "little" but I think K'Nex is best for about age six and up, as the younger guys have trouble making some of the connections.) then branch out with a book like Incredible K'nex to really let them explore their creativity.
For general craftiness with little -to-no parental help, Kiwi Crate just can't be beat.
And now with their many different crate options — Original crafty Kiwi Crate for ages 4-8, Koala Crate for ages 3-4, Tinker Crate for your science-lover ages 9-14 and Doodle Crate for your crafter ages 9-16 — you can find something for anyone on your list.
My favorite thing about the crate? When it comes in I just hand it to them and stay out of their way. They spend hours working together to make the projects, do the experiments, and play the games.
I hope you found something here that will spark a bit of creativity in your home this winter.
Also be sure to check out:
DIY Christmas Gifts Kids Can Make — Our series on gifts that kids can make for the special people in their lives.
Six Great Gifts to Encourage Reading — Inspire your reluctant (and not-so-reluctant) readers with these fun gifts.
The Gift Guides of the iHomeschool Network — Find gifts for every kind of kid on your list. These ideas are great!