At our house, we are very blessed to have a two car garage sized play room. It is lovely. It is HUGE! Right now it is home to our train table, a box of oversized building blocks, play house and a couch for reading of course.
While this makes my younger crowd quite happy, Ruth, who just turned ten, longs for the day when we can have the whole room devoted to reading.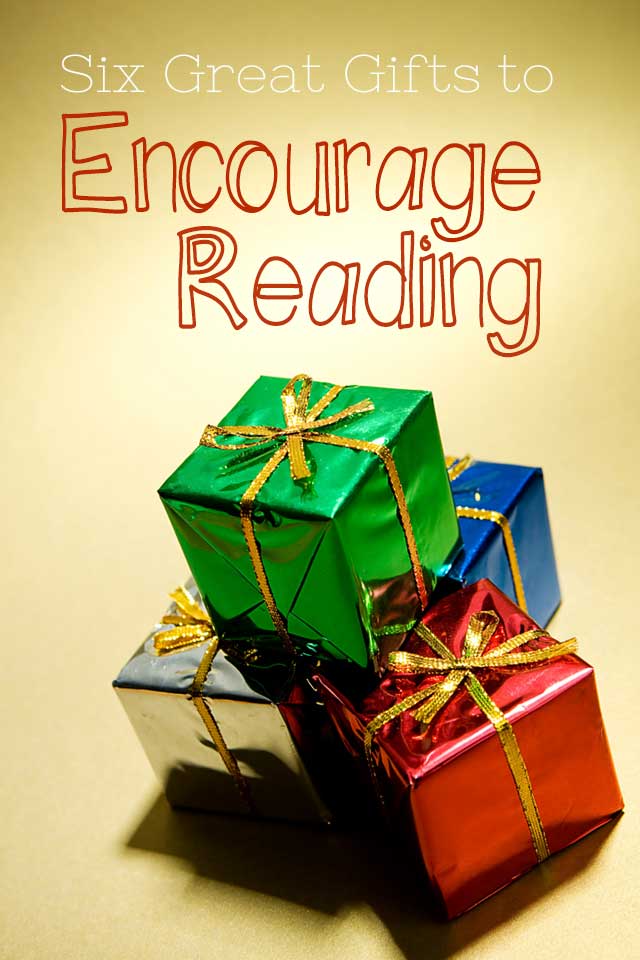 I am sure she is dreaming of cozy chairs with end tables full of books, hot cocoa, cookies. While having a whole room dedicated to reading may not fit your space, there are a few items you can add to any room to encourage reading at your home.
Until your personal reading room arrives via UPS, here are a few of my favorite gift ideas for your excited, emerging, or struggling reader. All of them are sure to encourage more reading.
Trips to the library can be a great way to get kids reading. So many books for free! When we go to the library I try to have a plan in mind of how many books, what kinds of books and how many other media each child will be checking out.
I then let each child carry his or her own chosen books in their own special bags. What a better way to encourage ownership of personal reading than with a personal Library Bag?
Kids like to have a way to carry their own books. Grab your kid a library card, follow our no-fail library tips, and suddenly your trip to the library just became the event of the week!
Headlamps are perfect for kids who share a room and want to read a bit before going to sleep. This version has this different white light settings with one red setting. Red light is still bright enough to read with but doesn't travel as far as white light.
This gift can also double for your outdoor kid. We love to take ours camping!
Energizer 7 LED Headlamp (115 Lumens)
Owls i-Clip Magnetic Page Markers (Set of 8 Magnetic Bookmarks)
Cupcake i-clips Magnetic Bookmarks
Butterflies i-Clips Magnetic Bookmarks
Music i-clips Magnetic Page Markers (Set of 8 Magnetic Bookmarks)
Celtic i-Clips Magnetic Bookmarks
Robots i-Clips Magnetic Page Markers (Set of 6 Magnetic Bookmarks)
Funko Diary of a Wimpy Kid Bookmark
FINEX Finger pointer bookmark elastic book mark strap – Random Color – ((6 pcs))
Harry Potter Crest Bookmark Collection
&
3. Fun Bookmarks
Everyone needs a bookmark when they read. Sometimes having a fun bookmark makes reading more fun! If you have a child like mine, she needs several at once for the many books in her stack. There are several free printable bookmarks available, but here are a few really neat ones.
Owls i-Clip Magnetic Page Markers – Sarah Joan, six, just loves owls and these would make a great stocking stuffer! Check out their other designs as well. Cupcakes, Butterflies, Music, Celtic, Robots, and much more!
Diary of a Wimpy Kid Bookmark – I know many young readers who will think this is the perfect compliment to their book collection!
Personalized Book Marks – I loved these wire bookmarks from Etsy. Perfect for your older reader.
FINEX Finger pointer bookmark – These are cool. You slip them over your page and point the finger at the exact spot you left off at!
Harry Potter Book Marks – A nice collection of all four houses on metal bookmarks.
I have to admit that I was skeptical of this product until I began to read up on it. Its great features are winning me over. At the top of the list for us is the two-year replacement guarantee.
Struggling or reluctant readers can be motivated to spend 30 minutes reading, after which games and other apps can be unlocked.
With parental controls, timers for reading along, and a not-to-shabby price, the Kindle HD Fire would be a great gift for any reader in your home!
A nice comfortable place to sit while reading is a must. When you have a cozy corner to read in a whole room is not necessary. Just get your book, curl up, and lose yourself in a great book.
A great way to encourage any reader in your home is to have a special time and place set aside for book talks. Ruth loves to talk to me about her recent favorite book.
Stuff a couple of gift cards for your favorite coffee shop or cupcake place in their stockings for "book dates" and watch enthusiasm for reading soar!
What are your favorite gifts to encourage reading?
More gift guides for you: