Welcome to the Eight For Each State US Geography tour. I am so glad you are joining us.
We made it! Hawaii is the last state in our US Geography study! It has been a fun and amazing two-and-a-half years! Be sure to check out all of our US Geography resources to help you plan a complete study of the USA.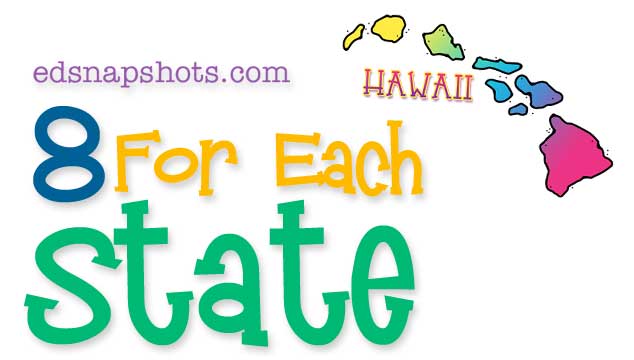 We have been looking forward to Hawaii for a long time. Our good friend, Mrs. Elaine just visited Hawaii and brought back beautiful pictures for us to oooh and ah over. Like Alaska, Hawaii is so different from the continental United States that you almost feel like you are looking at a different world, or at least another country.
Come along with us as we explore this different and unique state.
What a beautiful book to begin your Hawaii study. We learned so much about Hawaii just from this one book. Did you know that the Hawaiian state bird it a cousin of the Canada Goose? There is so much in this book to explore. The pictures are also beautiful to look at.
Two other books we use to fill out our notebooking pages and maps are:
2. Hawaii Introductory Videos
A video can make even the farthest states more accessible. Enjoy these two from our favorite series.
Hawaii – 50 States – US Geography
3. Hula Dance
Ancient Hula dance is more than hip swaying, and grass skirt wearing. It is a meaningful dance that tells stories, honors chiefs, and helped the Hawaiian people to worship their gods. Today, a different form of Hula is performed with a more westernized feel.
Watch these two videos and talk about the differences in the two kinds of Hula Dance.
Merrie Monarch 2016 – Hula Halau 'O Kamuela – Kahiko
1st Place Auana – Hula Halau O Kamuela
A couple Hula books:
Georgia O'Keefe was not from Hawaii, but the beautiful flowers she painted while there are some of my favorite pieces by her. When I found this book, I knew we would save Georgia O'Keefe for our Hawaii study.
I also wanted to incorporate an art project based on Georgia's time in Hawaii. I chose this tissue paper art project because I like the texture you could gain with the raised tissue paper.
5. Make a Lei
Lei's are garlands of flowers Hawaiians give as gifts at celebrations such as weddings and graduations. We wanted to make some just because they were fun! Here are several ideas.
6. Hawaiian Food
Hawaii has some very unique foods. Try a coconut jello desert for something new. We also learned how to make Sweet and Sour Chicken from an old standby recipe I have used for years.
Sweet and Sour Chicken
2 cups cooked chicken, diced Sauce

1 chopped onion 1/2 cup apple cider vinegar

1 can pineapple tidbits 2 T brown sugar

1 can crushed pineapple 2 T soy sauce

1 package frozen peas 1/4 tsp. pepper

Saute onion in a large skillet. Add cooked chicken to pan and heat through. Sprinkle with 2 T. of flour, stir. Mix the sauce in a small bowl. Add to the skillet with all other ingredients. Simmer until slightly thickened and peas are cooked.
Here are some other foods to try:
The United States entry into WWII began with the bombing of Pearl Harbor. View the memorial online and use these resources to talk about this event.
8. Looking Back and Celebrate
Now that you have made it through all 50 states you should celebrate! We did! It was so much fun to look back at all the projects we did, all the people we were introduced to, all the places we put on our "to visit" list, and remember all we had learned.
A is for Aloha: A Hawai'i Alphabet (Discover America State by State)
Hawaii (Hello U.S.A.)
Hawaii: The Aloha State (Exploring the States)
The Twelve Days of Hula
The Story of Hula
Georgia in Hawaii: When Georgia O'Keeffe Painted What She Pleased
What Was Pearl Harbor?
The Attack on Pearl Harbor (Disasters in History)
Take some time to finish up all of your state scrapbooking pages, print some pictures, show grandma and grandpa, and plan a party. Use Hawaii as a jumping off point as you wish and have a good old fashioned Luau.
Here are some ideas to get you started:
Have you been to Hawaii?