Our US Geography state study is well on it's way to being one of the most memorable things my girls will do in their elementary years. We have enjoyed making special food together, dreaming about places we would like to visit, and reading great books all while learning a little something about the states.
In fact we have loved it so much, I am excited to slip a few of these fun ideas from our US Geography gift guide right under our tree. Some may even be stocking worthy!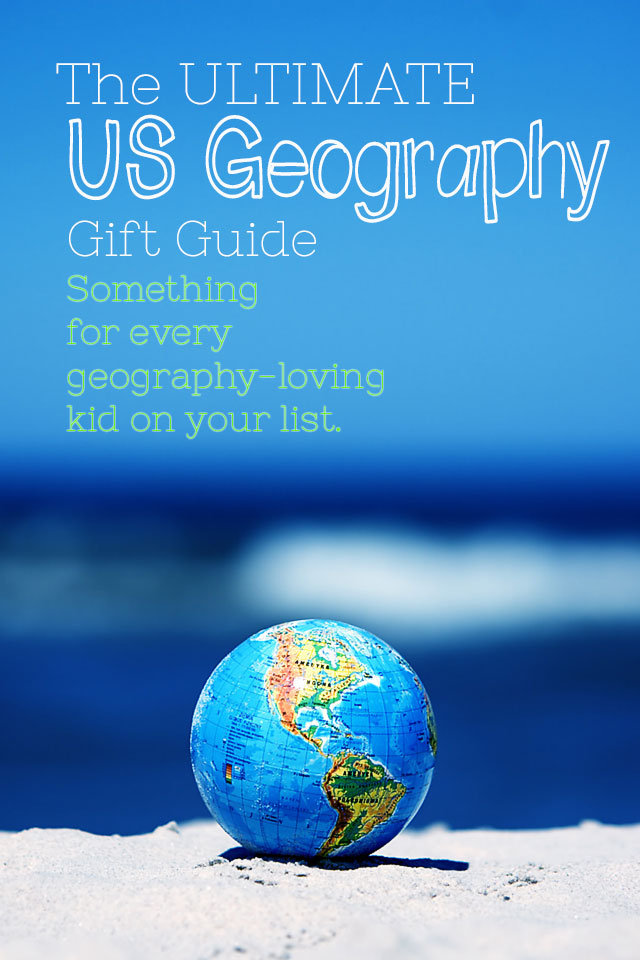 I hope you find a few things on this list helpful for the geography lovers in your home!
1. Games
2. Travel Club Subscriptions
Just a few months ago I heard about letterboxing. We had tried geocaching and for whatever reason it didn't take in our family, but letterboxing sounds very do able. It is a great way to see historic and scenic spots right in your own state!
Like geocaching you hunt for boxes left by others. Unlike geocaching you do not follow GPS coordinates, but instead follow clues you print off online. Some of the clues do require simple compass readings for direction however.
Once you find the box, you stamp the log with a personal or family stamp, add the date and a short note if you wish. There will also be a stamp in the box for you to add to your personal log book with notes about the walk, the finding of the box and the destination.
Make your own Letterboxing kit!
4. Lego Across the USA
There ARE gifts for your Lego lover on this list. Have fun talking about all these great landmarks from around the country!
State Quarter Sets are great way to explore some new landmarks for your US Geography tour. They are also just plain fun!
I saw these travel journals recommended on Simple Homeschool not too long ago and love the high personality, and versatility. They are also super cute. While you are there be sure to check out her other Kids Journals, and Mom Journals too! I think that one of these years I may have time to sit and fill out one of the Christmas journals. They look so nice.
7. Books
Books always end up under our tree. In fact one year I realized that my son received only one non-book item! He seemed to be ok with it, but it was then I began to wonder if I did indeed have a problem. 😉
Here are some selections of books I want to add to our shelves because they are true, beautiful and just plain good!
8. Puzzles
9. USA Videos
I love a good documentary and so do my kids. We love to watch great footage of places we have never been and may never go. It is a very affordable way to "visit" the country. Here are a few of my picks for your US Geography Christmas!
10. Stocking Stuffers!