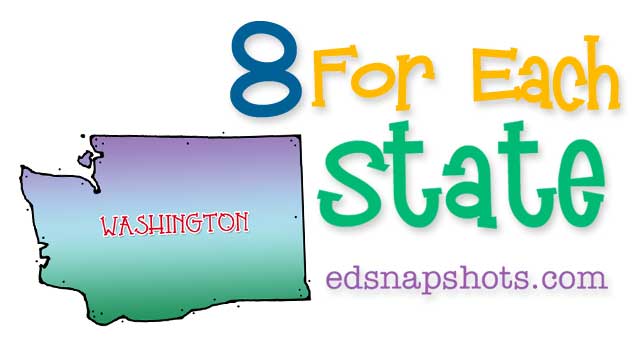 Welcome to the Eight For Each State US Geography tour. I am so glad you are joining us.
Washington was a fun state for us. We loved learning about the real live volcano that actually erupted right here in the United States. We also enjoyed building and attempting to fly our own kites. To find out how these things go with Washington State, come along with us as we explore this beautiful state.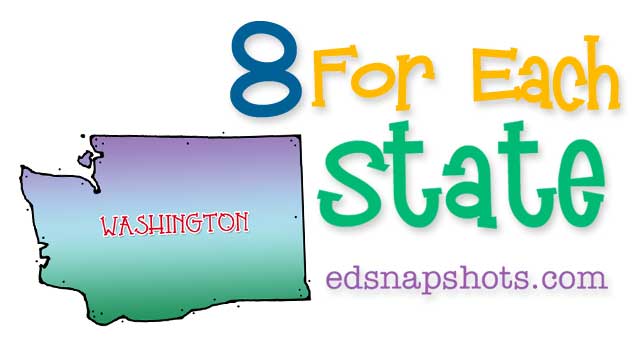 Pin
Pin What a time we had with this gem from the Discover America State by State series by Sleeping Bear Press. Bigfoot, dragonflies, beautiful horses, and kites are just a few of the things we learned about as we flipped through the pages.
When you use the fabulous teaching guide with it you have a complete state study! This particular teaching guide is chock full of worksheets and fun activities for you to do.
Other books we use for our notebooking pages:

My girls love the idea of kites. We have yet to be successful kite flyers, but they continue to try. We decided to make our own kites and try to fly them using this tutorial.
Pin
4. Dutch Babies
In the book, Washington: The Evergreen State by Kristin Schuetz we learned that Dutch Babies were first served in a Seattle, Washington restaurant. The girls were eager to try the recipe in the book. Ours turned out large and very filling, but were a hit! We served one with cooked fruit, and the other with lemon juice and powdered sugar.
Pin
PinThere are so many fantastic resources for this fascinating volcano. Learning about a specific volcanic eruption was more interesting to them than learning about volcanoes in general.
Volcano: The Eruption and Healing of Mount St. Helens by Patricia Lauber
Minute by Minute: The Eruption of Mount St. Helens – Might be a bit intense as it describes survivor stories, but a good video. 
PBS NOVA Mount St Helens 720p HDTV – This one adds computer graphics to help describe what happened in the eruption. 
Mt. St. Helens 30th Anniversary Documentary – A look at how a geographic region recovers from such a disaster, all on its own.
6. Mercer Girls
We found the story of the Mercer Girls in It Happened in America: True Stories from the Fifty States by Lila Perl, a delightful treasury of fun stories from each state.
You can find out more here.
Pin
7. Appaloosa Horses
Just like when we studied Maryland in our US Geography state study, Ruth and Sarah Joan wanted to know more about the famous horses in Washington.
The Appaloosa Horse is a beautiful breed of horses first tamed and bread by the Nez Perce Native Americans. This video gives a short but very satisfying history and description of the breed.
Washington Sate has a very interesting geography. While we did not get to talk about rain shadows and do the map activity from Layers of Learning, it may be something you wish to add to your study.
PinE is for Evergreen: A Washington State Alphabet (Discover America State by State)
Pin
PinWashington (Hello USA)
Pin
PinWashington: The Evergreen State (Exploring the States)
Pin
PinVolcano: Eruption and Healing of Mt. St Helen's
Pin
PinIt Happened in America: True Stories from the Fifty States
Pin
Now that we are nearly done with our US geography state study, what is your favorite state so far and which one are you most looking forward to? I know my girls are excited to get to the very end, Hawaii. I have promised a Hawaiian Luau as a completion celebration!