Summer reading is the sort of reading I remember most growing up. Sure, I remember a few of the more memorable books, good and bad, we read in school, but books read in the summer camp out in a different part of my memory. They are the books full of whimsy, smiles, adventure, and enchantment.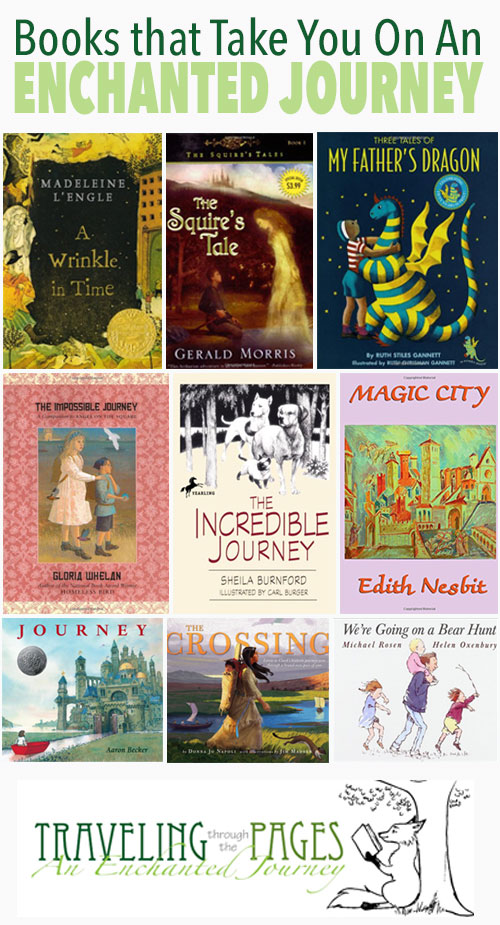 As I mentioned last year, my fondest memory is sitting in a tree reading the library copy of the illustrated Hobbit. It took me away from it all. For those moments, I was not in a tree, but somewhere in Middle Earth.
As you begin this year's summer reading program, think about making reading an enchanting journey for your family. Where can you go to change things up a bit? Our reading map is sure to take you all corners of your library, for adventure, mystery, and fun on your journey.
Below are a few Enchanted Journey books to get you started.
Three Tales of My Father's Dragon by Ruth Stiles Gannett
We enjoyed this humorous adventure story as a family read aloud. It would be the perfect way to begin an Enchanting Journey. There is a dragon to be rescued, talking animals with problems, and crocodiles eating lollipops. This edition has all three stories in it.
We're Going on a Bear Hunt by Helen Oxenbury and Michael Rosen
This is a classic board book for your youngest travelers. Full of adventure, suspense, and plenty of play possibilities, don't be surprised if your big kids join in the fun!
We love the onomatopoetic words on each page and how the suspense builds and then builds some more.
My kids love books without words. They usually have fantastic pictures where the imagination can get lost creating its own story. The girl in the book imagines another place on the other side of a door she draws on a wall.
I have a cousin who created her own world in a similar way. She began by imagining a door. The stories she could tell. What will you find on the other side of your door?
The Crossing by Donna Jo Napoli

I love this wonderful picture book about the travels of Lewis and Clark. It is written from the eyes of Jean Baptiste, Sacagawea's son. The beauty of the illustrations go hand in hand with the wonder of seeing the frontier through the eyes of a small child. Enchanting for sure.
A Wrinkle in Time by Madeleine L'Engle
All five books in Madeleine L'Engle's Time Quintet will take you away to different times, places, and people. This first book introduces you to the Murry family as they search for and save their father. I like that L'Engle imagines different variations of time and place on our own world. As in all good enchanting stories you must suspend your disbelief to enjoy it. It is the perfect book to get lost in this summer.

The Impossible Journey by Gloria Whelan
Enchanted journeys don't have to be fantastical. The Impossible Journey tells the story of a Marya and her brother on a quest to find their parents who have been sent to Siberia during the rein of Stalin.
On their way, they meet incredible people, do incredible things, and overcome incredible obstacles. I was enchanted by this story. In fact, I would change the title to the Incredible Journey, but that was already taken by…
The Incredible Journey by Sheila Burnford
Do you have an animal lover in your house too? This is on the list for Sarah Joan who just adores animals of all sorts, but especially cats and dogs. Two dogs and a cat must find their way home through forests, roads, and rivers. It is a journey full of adventure, discovery, and devotion.
Squire's Tale by Gerald Morris
King Arthur stories are always enchanting. Not just a retelling, The Squire's Tale adds a whole new dimension to the traditional knights in shinning armor yarn. Terence, sheltered all his life by his mother, sets out into the world to find out who he is. It is a story of an unlikely hero who uses his wit, survival skills, and humor to win the day.
*Caution: Fatherhood and parentage are mentioned in a way that might bring questions from readers to whom the appearance of babies is still a mystery. The mentioning is in no way inappropriate however.
My children all enjoy listening to The Magic City on Librivox. What happens when you build towers, towns, and castles with all of your blocks, toys, and anything else you can find? A magical journey through the city you have built is sure to happen! A good old fashioned tale about how ordinary children can do extraordinary things if only they will be brave, do right, and choose to love.
What is your favorite Enchanted Journey?
If you haven't downloaded your Traveling Through the Pages Summer Reading materials you can get them by clicking here.