When I announced that we would be choosing French to study in our homeschool, the main responses were, "Why French?" and/or "Why not Spanish/Latin/Hebrew?"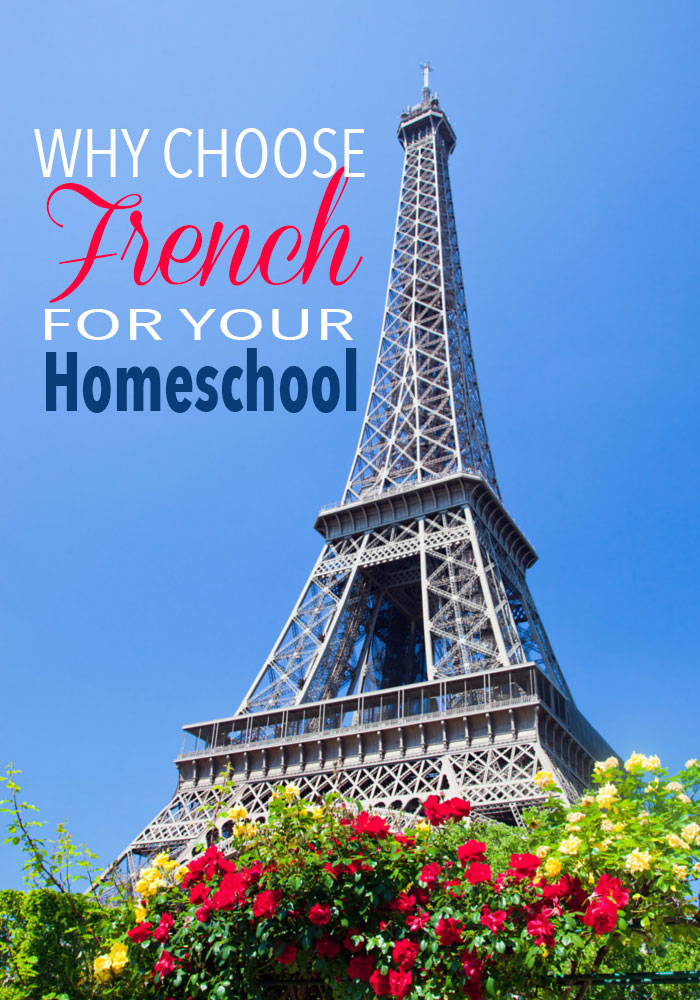 Unfortunately, the only answer I had was, "Well, because Ruth asked, and I know a bit of French." Even as I said it, I knew this answer needed more Umph behind it. However, I believed we had one of the most important reasons pinned down already.
Desire
It all began with one little song I sang to Ruth when she was 4 years old. You can find it on YouTube
Bonjour monsieur, bonjour madame, bonjour mademoiselle
Je me présente, je m'appelle
Helène Dupuis, je suis Helène Dupuis
Helène, c'est mon prenom, Dupuis en mon famille
Bonjour, salut.
Comment t'appelles tu?
"Sing it again, Mommy!" So, I did. "Sing me more in n'other language!" I didn't have more to sing, but I did promise we could learn more French.
She wanted to learn French, and I wanted to relearn it with her. This was central to my decision to make French the foreign language in our homeschool. Desire to learn is important when choosing a foreign language.
It Is Beautiful
French is a beautiful language. I love the lilting, smooth sound of the vowels, the soft gentle consonants. I watch it roll of the tongue of fluent speakers and am mesmerized.
Just listen to this beautiful poem by Jean de la Fontaine.
La Cigale et la Fourmi – les Fables de La Fontaine en dessin animé – Hellokids.com
It is Useful
Yes, besides being beautiful, French is a very useful language. The Consulate General of France in Houston lists several good reasons to study French. I have summarized just a few.
Next to English, French is the only language that is taught in every country of the world. When abroad, if English should fail you, French is the best back up you can have. It may not be either person's first language, but a common second will certainly get the job done.
200 million people speak French on five continents. Many, many people speak French. You may be surprised to find that there are some French speakers in your own community.
French is one of the key languages of business around the world, an official language of the United Nations, the Olympic committee, the International Red Cross and other international organizations. Knowing French will never be a useless skill.
French literature, theater and movies are all better experienced in the original language. Imagine reading Victor Hugo's Les Misérables or Antoine de Saint-Exupéry's Le Petit Prince in the original French. There are so many extras you can catch when you know the ins and outs of a language.
French is a good base language. French is an excellent bridge between English and the rest of the romance languages, Spanish, Italian, Portuguese, and Romanian. Fifty per cent of English vocabulary is derived from French making it easy to learn.
French is Easy and Fun to Learn
Once I decided to add French to our homeschool, I needed to find out HOW! Oh boy. I will not bore you with the overpriced, gimmicky, useless curriculum I tried in our first year, or the piecemeal curriculum I put together the second year.
No matter how hard I tried I could not find a good curriculum for teaching elementary French in my homeschool. Then one day, the Classical Academic Press Catalog, with the announcement that French for Children was soon to be available, appeared in my mailbox.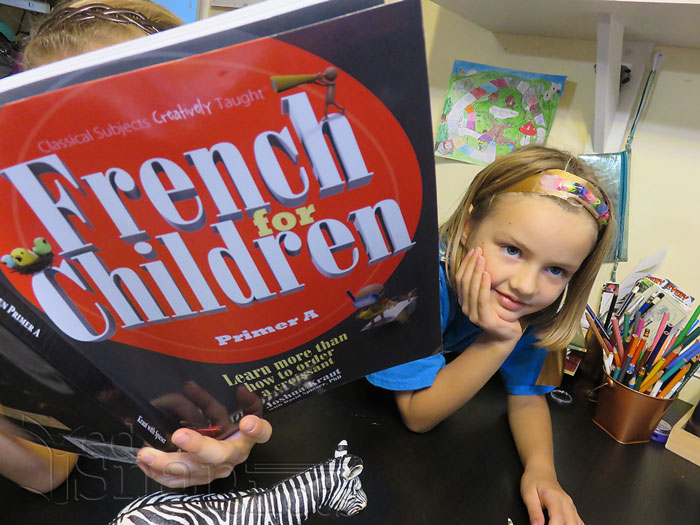 I was ecstatic!
After receiving our copy, I was not disappointed. French for Children has given our homeschool French program the boost it needed to get off of the ground.
French for Children is Easy
A helpful 5 or 7 day schedule means you can take this course at your own pace. We spread the seven-day schedule over two to three weeks. This allows for plenty of time for mastery of the vocabulary and grammar concepts.
Audio files with catchy chants have even my three-year-old marching around the house singing, "Parle!, Je parle, tu parles…" We love the chants!
A Pronunciation Wizard with audio to help your child work out the sounds of the French language and feel more confident in speaking. This part can be tedious, but Ruth is always happy to practice her new vocabulary with correct pronunciation with Mrs. Josie, a native French speaker from our church.
The dialog that begins each chapter is a combination of new French words and English. I love this format! Right away, Ruth's brain zones in on the meaning of French words based on context. This is also a great encouragement to her. She can speak the French words she knows and substitute English for those she doesn't. As time goes by, slowly but surly, our confidence to speak increases.
French for Children is Fun
Every lesson begins with a dialog between a mouse and a cow. My children love the characters in the continuing story.
Not only is the dialog between the mouse and the cow entertaining, but downright hilarious sometimes! My children now walk around calling each other "smarty-udders."
HeadventureLand.com offers a free fast-paced vocabulary game called FlashDash. It is not yet available, but I know it will be a huge hit when it is ready. Look for it early next year.
Don't know French? Not a problem, French for Children comes with a teacher DVD. This has been so helpful when I have a hard time explaining a concept or need to brush up on it myself.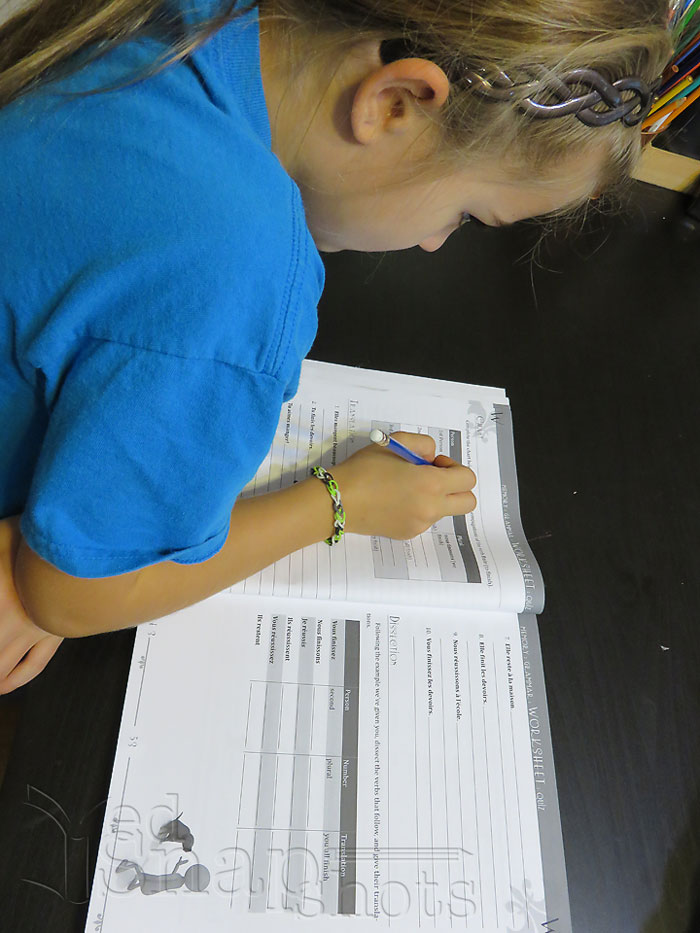 I am so glad Classical Academic Press added French for Children to their line up of amazing language programs. It fills a gap in foreign language instruction for the older elementary student who is ready to begin and for the younger middle school student who may not be ready for a more intensive program.
The grade level recommendation is for 3-4th grade, but I would extend that to 3-6th or anyone wanting to learn French from the beginning.
I can't wait to check out Primer B and C in the coming years!
Classical Academic Press is offering a generous 20% off French for Children for Ed Snapshots Readers. Use the code FFC20EDSNAP between now and November 22 to get your discount.
In addition they are giving away one full bundle of French For Children to one lucky Ed Snapshots reader. Enter below for your chance to win. Contest ends Thursday 11/19.
I received a copy of French For Children for review and evaluation. The opinions expressed here are my own.