My oldest daughter is weird. She loves handwriting. But there was a time when we struggled. She learned cursive quickly, allowing us to move from simple handwriting practice to copywork with ease. But then it happened.
"Why do I have to do this anymore?"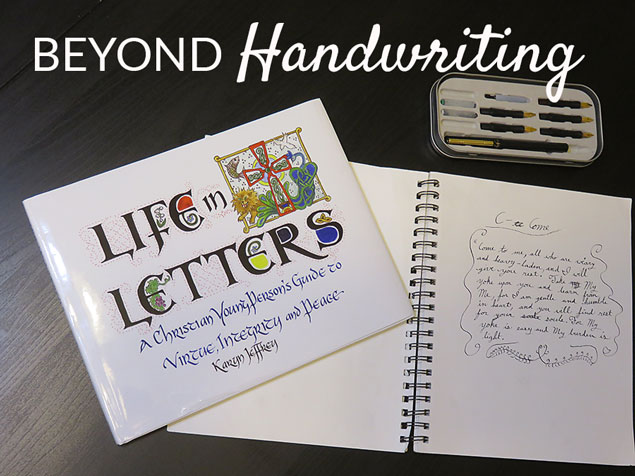 Why indeed? Practice does make perfect, but she was already writing more neatly and easily than most adults. How could I motivate her to continue to copy worthy passages when she saw it as busywork?
Calligraphy was our answer. One calligraphy instruction book and, one fancy-smanchy, but inexpensive pen later, and we were back in business!
"Can I write my spelling sentences with my calligraphy pen?" Sure!
"Can I copy this memory work, poem, verse, with my calligraphy pen?" Of course you can.
Calligraphy is a beautiful art form. It takes handwriting to a whole new level for those who have the fine motor skills and patience to follow instructions well. It has helped my daughter continue to fine-tune her normal cursive handwriting by forcing her to slow down and form letters more carefully.
Even still, a year into our calligraphy practice we hit another wall. Writing with the special pen was still fun, but there was a lack of inspiration to make the work truly beautiful.
Then I happened upon Life in Letters: A Christian Young Person's Guide to Virtue, Integrity and Peace by Karyn Jeffrey. From the moment I saw this book I knew Ruth would love it. It is simply stunning.
Each letter of the alphabet is beautifully drawn in medieval style and featured with lovely italicized text. The letters themselves are painted with gorgeous color schemes. I really cannot tell you how beautiful this book is. You have to see it for yourself!
While this book has inspired Ruth to make her writing even more beautiful with decorations and special letters, it has done even more.
Each page has several passages of scripture, with discussion questions for each. I love that the answers to these questions lead to questions my daughter has for me. This has been a great jumping off point for mother daughter talks about God and life.
Ruth writes the verse at the bottom of each page into her copywork notebook using her calligraphy pen. She adds any decorations that she thinks will make the page more beautiful.
Ruth reads one of the passages and we talk about it using the discussion questions as a guide.
I read the Reflections for Parents in the back of the book to glean wisdom for our discussion.
We might do one letter a week, or one letter every two weeks taking our time with each passage suggestion and discussion.
This would be a great Morning Time resource for those with upper elementary and middle school children.
Copywork for all lettering types: Manuscript, Cursive, Italics, or even Calligraphy!
Medieval artwork study
As a family devotional at the dinner table. Read before you eat and then enjoy the discussion as you enjoy your meal.
Life in Letters: A Christian Young Person's Guide to Virtue, Integrity and Peace by Karyn Jeffrey can be purchased directly from the author on her website, LifeinLettersBook.
As a special to our readers Karyn is offering a discount code for 10% good until July 1, 2017. Just enter JELA712 at checkout!
I received a copy of Live in Letters in exchange for an honest review. I was not required to give a positive review and all opinions are my own.
Other calligraphy resources:
 Manuscript Deluxe Calligraphy Set
 Calligraphy for Creative Kids (and adults too!)
 Interweave Press Calligraphy Magic: How to Create Lettering, Knotwork, Coloring and More
&