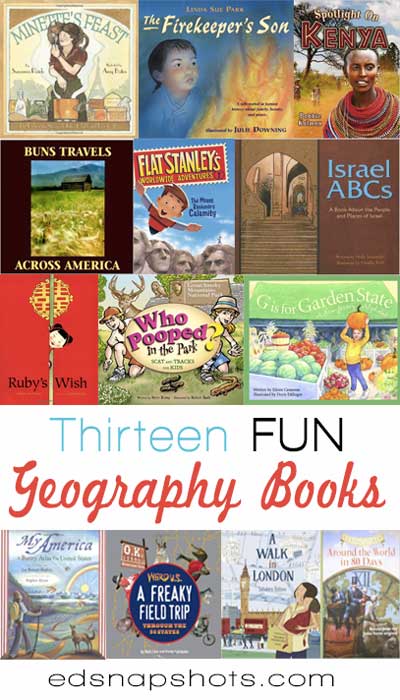 This is part of the Traveling Through the Pages Summer Reading Adventure. If you haven't downloaded your printable goodies it is not too late to get started!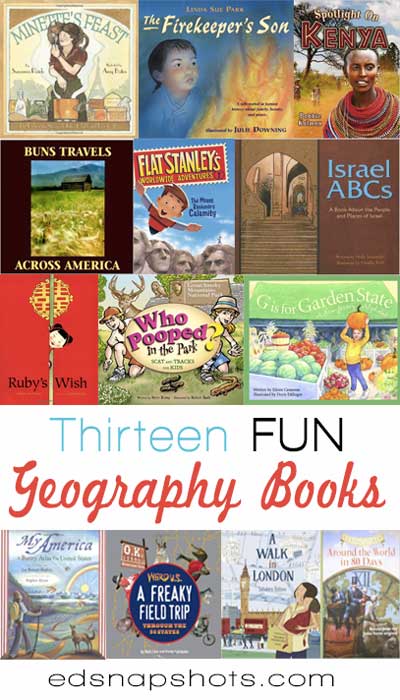 Pin
Geography. What a perfect subject to save for summer!
Are you going somewhere? Pick up a few picture books or audiobooks set in the places you plan to visit or travel through.
Staying home this year? Ask family members to send you postcards from where they live or where there're going. Don't be shy. I found out a cousin of mine was going to Paris, and she was more than happy to send my daughter a postcard.
If you are staying home, you can plan a vacation and then take it with books and your imagination! Decide where you would like to go and what you would like to see. Below are a few resources to get you started.
Remember to let us in on your fun adventures in the comments below!
Going Abroad
Picture Geography Books for Kids
Minette's Feast: The Delicious Story of Julia Child and Her Cat
by Susanna Reich– A story about Julia Child's Cat in France.  There are a few French phrases but mostly it is a lovely tale with the feel of France.  The pictures are beautifully done.
Ruby's Wish
by Shirin Yim – My daughter loves this story about Ruby, a granddaughter of a very wealthy man in China.  Ruby wishes to go to university instead of getting married.  A beautifully illustrated introduction to China.  Based on the life of the author's grandmother.
The Firekeeper's Son
by Linda Sue Park – Set in Korea this interesting book about a firekeeper and his son is fascinating. I love it when I learn just as much as my kids from a picture book!  This story is a great introduction to discussing doing the right thing even if you don't want to. If the Emperor sees that the chain of bonfires has made it from the sea to his castle then he knows all is well. If not, he will send soldiers. Sang – he wants to see soldiers. Should he light the fire or not?
Fiction Geography Books for Kids
Around the World in Eighty Days
by Jules Verne – A classic for older kids but a possible read aloud for young ones. If needed you can skip the part about the rescuing of a princess from Sati or the Classic Starts Version
can be substituted.  This book would also work well for your read aloud book and movie discussion square. I also enjoyed the silly version of this story Disney put out a few years ago with Jackie Chan
.
Flat Stanley's Worldwide Adventures
by Jeff Brown – In his Worldwide Adventures, Flat Stanley visits Egypt, Canada, Japan, Mexico, Africa, China, Australia and France.  These are on our list for this summer for sure. I have pre-read The Great Egyptian Grave Robbery
and have put it in the stack for Ruth (7). It was cute, entertaining and funny.  It is one I may even consider reading out loud, which says a lot!
Non Fiction Geography Books for Kids
A Walk in London
by Salvatore Rubbino – I enjoyed paging through this lovely book because it seemed to make traveling in a foreign place seem so relaxing. The pictures are subdued but still very interesting. The conversation between the mother and daughter in London is gentle as it informs. But most of all, I really feel like I had taken a walk through London, not a tourist bus or a hurried taxi drive. A very pleasant way to learn about cities abroad.  Be sure to check out others in this series.
Country ABCs
– A fun series with great pictures that give a great introduction for anyone to your chosen country.  A great jumping off point for further investigation into the great places, people and culture of different countries.   Every page has a letter with a short sentence as well as longer explanations for those who want more.
Spotlight on My Country Series
– I liked how this series broke down information.  There is a page on Cities, Animals, Long Ago to Today, Culture, People, Waters, Food and several more.  The pictures and photos are large and inviting.
Traveling the Grand ol' US of A!
Discover America State by State
– ABC books that talk about the fun things each state is known for.  I love the way they include a little bit of history, culture, famous people and places all relevant to the state today.  The illustrations are beautiful and each page has rhyming text for everybody and sidebars with more information for older kids and parents.  We have ordered several for next year's 50 states road trip we are planning.
Who Pooped in the Park?
By Garry D. Robson – This is a series of several National Park books on tracking animals by their scat (poop) and footprints.  The title should grab your child's attention and the story of a family hiking in the woods identifying poop and tracks should hold it!
Buns Travels Across America
– A cute little bunny sees some of the most familiar sights in America.  Photos show Buns enjoying the sights and the story is perfect for preschoolers and early elementary kids.
My America: A Poetry Atlas of the United States
– I have seen this book at our library and it is on our list to read during our 50 states road trip next year.  I looks so good!  I can wait to read incorporate this anthology into the study of our country!
I hope these books and ideas inspire you to take a geography detour this summer and enjoy learning about other places and people.  Have a GREAT trip!