There is nothing that will bring a smile quicker to my face than hearing one or more of my children singing a hymn as they play or work. It is a very uplifting to come into a room and hear Anna signing While by the Sheep, to watch Benaiah swing his sword while singing All Hail the Power of Jesus Name, or Ruth doing dishes singing Psalm 1.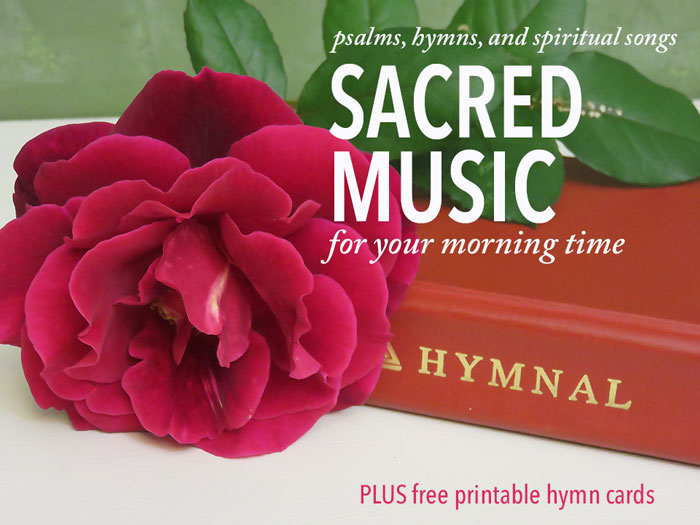 To say I enjoy singing in our Morning Time would be an understatement. I am absolutely passionate about teaching my children the great music of our faith. Morning Time is the perfect place to do this; we always begin our day with a Psalm, hymn, or spiritual song.
Over time these Psalms and hymns will become part of who they are. The theologically rich words and majestic music will feed their souls long after they leave home and Morning Time behind.
Why I Am Passionate About Singing Psalms and Hymns in Our Morning Time
Hymns are beautiful. Both words and music of most hymns I have come across are top notch. The language and metaphors found in hymns express deep spiritual longings and truths.
O the deep, deep love of Jesus, vast, unmeasured, boundless, free,
Rolling as a mighty ocean in its fullness over me!
Underneath me, all around me, is the current of Thy love,
Leading onward, leading homeward to Thy glorious rest above!
– Oh the Deep Deep Love of Jesus
When we start with a hymn, my soul is reminded of who God is, who I am, and the miracle of His grace in my life through beautiful, majestic music.
Hymns speak doctrinal truths into our hearts. When we sing Come, Thou Almighty King the doctrine of the trinity is expressed in elegant, but very simple words. Each verse gives us something to remember about the three persons of the trinity.
Come, thou Almighty King…Come, thou Incarnate Word…Come, Holy Comforter…To the great One in Three.
When we start with a hymn, I am reminded of what my focus should be in an overwhelming and undeniable way.
Hymns and many of the Psalms in the Psalter are easy to sing. For the most part, the repeating melodies of hymns are very easy to pick up. By the time you have sung two or three verses of a new hymn, you are ready to tackle the fourth. Musically they do not jump around, keeping you guessing at the next note, but flow in easy-to-remember stanzas.

Below is one of our favorite hymns to sing before bed. It is a lovely lullaby type prayer. However, it is most likely unfamiliar to most of you. Listen to the first verse, try to sing the second. See, easy!

When we start with a hymn, I am energized through the singing of a familiar tune. I am more prepared for the other components of our family worship.
Hymns are fun to sing! Yes, you read that right. Hymns are fun to sing. There are slow tunes, fast tunes, minor and major keys; a vast diversity of music that my children go crazy for!
They love to sing While by the Sheep We Watched at Night with its sharply contrasting dynamics. They love to repeat the refrain of He Leadeth Me: O Blessed Thought! They love the haunting tune of Of the Father's Love Begotten. They love the fast and loud Glorious Things of Thee are Spoken and the quiet lullaby The Day You Gave Us, Lord, Is Ended.
They love these hymns not only because hymns are good music, but also because they have heard them from their earliest days. Their ears and hearts have been tuned to love and enjoy the songs.
Hymns are easily memorized and stick with us. When things are crazy, life isn't going quite well or I am faced with a trying situation, I rarely can pull out an appropriate scripture. I am simply too stressed to think clearly. However, I usually can think of a song that speaks to the situation.
Though troubles assail us and dangers affright,
Though friends should all fail us and foes all unite,
Yet one thing secures us, whatever betide,
The promise assures us, "The Lord will provide."
– Though Troubles Assail Us
When things are great and I can see and feel God's blessings in my life my soul longs lift these things up in a song with music in praise to the one who always provides.
Praise to the Lord, the Almighty, the King of creation!
O my soul, praise Him, for He is thy health and salvation!
All ye who hear, now to His temple draw near;
Praise Him in glad adoration.
– Praise to the Lord, the Almighty
When we start with a hymn my children will have in their heads and hearts the vast resource that psalms and hymns provide them. A means to praise, a means to pray, a means to acknowledge and remember who God is and what he has done.
How to Add Hymns and Psalms to Your Morning Time
Sing a hymn first in your Morning Time. In Sarah Mackenzie's first talk at the Greenville Homeschool Convention this year she had us all stand and sing the Doxology. The feeling of being surrounded by 200 people singing acapella to God was exhilarating and calming all at once.
Beginning with a hymn will help to set the tone not only for your Morning Time, but also for your entire day.
Start with a hymn that is familiar to you. Start with Jesus Loves Me, Amazing Grace, Great is Thy Faithfulness, or your personal favorite.
Choose hymns that have refrains. Non-readers will love that they can almost immediately join you in song because every verse ends the same. Hymns like Trust and Obey, Christ the Lord is Risen Today, or Jesus Keep Me near the Cross.

Have a plan to learn and review hymns. We learn one new hymn a month. At the beginning of the school year I choose one hymn per month and print them all out on a sheet. Below our new hymn I add review hymns from previous years. So, for August, we have one new one and those we learned in Augusts past. Each morning we will sing the new hymn and one of the old ones.
This method gives us a good review of our favorite hymns. The children also get to choose hymns for singing at night as we prepare for bed. They often choose ones we have recently learned, keeping previous months hymns fresh as well.
Have resources on hand. Our family owns several hymnals as well as a copy of the Psalter for everyone. There is nothing quite like having your own book to hold while you sing.
I highly encourage you to have at least one hymnal on hand as a reference. However, there are plenty of other great resources if a hymnal is not in your budget this year.
Bring out the instruments! No one says drums, tambourines, triangles, cymbals and shaker eggs can't accompany a hymn. If you have a competent piano, guitar or violin player, all the better! Make a joyful noise to the Lord with your instruments as well as your voice.
Add fun scripture memory or catechism songs. When you have well established hymn singing in your Morning Time, you may want to add some fun scripture memory or catechism songs to your repertoire.
Our favorite resource for this is Songs for Saplings. (Volume One of the catechism songs is free for download.)
They have catechism memory songs as well as two albums of scripture memory songs. These may be fun to add as your call to Morning Time before you sing your hymn.
These songs roughly follow this catechism.
Add Psalter singing to your Morning Time. When you become more familiar and confident with hymn singing in your Morning Time, try adding a few Psalms.
The Psalms in the Trinity Psalter are reworded to rhyme but are very close to the originals. You can find the tunes to all the songs at Psalter.org. Many are set to hymns you may already know!
Ready to Start?
To get you started we have made Hymn Cards for you that are easy for little hands to hold. Print them out on cardstock, laminate if desired, and secure them with a jump ring. With one copy for each Morning Time participant, you are ready to begin adding hymns to your Morning Time!