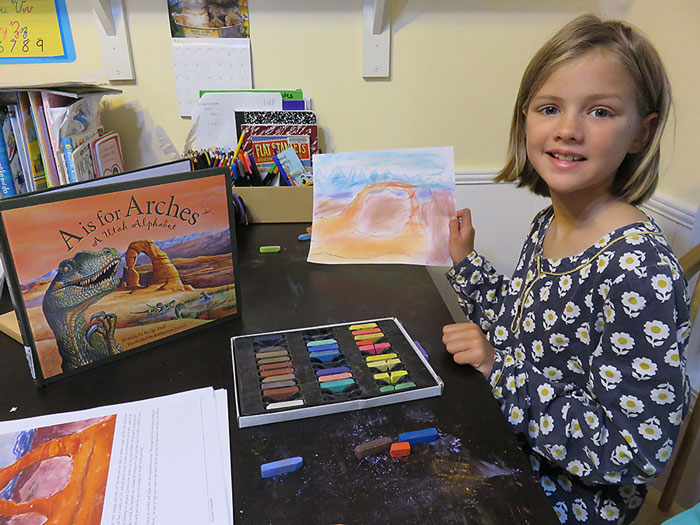 Welcome to the Eight For Each State US Geography tour. I am so glad you are joining us.
Utah was an eventful state for us. We made two types of sweet treats, took a look at the transcontinental railroad and tried our hand at weaving. Enjoy some or all of these projects as you study Utah. 
Pin
This post is just one of many fantastic US Geography posts. Be sure to visit them all!
PinI have yet to encounter a Discover America State by State book we did not enjoy. These are always at the top of my list because if you do nothing else, having this resource will give you a great US Geography study. The pictures are always beautiful, the text well done, and the information level just right for elementary kids.
Other books we use for notebooking, maps, and recipes: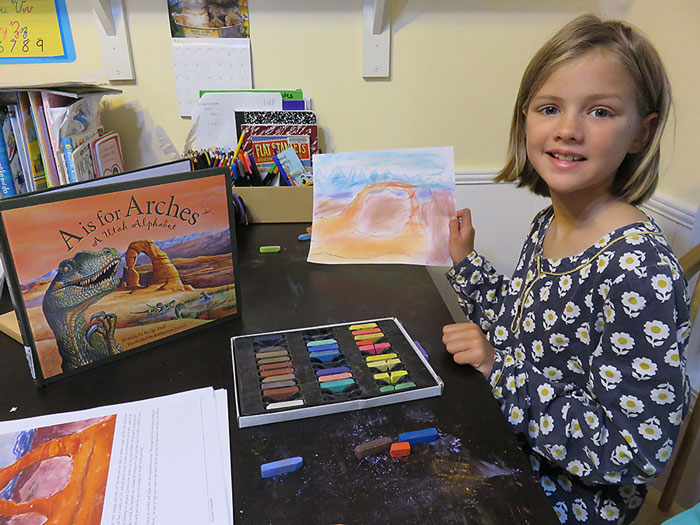 Pin
We have simply loved getting to know our chalk pastels this past year. The American Landmarks pack includes a tutorial for the amazing arches found in the Utah desert.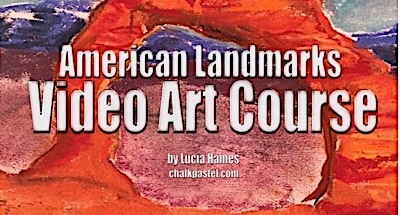 Pin
3. Navajo Stories
PinThe Magic Of Spider Woman by Lois Duncan – It is simply amazing how warnings about a huge character flaw, in this case pride, can go down so much easier with a story. It is like a spoonful of sugar with medicine. Everyone wanted to read this Navajo story again.  
Ma'ii and Cousin Horned Toad by Shonto Begay – A clever animal tale used to illustrate the pitfalls of dishonesty and greed. Funny and beautifully illustrated.
Until we read this book together, I never imagined Navajo culture in modern times. This story is about a more modern Navajo family whose daughter goes to school on a school bus but comes home to a traditional Navajo hogan. It is a gentle story about life and death, and growing up.
5. Weaving Rugs
After reading Annie and the Old One by Miska Miles, we decided to try some weaving of our own. At first I picked out this project from Mrs. Cook's Art Class. She has some fantastic information about traditional Navajo weaving.
However, I felt like the project was a bit much for my girls. I think if we tried again, I would use yarn or thicker thread and fewer warp strings.
Here are a couple of other ideas to get you started. All are basic weaving usually on a piece of cardboard.
The transcontinental railroad linked Atlantic with Pacific, East with West, and brought our country together. The golden spike was driven to join the Union Pacific with the Central Pacific rails.
Here are some fun resources to celebrate this momentous event in history:
PinTranscontinental Railroad Lesson
We Were There at the Driving of the Golden Spike by David Shepherd – Fun historical fiction on the Transcontinental Railroad.
Coolies by Yin – A Chinese immigrant perspective on the hardships and hopes of the Transcontinental Railroad. A beautiful book.
Ten Mile Day: And the Building of the Transcontinental Railroad by  Mary Ann Fraser – A longer picture book on the building of the last few miles and joining of the Transcontinental Railroad. 
Watch one of the reenactment ceremonies at Promontory Point – Skip to the 6 min mark.
7. Fudge and Ice Cream
Utah is known for its consumption of sweets. Families often make candy together and Utah residents love their ice cream, ranking 7th in the nation for consumption per capita. Well, when studding Utah, do as those in Utah do; make and eat fudge and ice cream!
Pin
We made this very simple fudge recipe.
Easy Microwave or Stove Top Chocolate Fudge
3 c. chocolate chips

1 can sweetened condensed milk

1/4 c. butter

Add all ingredients to a microwave safe dish and microwave at half power for 1 min. Stir, microwave in 30 second intervals, stirring in between, until all ingredients are melted and combined.

Or, add all ingredients to a medium sized sauce pan. Heat on medium heat, stirring constantly until all is melted and combined.

Spread in a wax or parchment paper lined 8×8 dish. Chill until firm. Cut in small pieces and enjoy!
We also made ice cream using Alton Brown's chocolate ice cream recipe.
Pin
The Great Salt Lake is saltier than any of the oceans. Enjoy this fun science experiment showing how this affects sinking and floating for different items.
 A Is For Arches: A Utah Alphabet (Discover America State by State)
Pin Utah (Hello U.S.A.)
Pin Utah: The Beehive State (Exploring the States)
Pin The Magic Of Spider Woman
Pin Ma'II and Cousin Horned Toad: A Traditional Navajo Story
Pin Annie and the Old One
Pin We Were There at the Driving of the Golden Spike
Pin Coolies
Pin Ten Mile Day: And the Building of the Transcontinental Railroad
Pin The United States Cookbook: Fabulous Foods and Fascinating Facts From All 50 States
Pin
Start with the directions above, but also make a container with four times as much salt as your sea water container. What items float in your Great Salt Lake that did not float in your ocean? Why does adding salt make things float better? Try to find the answer to these questions and be sure to record them in your state notebooks.
What fun and exciting things did you explore while studying Utah?